Cooking with Low Vision Gift Ideas by Audrey Demmitt
Do you have someone on your gift list who loves to cook but is finding it difficult with low vision? I was having a lot of mishaps in the kitchen as my vision got worse. Here is a list of my favorite kitchen tools to help make cooking safer and more efficient. One suggestion is to give these items in a gift basket.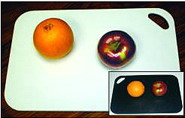 Caption: Black and White Cutting Board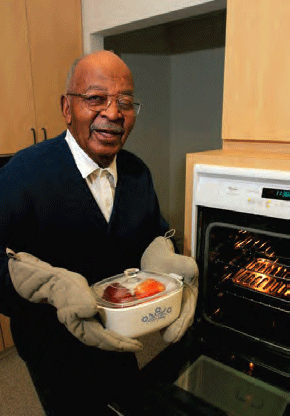 Caption: Older Man Using Long Oven Mitts
Reading with Low Vision–the Kindle Paperwhite: Large Print on Steroids? by Steve Kelley
Not all low vision readers are the same. Some readers peacefully migrate to narrated books or text-to-speech relatively easily; others want print and fill in as needed with narrated books or text-to-speech. These are the folks who hesitate when, as a professional vision rehabilitation therapist (my day job), I suggest Talking Books, I understand because I am one of them.
The Latest Generation Paperwhite
As a result, when Amazon began promoting their new Kindle Paperwhite, featuring a non glare screen, sharper image and text detail, water proof, etc., I started dreaming of those days at Fortune's Rocks Beach with a paperback book or the local paper in hand, reading beneath the beach umbrella, or just sitting in an easy chair at home, by the fire, reading from a book next to the table lamp with nothing more than my glasses—no magnifier, no electronic magnifier, no weighty iPad—just a book.
The new Kindle Paperwhite held the promise of a lightweight electronic reader that offered crisp text in a variety of lighting conditions, with the benefit of being able to adjust the font size, magnify the screen if needed, and speak the text on those occasions when I preferred text to speech.
First Impressions of Accessibility Features
When the $129 Paperwhite arrived, I eagerly began setting it up to read fellow peer advisor Elizabeth Sammons's first book, "The Lyra and the Cross" (by the way, another good gift suggestion!).
The Paperwhite, like the Kindle Fire tablets, has an "Accessibility" menu item under the broader "Settings" menu. The Paperwhite, like the Kindle Fire, uses the VoiceView screen reader for text-to-speech, and the display can invert the color scheme for light text on a black background. It does not have a "Screen Magnification," feature, which allows the user to enlarge text and graphical information displayed on the screen. This may be a significant omission for many low vision users.
Practically, what this means, is that the font size on the Paperwhite may be increased significantly when reading a book or magazine, but when using the menus, or making a purchase, you'll need to have a magnifier handy because there is no way to magnify the screen electronically, the way you can on the Kindle Fire.
The Paperwhite, like many of the latest new devices, no longer supports an audio jack for earbuds. You will need to have a bluetooth speaker or earbuds to hear VoiceView once it is turned on. VoiceView reads menu items on the screen and the text of the book open, with gestures similar, but more limited than those found with the Kindle Fire VoiceView settings.
If you are a regular VoiceView text-to-speech reader, it would almost make more sense to go for the 7 inch Kindle Fire tablet that retails for $49. It too has VoiceView at less than half the price! In addition, it has the screen magnification accessibility option, and might still have the headphone jack!
Lightweight and Waterproof
What really got me excited about this new Paperwhite was the possibility of a lightweight tablet, with crisp looking text, on a screen with less glare from a light or when outdoors.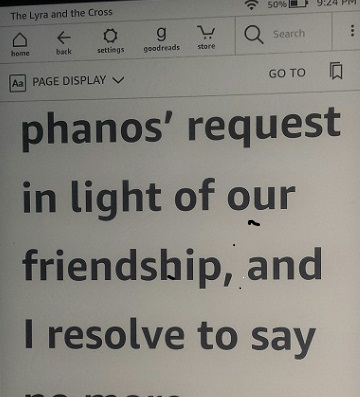 Caption: Kindle Paperwhite Large Print Screen
The Paperwhite does indeed provide this. When reading on the tablet either inside under a light, or outside in the sun light, there is almost no glare. The font size can be made much larger and bolder than standard large print from a book. In addition, the tablet weighs less than many paperbacks do, so it is comfortable to hold. Also, this latest generation could accidentally be left out on the deck in a rain shower because it is waterproof!
For many low vision users, the crisp, glare-free text on the new Paperwhite, coupled with greater storage, and a waterproof design, will be sufficient. Like me, they may need to keep a magnifier handy to work with the settings or to buy a new book or magazine.
Amazon has already made this an even more appealing e-reader for the Paperwhite aficionado by offering pre-holiday sale prices and storage upgrades. So this product may be an excellent gift choice for a low vision reader.
Other Articles in Holiday Gifts Series