The VisionAware Peer Advisor's (AKA Santa's elves) have put together a list of suggestions for holidays gifts for people with vision loss. This list is an annual and very popular tradition on VisionAware. In fact, you should check out our lists from yesteryear for other great ideas. This year we have so many suggestions that we have created a series! Be sure to read the first in the series–how to find gifts.
A Personal Digital Assistant for the Holidays by Steve kelley
Wouldn't everyone on your holiday list just love to have a personal assistant? Someone to turn on the radio, check the weather, gather the day's news, and manage the scheduling?
The Scoop on Alexa and Google Home
"Alexa," the personal assistant in the Amazon Echo devices, and the "Google Assistant," in the Google Home, offer hard-working, voice-activated digital assistants, in what are being called "Smart Speakers."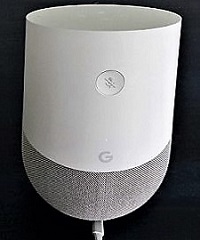 Caption: Google Home Device
This year, both Google and Amazon offer greater variations on the products—several with screens, but the basic units are easy-to-use, relatively simple to setup in a home with WIFI available, and a tablet or smartphone available for the initial setup. Once they are set up, both are used primarily with voice commands.

Caption: Amazon Echo 2nd Generation
Both will do similar basic tasks:
make a phone call
look up news, weather, radio stations
set alarms and timers,etc.
There are some subtle differences worth noting, however. For the serious reader, who enjoys Kindle and Audible books and podcasts, the Amazon Echo offers far more selections. The Google Home will read Google Play Books; the selection is much more limited than the Echo.
Researching with Spoken Commands
If your gift recipient is more interested in researching things with spoken commands, the Google Assistant frequently does a better job of that and often performs some tasks more conversationally. For example, the Google Assistant will look up a number and place a phone call at the same time. The user could say, "Call the American Printing House for the Blind in Louisville, Kentucky" and the assistant will follow through. The Echo, on the other hand, will read out the number and place the call only if given a second command to call the number.
Sound Quality
As a regular user of both the standard size Google Home ($129 retail) and the Amazon Echo 2nd Generation ($99 retail), I believe that the sound quality of the Echo is superior to the Google Home, particularly when playing music. There are smaller, less expensive versions of both, the Google Home Mini ($49) and the Echo Dot ($49). Both have all the features of the standard model, but smaller speakers. Both can be connected to earbuds, headphones, or external bluetooth speakers. As the holidays approach, watch for the prices to drop on any and all of these! To compare the two, check out, " Smart Speakers: How They Can Help People With Vision Loss".
For Music Afficianados
For real music aficionados, an extra $100 will buy the Sonos One smart speaker ($199 retail) with Amazon Alexa built in and superior sound! Rumor has it that Sonos will support the Google Assistant by the end of the year. So the Sonos owner might have the best of the Amazon and Google with superior sound!
If anyone reading this is shopping for me…ahem…the Sonos One please!
And remember, the gift of a human personal assistant is also a great idea for cleaning, transportation, and all those chores we like to put off!
Identifying Colors Easily by Sandra Burgess
The Rainbow II Color Reader identifies over 40 colors, plus it can be used to detect LED lights on appliances, etc. It comes on a keychain, and I find it works better than my previous color reader. This product is available from Amazon with free shipping for Amazon Prime members, or you can buy directly from the manufacturer using Paypal. The price is $72.00 plus $4.99 shipping. This price is much lower than buying from catalogs devoted to products for folks with vision loss.
I love it when family members want to contribute to "making a memory." They have bought me ski gear and contributed in so many ways to a memorable week at the Ski for Light International event. I have met and kept many special people and friends at this event. I have networked on many topics and found great resources as well as rebuilt my self esteem. It is my chance to travel alone, rely only on myself and reflect on my life goals! It truly has been a wonderful gift. Find out more about "Ski for Light" in a post by fellow peer Mary Hiland.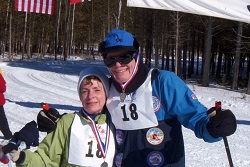 Caption: Mary Hiland Skiing with Guide
Other memories included trips to plays, concerts, craft shows, unusual lunches or dinners and special time spent with friends and family in so many ways! These are my favorite gifts of all.
I suggest the gift of keeping fit (especially after the holidays when we are all making New Year's resolutions to lose weight). Blind Alive has created a wide range of workouts especially designed for individuals who cannot see and follow what the instructor is doing. Unfortunately Blind Alive is going out of business. But for the holidays, are providing all digital workouts are free from now until Dec. 31st.
Gifting Beauty and Relaxation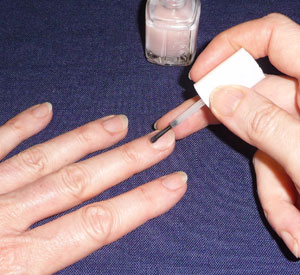 Caption: Applying Nail Polish
A last minute thought–Consider giving a gift certificate for a manicure, spa treatment, or a session on make-up techniques! These are fun and can provide a real boost during dreary winter days.
Other Articles on Gifts