Out of Sight Gardening
By Bill Holton, VisionAware Contributor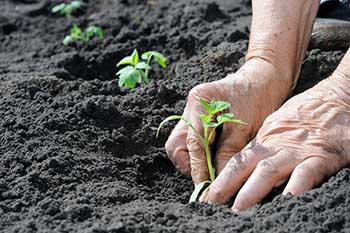 As the snow melts and the days grow longer, it's only natural for our thoughts to turn to springtime gardening. I do a lot of vegetable gardening, and last spring, I offered several tips for gardening with vision loss. Some of these included using bamboo stakes to mark row ends and kebab skewers to mark where you have planted seeds, so you'll be able to tell seedlings from weeds.
Raised Bed Gardening
With another year of gardening under my belt (here in Florida that means two separate seasons, spring and fall), I now want to share with you an even more accessible way for blind and visually impaired gardeners to grow lots of veggies or flowers. It's called "raised bed gardening." Using this method, even renters with vision loss who can't dig up the yard can raise a green thumb not to mention a tomato or two.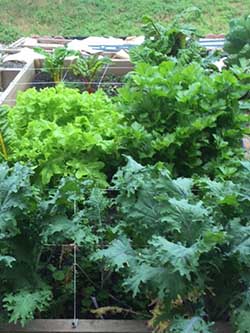 In its simplest form, a raised bed is like a flower box without a bottom. It's usually either 4 or 8 feet long, 4 feet wide, and from 10 to 20 inches tall all around. There are no garden rows to accidentally veer from and onto a plant. You never step foot into the raised bed; instead, you do all of your work from the well-defined outer perimeter, which is why a raised bed should be no wider than 4 feet. That way you can reach the entire garden from the outside.
You can find out how to build a raised garden by reading my article, Raised Bed Gardening, An Easy Alternative for Gardeners with Vision Loss in the gardening section on VisionAware. This section has lots of tips for gardening with vision loss.
Other Options for Gardening with Vision Loss
Using the square-foot gardening technique, I am able to grow a wide variety of plants in a small area. This is all well and good, but what if you are a renter and can't install permanent fixtures in your home? Fear not! With concrete blocks or wood frame raised bed, you can disassemble them when it's moving time and spread out the garden soil.
Another option is to use fabric grow bags, which come in sizes ranging from single gallon to round fabric beds up to 50 inches in diameter—kind of like a kid swimming pool, only the material is permeable, so you don't end up flooding your plants in a heavy rain. You could garden on a large patio using a fabric grow bag.
If you're really stuck for space, consider the GreenStalk Large 5 Tier Vertical Garden Planter with Internal Watering System. This tower garden comes with five grow containers that stack one atop the other. Each level has six compartments and perched at the very top is a reservoir where you pour in a few gallons of water a day to trickle down through your plants. So even if your only garden space is a tiny balcony, you can raise your own flowers or veggies and do it accessibly. Just set it up, fill with garden soil or potting mix, and you're ready to go. Just be sure to put a stick in one of the compartments on each level and designate it Cell #1. This way, as you add plants and seeds to your garden, you can record the cell and clockwise row number of each.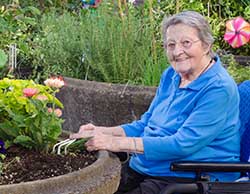 Of course, there is still one gardening problem I cannot help you solve: "What am I going to do with all this extra zucchini?"
Additional Resources for Gardening
Readers Want to Know How to Continue Gardening
Raised Bed Gardening, An Easy Alternative for Gardeners with Vision Loss