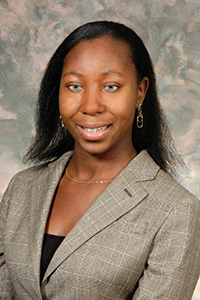 Editor's note: New peer advisor Angela Winfield, Esq. who lost her vision from complications with cataracts, glaucoma and uveitis, is a practicing attorney at a prestigious firm, but does much, much more. In her own words,"In my different roles as attorney, author, motivational speaker and professional coach, I help people break through barriers, overcome obstacles and resolve conflicts so they can succeed in their personal and professional lives."
As we continue to celebrate National Disability Employment Awareness month, Angela brings inspirational yet concrete recommendations to the readers of VisionAware. In today's blog, she discusses her advice about becoming a success and her concept of being OPEN, stating, "In general, your success depends upon your ability to open people's minds to what is possible for a person with a visual impairment, as well as your ability to open doors for yourself."
Vision Loss Caused Depression and Disengagement
The moment I realized my vision loss would affect my life, I understandably sank into a deep, dark, lonely and seemingly endless depression. I thought going blind meant I would never have or experience all the things I wanted− love, happiness, freedom, independence, success. And without those things, I thought, what's the point of life? I didn't just lose my sight, I lost all hope and vision of a future. I disengaged from everything− family, friends, my studies, my hobbies−everything.
You Can Re-Engage
Perhaps you feel this way at times, right now; or, maybe, you are witnessing your loved one struggle with this feeling. I want to tell you that you don't have to feel lost or helpless anymore. There is a way to re−engage or even engage for the first time.
You see, after three years of depression and several more years of being socially and emotionally withdrawn, I was tired. So tired, that I was fed up and tired of being tired. I realized that I had a monumental choice− to test what was actually possible or to simply accept what I feared was true; a choice to go out and live and experience what it really meant for me to be blind and discover all I was capable of achieving or to be consumed by fear and just lay down and die. You have this choice as well. I chose to live. I chose to open the door and open myself to life. Why not? I had nothing and therefore nothing to lose. Allowing myself to open and rediscover myself and the world was not only liberating, it was a total game−changer. I proved my fears wrong on every level. I graduated from two ivy league colleges, got married, am a practicing attorney, an author, motivational speaker, life coach and community leader. I feel happiness and love every day.
Happiness and success is not just for me; they are for you, too. Of course, your success and happiness is unique to you, and, inevitably, will look different than mine. But, it is your happiness and success and you not only deserve it, but can have it. And, here's how:
Let Yourself OPEN
O−Outlook
P−Plan
E−Education
N−Network
Four Master Keys
These are what I call the four master keys. They will unlock the door to happiness and success and will allow you to access the power of the human spirit. They also will help you unleash your true potential.
Outlook Is How You…
Outlook is how you choose to see yourself, situations, other people and the world. By shifting your outlook, you change your world and how you live in it.
Here are two outlook questions to think about:
Other than losing your sight, what, if anything, is now truly different about you? I'm not talking about external, physical changes or activities you think you can or cannot do (we'll tackle that piece by piece with the other three master keys), but you−you, as a person. Think about it and be honest with yourself. What, if anything, is truly different about you?
What is one small way you can bring more of you to being blind? In other words, instead of being blind or visually impaired how you think visual impairment is supposed to look, how can you do blindness your way? Just one thing. For instance, if you have a flair for style, you might consider customizing your white cane with accents or embellishments or wearing unique designer sunglasses. If you have always been known for your sense of humor, you might consider making more jokes and poking fun at blindness when you can−because, yes, there are things that are funny about blindness. Or, if you have always been a natural teacher, storyteller or writer, you might educate people and share your experience with others through the written or spoken word. In other words, how do you express yourself and how can you use that method of expression to be more of you through and in blindness? What's your stamp and how can you put your stamp on blindness?
Take a little time to think about and answer these questions. They will help shift and shape your outlook so you can see what is truly possible.
I hope to share more about outlook and the other master keys in future posts. In the meantime, please let me know what you're thinking and feeling.
Angela Honored as the 9th Annual Samuel N. Hecsh Window on the Working World of Law Feature Story
You can read Ms. Winfield's full story in the "Our Stories" section of APH CareerConnect. Here you can find information about all sorts of career paths that people with vision loss have taken. You can also check out personal stories about living with vision loss on VisionAware.