This year I have two bucket lists. One is my getting through the day list and the other is my outrageous dream list.
In my view, having both helps bring a sense of balance to get through life.
If you are getting started with vision loss, you may think "sure, creating a dream list is good, but I am having basic problems with getting my life back in order as I lose vision. How do I find things in my own home or figure out what I can do with limited vision? Right now, there are other things I need to put on my bucket list…to be realistic and not a dreamer."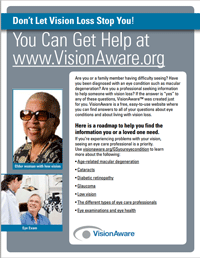 Getting Through the Day Bucket List
OK. So first, to get through the day, I recommend that you check out VisionAware's getting started tips. These are the real nitty gritty things about kitchen safety, managing your medications, continuing to read, safety in your home and bath. You can download the tip sheets, sign up for VisionAware alerts and request a free copy or email visionaware@afb.net. They are available in English and Spanish.
Take Achievable Steps
Secondly, you can take an achievable step forward by deciding what you are going to do about your vision loss. Are you going to seek training to help you learn new skills such as using a cane to get around safely, or perhaps you can look for a support group to talk to others who have vision loss to help share mutual concerns and solutions.
Start to Dream
Once you build your confidence, you can start to think outrageous! Think about the things you have done with your life and what you still want to do. You still can! My hope is that as you read personal stories about what others have done, you will come to realize you can too!
My Outrageous Bucket List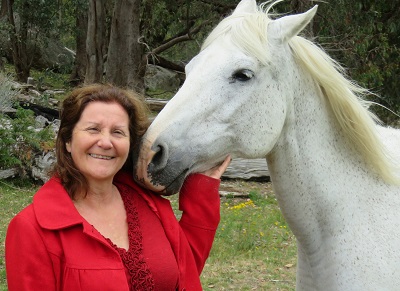 If I am going to get any of my grand schemes off the page and into my life as a real event rather than a bucket-fancy this year, I believe in designing outrageous dreams for the fun of seeing whether they come to life or get put on the bucket-list for next year.
I know in order to make them happen, it is not just wishing for some of these idyllic plans to come true but to actually take some sort of action to start the ball rolling. Writing them here and sharing them with you is the first step: it brings them out of my heart's desire to a place where others hear my intention and on a conscious level, the ideas gain support which can give them wing.
In other words, once I tell you what my outrageous plans are, I am accountable to do something about them. No longer can I sit and dream , I have to find ways to bring them closer into my here and now!
My Five Bucket-List Goals
Outrageous Bucket Dream #1–To Write a Book: I have plans to push Miss Procrastinator right out of my studio, out the front door and down the street so that I can spend time to craft rather than self-criticize my many creative ideas into a positive artform such as a book. As an author and writer, this heart desire comes up almost every day – so accomplishing this goal would be amazing for me. and PS, any publishers out there – I am ready to talk!
Outrageous Bucket Dream #2– Performing at the Edinborough Fringe Festival: I also love singing and my partner is not only a talented musician but a CD producer. The incredible thing about this festival is that the Fringe is an open-access festival – which means anyone who can put a performance together and a venue in Edinburgh willing to host it can apply! Where do we sign on the dotted line…
Outrageous Bucket Dream #3–Being an Enrichment Lecturer on a Cruise Ship:Travel and talk? Now that's my sort of dream-goal! This is one area of my life where multi-tasking is a fabulous idea. Traveling to other countries and experiencing different cultures while meeting new people is such an enriching experience, I've got my bags packed already for this one!
Outrageous Bucket Dream #4–Finding a Fabulous New Home: We have to move in four months time and we have no idea where…so I'm creating a positive internal view of the type of home I would really like to live in with my partner. It has to have lots of windows, light and spacious, lovely kitchen, cozy living area and lots of color, near the bay where we can swim and go for long walks. Why this is on my bucket-list is because for the past 10 years, I've been living in a recording studio a bit like a mushroom, a unique experience but very dark. I really want to embrace having a light-filled home while I still have some vision left to enjoy it as I have a progressive eye condition called retinitis pigmentosa.
Outrageous Bucket Dream #5–Having a Personal Connection with Maryann Williamson: OK, yes, this is a very big dream…but you just never know…watch this space and I'll let you know if I manage to find the portal that opens a window of opportunity to align my speaking and writing on such a level as Maryann Williamson. She truly is my hero for personal growth and for doing good for our planet. I'm growing into a new world of presentations. Let's see if they take flight in 2016! How about you? What are your 'too-big-to-dream' goals for this year…maybe we can work them out together!
Related Articles
From Personal Loss to Personal Growth
A Three Step Process for Setting Goals