New Customer at Walgreens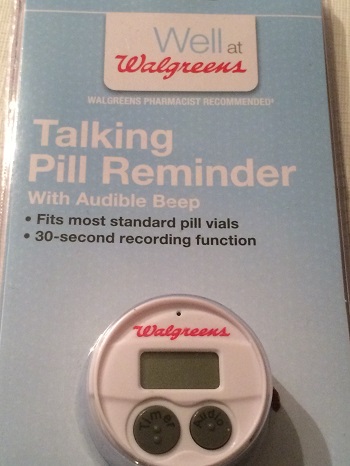 At the beginning of the year two medical things changed for me: my insurance switched and I started taking a new medication. On the surface both events were not traumatic or life-shattering just life adjustments that needed to be made. Changing my insurance and taking a new medication both required me to switch my pharmacy. I had originally purchased my medications at my local grocery store pharmacy but since they were not a national chain my insurance would not accept them as a provider. When I called my insurance company they gave me a list of pharmacies in my neighborhood and Walgreens was on the list. So I decided to make that my pharmacy from now on. Also, I had remembered reading some information about new developments with accessible prescription drugs and decided to inquire about it when I went to Walgreens to pick up my prescription. As I am blind, accessibility is key.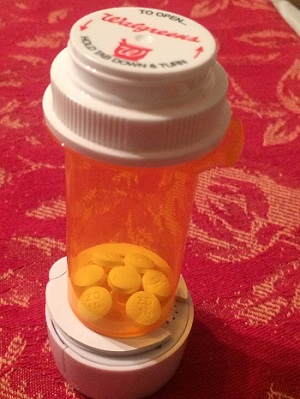 Miseducation on Accessible Prescriptions
On my first trip to Walgreens I asked about the accessible prescription information. I mistakenly called it the ScriptTalk, which is provided by Wal-Mart and CVS. The person at the counter was not familiar with what I was talking about and told me that she would research it and to come back later. I did so and waited about a week and then came back. On my second trip to Walgreens to pick up my medication, I asked again about accessible medication devices for the blind. The second sales clerk was a bit more familiar and gave me the Talking Pill Reminder device, which is the product that Walgreens provides. But she charged me for it and was not suppose to. According to a press release on the Talking Pill Reminder, the device is free with the purchase of a prescription. At first I thought this was a bit odd but was not sure if I was supposed to be charged or not. It was not until later that I discovered the mistake. I went back to Walgreens to point this out and a refund was given.
Educating Myself on Accessible Medication
I realized that through this situation that I needed some education and so did my local Walgreens staff. So, I started reading up on accessible medication information and here is what I learned:
All this information helped me to educate myself as a blind person. As with so many other things in life, you can't wait for others to tell you what is going on, you have to seek out the knowledge for yourself and find out what is happening. It is all a part of educating yourself and being your own self-advocate.
Advocating at Walgreens
While I was learning about accessible prescriptions I also wanted to alert Walgreens to my experience at my local store. So, I called their customer service line to file a formal concern about my experience with all of this. I told the customer service representative the situation and was told I would get a call back in two days. After a week past no one had returned my call and so I called again. After about another week past I called again and pressed a little harder on the issue. The second customer service representative indicated that someone had indeed called me back but I never got a call or a voice mail. They also went on to say that the local Walgreens pharmacy manager would call me not someone from the corporate office. So I waited a couple of more days for a return call. When I did not hear anything I called my local Walgreens and asked for the pharmacy manager. We spoke about the situation and she explained to me that she has six pharmacy staff people that are knowledgeable of the Talking Pill Reminder for people that are blind and visually impaired. She thought that perhaps the days that I came to the pharmacy were days that the pharmacy was busy and that extra staff from the store came over to help out. She explained that sometimes that happens to help with the overflow of customers and that the regular Walgreens store staff is not as knowledgeable and therefore could have possibly made those mistakes. She said that she would bring it up in their general store staff meetings so that they would be aware going forward. She apologized for all the problems I had been having and promised that they would do a better job in the future.
Passing on the Knowledge and Paying it Forward
So, now that I have educated myself on these new developments about accessible prescription medications and brought my concerns to my local Walgreens pharmacy, it is time for me to pay it forward. As a member of the blind and visually impaired community, I believe in sharing the knowledge and passing information on. I hope that by reading my story that you will learn from my miseducation and empower yourself with information. Before reading this post, had you heard about accessible prescriptions provided at your local pharmacy? If so, what has been your experience? Was your pharmacy knowledgeable about accessible prescription products? If not have you advocated for that information to be provided for you? Share your thoughts so we can help empower each other.