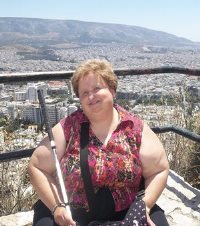 Editor's note: With all that has been going on with the close down of the Federal government, one of the programs that was initially affected was the BARD (Braille and Audio Reading Download) Program, through which people who are blind or visually impaired can download books to read from the National Library Service (NLS). (Note:The program was brought back online on October 4).
BARD Shuts Down
The suspension of BARD really didn't make me happy.I am thankful, though, that I had a heads-up and knew that the site would be going down. When I heard that BARD would be off-line when the government was shut down, I logged in and began randomly downloading books that sounded like they would be of interest. I have to have things to read! Since the BARD service has been available, I haven't ordered books from my regional library, I've simply downloaded them. It's been so much more convenient. I know that this is only a minor impact that the government shut down has had on all of us, but for someone who utilizes BARD it was certainly a frustrating consequence and it moved me to write this article about what reading means to me.
When My Love of Reading Started
I have always loved to read. When I was a child, I could spend hours in the bookstore, reading the back of every paperback in order to decide which was the perfect book to buy. I still love the smell of a brand new paperback. Even though I could still read print, I began receiving NLS Talking Books in the mail when I was in 3rd grade. I loved them, too, and they were probably the only thing that saved my sanity when, at the end of 8th grade I lost the vision in my good eye and could no longer read print books.
Reading with Braille
As a freshman in high school, I learned to read braille, and I love braille; I can't imagine life without it. However, even after all of these years, I tend to be a slow braille reader. So, I tend to do most of my extended reading auditorily.
Discovering Downloading
I continued to get books on tape from NLS for years; then, about 10 years ago, I discovered Bookshare. At the time, I had one of the original APH Book Ports. With the Book Port, I could download digital books from Bookshare and read them. This was the most incredible gift. It was almost like being able to walk into the bookstore again, choose a book and begin reading it immediately.
I was hooked! I can't even express how this opportunity made me feel. I had spent years ordering books from NLS and waiting for them to arrive at my door. Once again, I had immediate gratification! One book sticks out in my mind, specifically. I was talking to a friend on the phone. We discussed a book,My Sister's Keeper by Jodi Picoult. After I got off the phone, I went to my computer, found the book on Bookshare, downloaded it, and immediately began to read. I think I stayed up nearly all night that night reading. It's a great book, by the way, but for me, it illustrates how far things had come in my access to books.
Many More Resources Available Now for Downloading
Now, looking back, I am amazed how far we have come since then. Now, I can download and read books from a great number of resources. There are so many options for accessing books. I use NLSBARD, the free download service to those who are eligible for the Talking Book service through the Library of Congress. You can even download a free App for Bard and Talking Books. I continue to use Bookshare.org. Bookshare membership is $50 each year, after you pay an initial $25 membership fee. For this, there are no limits on the number of downloads. What a bargain! You can spend this much on only 1 or 2 books at the bookstore. I also sometimes use Learning Ally, although its focus is geared toward providing textbooks to students. Other resources for electronic books include iBooks, Blio and Audible. With these resources, you purchase each electronic book individually.
Options for Reading Books
Along with having more resources for books, there are also many more options for reading them. Usually I download the books, put them on a digital cartridge and read them on my NLS digital player that is provided for free as a part of the Library of Congress Talking Book Program, but I can also put them on my Victor Stream hand held player. If I want to read them in Braille, I can put books on my Braille Note Apex and read them with the refreshable Braille display, or even use the speech to listen to them. Those are simply the devices specific to blind users, but now, I can also use my iPhone or iPad to read books, too. If I "blue tooth" a refreshable Braille display to my iOS device, I can read from my iPhone in Braille too through the BARD Mobile App. Amazing! It's incredible to have so many reading options, almost like a dream come true.
Seek Out Options That Will Work for You
So, if you love to read, as I do, but can no longer read print, I would encourage you to seek out your options. The loss of vision does not mean the loss of reading. You just need to re-focus and begin to read in a new way. Fortunately for individuals who are blind or visually impaired these days, the options are there. Downloading books and getting them onto various devices takes some technology skills, but if you enjoy delving into a good book, like me, the time and effort spent in learning to maneuver the websites and download books is well worth the effort.
You can learn more the reading options mentioned in this post in the reading section of VisionAware.
See A Technology Year in Review available through AccessWorld where you can find up to date information about technology.
Also see "On Becoming Illiterate" by New Zealand Author Lynley Hood.