Editor's note: September is National Guide Dog Month. The VisionAware Peer Advisors have put together a few posts about their experiences with guide dogs, how much their dog improves their mobility and independence, and how they work with their four-legged friends. Today's post takes on the voice of Maribel's guide dog, Nev. Stay tuned for more posts later this month.
Memoir of a Guide Dog: It's Off to Work We Go
Our guide dogs have the most amazing personalities. Loyal, focused, protective, loving, and at times they can be highly entertaining. For Guide Dog Appreciation Month, I'm sharing a tale about my golden Labrador who was a real character. If Nev could talk, I am sure he would have something to say about our family routine. His day began…once upon a bone…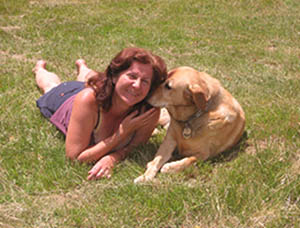 It's Off to Work We Go
My handler stands at the back door, "where are you, boy?"
I bury my bone and dash to her side. "Cool, we're going out, right?" Harness, check. Leash, check. Poo-bags, check, boy-child – not checked, he's at school.
"Good boy." She gives me a big hug, sweeping a thick brush over my golden fur and places the harness over my head, ready for work. Every time that leather contraption goes on, something strange happens to me. My entire focus switches from being a dog to sighted-companion as if my brain becomes wired to her voice.
"Let's go. Find the way, Nev."
I give her a fleeting glance upwards. "Gotcha."
These magic moments when we work in harmony make my paws prance with happiness. Half an hour later, we trot through the front doors of college. People watch our every move, fascinated by our team work. The second we enter the classroom, eyes travel over me.
All About Nev
"Yes, I'm a guide dog. That's right, I am very cute." Sniffing the air, "where is that delicious smell of salami sandwich coming from?"
"Nev. Sit down. D-o-w-n."
"Drats." She knows me too well.
She'll be on to me like a hawk. Well, not her personally — she'll assign a rookie to act as food-police, even during the break. Circling seven times under the desk to get comfortable, I let out a pained groan as all four legs collapse like a deck of cards by her feet. The students laugh.
"Don't mind my guide dog, he always does that," she says, "I'll talk about him later, but first…"
"Yes. And I'll be listening." I cross my right paw over my left, relaxing by her side.
She's an ambassador for her breed too. She'll tell the students about her life, about some of the tricks of the trade with low vision, about our first blind date, about all the things she does without sight. I am so proud of her. My girl is a clever cookie, for a human.
Traveling Home
An hour later, I am awoken by her students applause. Good, time to go home and back to my bone. I guide her to the taxi and we drive off to pick up the boy-child after school.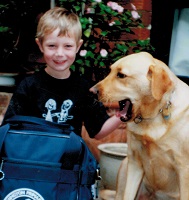 "Hi, Mom," the boy-child says as he greets his mother at the taxi window. He notices me curled up by her feet and wrinkles up his nose. "Ha, ha, you'll have to get in the back seat." I ignore his frown. He is a switched on kid. I often think he can read my mind.
He climbs into the taxi whining to his Mom, asking why he has to sit in the back.
"Oh you two," she sighs "it's like having twins!"
The boy-child pokes out his tongue at me.
"Jeepers, kid, you've still got a grubby face from breakfast? You're lucky your mother can't see — she'd be horrified." I can also tell by the way he is sucking his bottom lip that he is sure planning something. "I'm not playing your tug of war game today. I've got a bone waiting for me."
Chow Time!
One hour later and she calls to us both in the garden, "Dinner time!"
"Race you to the back door," I think, letting out a bark. We sprint there in five seconds flat. He closes the door behind him and I whine, "Hey, that's not fair. I like food more than you do, let me in!"
After several howls, she appears with my silver bowl.
"It's OK, Nev. Dinner."
Devouring my meal like a true Labrador, the bowl is licked clean in less than a minute. Bet you the boy-child hasn't even picked up his fork — he is such a fussy eater. Hmm. But my tummy feels full and life is good. My bone is safely tucked away under a lavender bush, the sun is setting on my golden fur, and I feel warm all over.
Spending Time with My Family
"Nev?" the boy-child calls sweetly. He must have a full tummy too.
OK. Truce. I'm coming. I make my way towards the house where the boy-child stands, holding open the back door. Like cheerful twins, we nudge in close as we walk towards the living room. He tugs me firmly onto his soft foam sofa to curl up together in front of the TV. He plonks his little body on top of my fur coat as if I am his royal cushion, and to tell you the truth, on a full tummy, I don't mind anything.
My owner comes to sit on the floor. "Good boy, Nev. Well done today." She rubs my velvety-ears like on the first day we met. "Tomorrow we're going into the city. Won't that be fun?"
"Can I come too?" asks the boy-child.
She rubs his tummy, "Sure. We can have a picnic in the park."
"Can we take some biscuits for Nev?"
"Hmm. What do you think, Nev?"
Wagging my tail, I lick the boy-child's ear. He fidgets until he finds a warm spot and leans into my curved back, our breathing rising and falling together like floppy puppies.
"Love you, Nev." He suddenly whispers, toying with the hairs under my chin.
"Ditto, kid," and I lick clean his sticky face.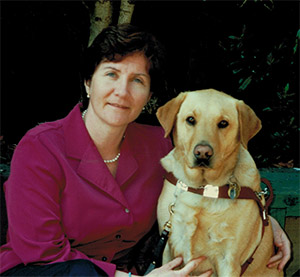 Other "Doggie Tails" from Peer Advisors
RunMelbourne: A Walk in the Park with Our Guide Dogs
Top 10 Ways My Dog Guide Assists Me
Lessons My Dog Guides Have Taught Me, Part One
Lessons My Dog Guides Have Taught Me: Part Two