I just came back from my first trip on Megabus and I am happy to report it was a great success. I went from Atlanta to Knoxville, a 3.5 hour bus ride, to visit my daughter. She recently got engaged and I wanted to go visit so we could work on wedding plans. Megabus made it possible for me to travel on my own with my guide dog in safety and comfort! And the best part was the round trip ticket cost $11.50, less than a tank of gas.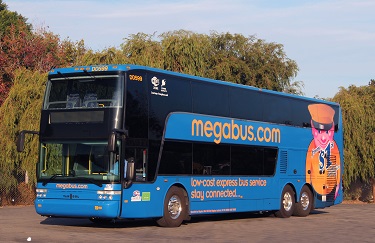 Megabus has been operating since 2006. I had heard of college students using it but did not realize all that it has to offer. This bus service provides city center-to-city center transportation across the US and Canada and goes to more than 120 locations. The buses are clean, comfortable and well maintained. The drivers are professional and trained to assist travelers with disabilities. Megabus is fully ADA (Americans with Disability Act) compliant and accessible. They welcome passengers with special needs.
Website Easy to Navigate
I went to www.megabus.com to make my reservation and found the website very easy to navigate with Zoomtext. There is also a telephone number if you need help to schedule your trip. Call 1-877-GO2-MEGA (1-877-462-6342) to have a customer service representative assist you with your reservation. Trips can be schedule up to 45 days in advance. Prices vary according to day and time of booking, day and time of travel and the demand for seats. The earlier you book, the better the price you will get. After I booked my reservation, I printed out my confirmation which included information about the bus stop locations.
Arrive Early If You Need Assistance
On the day of the trip, if you have special needs, it is recommended that you arrive at least 15 minutes early and report to a Megabus employee. They had my reservation and were expecting me and my guide dog. The driver stowed my bag and offered assistance to get me settled on the bus ahead of other passengers. The bus stop was well-lit and there were multiple employees helping travelers. There was even a "snack van" where last minute food purchases were available. Food and drinks are welcome on-board.
Bus Has Convenient Features
I found the bus clean and comfortable, with adequate room for my guide dog on the floor. There was free Wi-Fi, phone charging ports at each seat, and a bathroom. Soon the bus was loaded and we left on schedule. The driver came on overhead and explained several things about the bus and gave us helpful information. I settled back, adjusted my seat, and hit play on my audio-book as we pulled out of Atlanta. Before I knew it, we were approaching Knoxville. I texted my daughter with my arrival time and she was already there waiting for me. We were right on schedule.
We had a lovely weekend together, gathering wedding supplies, making plans and enjoying each other's company. The Megabus bus stop was just 5 minutes from my daughter's house and she was able to drop me off on her way to work. The return trip back to Atlanta was just as smooth and comfortable. This time, my dog and I both slept most of the way.
Would I Do It Again?
I am so impressed with Megabus and cannot wait to plan my next trip! I will definitely use it again. Perhaps I will visit my son in Virginia or maybe I can go see an old friend in Indiana. How about a weekend in New York City or Chicago? It is so wonderful to have this option and the possibilities are endless. Where would you like to go on Megabus?
Related Articles
Finding Rides When You Can't Drive