Guest Blogger, VaShaun Jones is the Managing Partner of Fedora Outlier LLC, the first nationally-recognized firm delivering consulting, teaching and support for Apple's range of born accessible technologies to individuals who are blind or have low vision. The firm was founded in mid 2011. Fedora's mission is to educate, equip and empower the blindness community for success in the workplace, classroom and at play. Outside of managing his company, Jones enjoys playing the saxophone, working with people who are deaf-blind and advocating for the rights and responsibilities of people who are blind.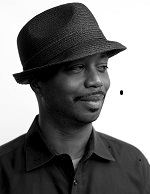 I Enjoy Traveling on Amtrak
Trains, planes and automobiles are how I normally get around the world along with the occasional walk for good measure. My favorite mode of transportation is via Amtrak using their accessible features. I travel a lot as the Managing Partner of my firm using Amtrak and find it to be very pleasant, relaxing and refreshing. Most people don't like traveling where they have to be in route for hours at a time, but I truly love it! My average trip on the train is around 13 hours one way.
My Trip From Start to Finish
Here is what a typical trip looks like from start to finish. I take out my iPhone and check my guest rewards points. I use the Amtrak app for iOS free in the app store. After I have determined what type of deal I can get by using my points from my previous travels, I follow the steps below to maximize my trip experience.
Steps to Travel on Amtrak
I call Amtrak reservations at 800-872-7245 and give the automated virtual agent,whose name is Julie, all of my travel information. I tell Julie how many adults, children, or pets, the dates of travel and the times for departure and return.
I confirm the trip schedule with Julie and then ask to speak to a real person. When I have an attendant on the line, the attendant is able to see the reservation I just made.
I let the attendant know that I'm blind and need Red Cap assistance and also that I would like the customary disability discount of 15%. This is a discount applied to the ticket price after the total has been explained. You get the best deal when you book well in advance of your departure.
Once the trip has been made, payment submitted and all is well in the world, I wait for my electronic ticket to be emailed to me. On the day of the trip I arrive at the station 1 hour before departure time. The ticket says two hours, but I know from doing this for years that the people needing assistance move through all processes first. So to avoid unnecessary waiting, I show up an hour before my time to depart. I take out my iPhone and hand it to the ticket agent with the confirmation email opened and she scans it and prints me a ticket for boarding.
Remember in step 3 I spoke about the Red Cap assistance that would be needed? The Red Cap is your friend and is there to serve you, so make sure you tip well. T.I.P. stands for "to insure prompt service" and you should always tip people who serve. They will seat you in a specific area of the station so you can be first on the train. Once on the train they will find you a comfortable seat on the train near the dining cart and the restrooms. Then the Red Cap is off to help other people with disabilities. Don't worry. This type of help is available throughout your whole trip, from the short breaks they take between states and cities where you can get out to stretch your legs to when you'll need to possibly switch trains. Every step of the way you have help available.
Once settled into my seat the conductor comes and takes my ticket and lets me know that if I need anything at all to stop him and just ask away. Conductors make sure I know where the restrooms, dining cart and quiet car are located.
Why I Really Love Amtrak.
While on the train you have all types of options for real food from steak to seafood, hamburgers and hot dogs, soda or your favorite spirits, chips and candy and a pillow. Add in free WiFi, spacious seating and a power outlet to charge your electronics, not to mention the low cost with the disability discount. With all of that included in your ticket price, you have yourself one fine trip or, as I like to call it, "an adventure."
Sleeper Cars Are a Special Feature
I have been using Amtrak since the mid 90's and have never had an issue. I've met several interesting people like a guy that was a famous tennis player to the CEO of SkyTel Inc. Oh, and before I forget, if you want to kick your trip up a notch Amtrak has sleeper cars that you can get instead of coach for an additional fee. Through this feature, you get all your meals and spirits for free served to you in your room. I like the option of having a cabin to myself and being served because it's classy. But not only that, you can sleep if you like and you have a real bed, your own restroom and all the amenities of a hotel as you travel at 100 miles per hour or so.
Let's Talk Train Travel
Have you ever considered taking the train? What do you think about traveling on Amtrak as an option for long distances? What transportation options do you use? Do you have any challenges with other modes of transportation? Share your thoughts with us in the comment section.
Additional Transportation Information
Learning to Travel Independently
Editor's note: this blog post was originally published on the Center for the Visually Impaired's SightSeeing Blog in March 2013.