Editor's Note: We continue to celebrate National Service Dog Guide Month. This post is Part Two of Deanna's tribute to her nine dog guides and the lessons they have taught her. Be sure to read Part One.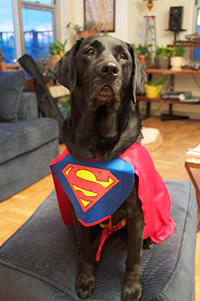 Irish: Make Time to Smell the Roses
Irish was my smallest black lab. She weighed in at about sixty pounds. While walking through town on a quiet Sunday, I paused at an intersection with Irish and my five year-old daughter Kassia. Since no traffic was moving at all, I instructed "Irish, forward." When we reached the other side, a woman across the parallel street shouted, "Your dog crossed against the walk sign." I yelled back "She can't read." As we approached the next intersection, my daughter leaned down to explain to Irish. "When the sign looks like that, it means dog catcher over there! So don't go. When it looks like this; it means free dog biscuits over here." There Mommy," announced my clever child. "Now she can read."
Handing Over the Harness To Her Successor
I retired her after four years because she suffered from extreme allergies. The poor girl got dime-sized hives if bitten by a tick. She had to be kept on medication from early spring through to the first frost in the fall. Her medical expenses made it unlikely that I would readily find an adoptive home for her. I have done my best to analyze their needs when placing my dogs in retirement homes. Only Irish was of a temperament that I felt comfortable keeping her as a family pet. She had never really liked guiding and was happy to spend a lot of time outdoors running with our other family pet dog. I transferred her care to my youngest child several months before going for a replacement. After retiring, only once, did she indicate that she wanted to guide. My new pup was exuberantly dancing around at the sight of his harness. So much so, that I was having trouble catching hold of him to slide the harness over his head. Irish walked over and put her head through the harness as if to say, "This is what you should be doing." Since I was only going down the drive to get the mail, I buckled her up and went out the door. Gentry, the new pup in town was so upset, he jumped through the screen door to race after us. Irish taught me to pay close attention. Her "party girl" approach to life meant that I could never just relax and expect her to do all the work.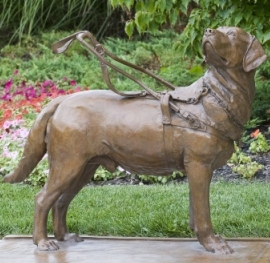 Gentry: Initiative and Direction
Gentry was my fifth dog. He was 95 pounds, fast, strong and had no respect for women. He was also my best traffic dog. His speed and agility proved priceless when he needed to spin me into a hundred and eighty degree turn and back on to the curb to avoid being run down by a logging truck. He could easily walk the five miles from our home out along a county road with no sidewalks. When we arrived in the vicinity, he still had so much energy that he pretended not to see the turn into my restaurant and tried to sail on by hoping for another five miles of jogging. I called him my red-neck trucker dog because he always thought he knew best. If I decided to go left at a corner and he thought we should go right; he needed convincing. After several firm commands to turn in the direction I chose, he would move off slowly grumbling argumentatively under his breath. The translation was clear, "Darned woman is all turned around! The bank is over there! Women just have no sense of direction!"
Gentry Adopts a Kitten
Gentry had a softer side as well. His favorite toys were soft plush animals or a sock doll I made for him. He also loved kittens. He drove our family cats crazy trying to pick them up and carry them around. He ended up with a scratched nose more than once when he poked his large black Labrador face into the exposed belly of a sleeping cat. It never discouraged his belief that all cats were adorable. Eventually he adopted a black kitten that someone dropped off on our driveway. They often slept together. The kitten curled between Gentry's large front paws serving as a pillow for his big buddy's broad bear-like muzzle.
Gentry Takes Charge
Gentry and I traveled many miles on Greyhound Buses and planes as I became more active in The American Council of the Blind and accepted a gubernatorial appointment on the Oregon State Library Board of Trustees. He did his best work when in unfamiliar areas. He was easily bored when we were traveling predictable routes. Boredom led to impulsive actions. For example, he jumped into an oily water filled drainage ditch because he was hot on the long walk to work. He also jumped up onto a drugstore counter to see where the chirping of a canary behind the counter was coming from. Although his exuberance and strength were a challenge to control, he had terrific initiative in problem solving. One day I wanted to go to a meeting held in a room at the library. The front and side entrances were locked and of course if there was a sign posted anywhere, it wasn't accessible to me. After we had circled the library twice with Gentry showing me locked doors, I gave up and started back to my restaurant.
A block away, Gentry suddenly pulled me up the steps of a house. He spotted some people through a picture window and decided I needed help. Before I could turn him back to the street, the gentleman of the house came out to ask if I needed anything. After I explained that my dog thought I was lost because I was unable to find an entrance to attend a meeting at the library, the gentleman showed us where a back staircase led to an open door.
Gentry loved to travel. He dived under airline seats and curled up so tightly, that an airline stewardess once asked me if I wanted my bag put into the overhead storage locker. She mistook the handle of his harness for the handle of a rolling suitcase. When Gentry was nearly ten, he accompanied Curtis and me on a Caribbean cruise to celebrate our twenty-fifth wedding anniversary. He got to leave his mark on seven different islands.
When Gentry began to limp on cold mornings and had trouble coming awake and alert after being down at rest, I knew it was time to start the process of looking for a retirement placement. He worked ten years. Although his exuberance and strength were a challenge to handle throughout our time together, he was a wonderful guide. I couldn't just work him when I knew he was in pain even though he would have continued to guide.
Gentry Takes on New Role as Security Guard Upon Retirement as a Dog Guide
Scottie, my best friend at college, and I had kept in touch over the years. She and her husband and son now lived on the family farm. Her mother had recently lost a sweet yellow lab I had found for her as a companion. Mom Hagedorn still lived alone in her house on the farm. Scottie helped me convince her that Gentry would be a great security guard with his large size and deep authoritative bark. His house manners were excellent and he enjoyed children so Scottie's son Jonathon joined the effort to convince grandma that they needed to adopt this big fellow. He died at fourteen. I saw him several times during his retirement and was glad he was having a good time in a warmer climate with a child to play with and other dogs to dominate. It seemed to me, that it was only fair to give him those three years of rest after the ten years he had given me. Gentry taught me to accept others for themselves. No one is perfect, but if we can learn to focus on the good qualities in their natures, we can live with those that aren't to our liking.
Griffin: Giving People Credit Gets Results
Griffin was my sixth canine partner. He was a lovely sensitive male German shepherd. He required a cheerleader to perform at his best. His pride in his work boosted by a lot of attention and praise enabled me to travel to Mexico twice, Hawaii twice, to visit the Caribbean and to represent various affiliates of the American Council of the Blind in legislative seminars in Washington D.C. He believed that he was a seventy-five pound lap dog. My Griffin unlike my three labs didn't like to curl up. He stretched full length whenever possible. So when I tried to place his rear-end under the airline seat in front of me, he insisted in resting his chin and forepaws on the retainer bar under my seat. When the plane went into a steep climb, he slithered over the bar and into the row behind startling the teenaged girls sitting there. Needless to say, on a subsequent flight he dove under the seat in front of mine and allowed me to brace him with my feet!
Finding My Suitcase
Griffin was nearly as timid as was Teddy. He truly wanted to please and tried hard to understand what I wanted. I was once faced with a mountain of luggage in which my bag was stacked. I needed to meet my ride to the airport. There wasn't anyone around to lend me a hand in locating my suitcase. I exclaimed, "How will I ever find my bag!" Griffin stepped to my right and laid his head across a small familiar rolling suitcase. I had never taught him to locate my possessions, but he did understand the word find paired with things like an elevator, stairs, chair etc. He drew the conclusion I wanted him to find something and my suitcase containing his rug and toys was the only thing that seemed likely to him. Sometimes, Griffin got overwhelmed by the difficulties of finding our way in new and strange locales. When his confidence began to wane, I found he could be reassured if I sang to him as we walked. If you happened to be crossing the capitol mall in Washington D.C. and spotted a lady chanting Army cadence, "I don't know! But I've been told! Getting lost can sure grow old!," It was likely to have been me and my Griffin dog.
A Sincere "Thank You" Makes the Day Brighter for Everyone
Griffin has taught me that we can get better results from others if we are willing to give them credit for their accomplishments. A thank you well timed makes the day brighter for both the one giving the thanks and the one receiving them. Griffin was the only one of my dogs to die in harness. He loyally guided me until the day he died.
Additional Resources
Dog guides for people with vision loss
Lessons My Dog Guides Have Taught Me: Part One