Editor's Note: We continue to celebrate National Service Dog Guide Month. This post is Part Three of Deanna's tribute to her nine dog guides and the lessons they have taught her. Be sure to read Part One and Part Two.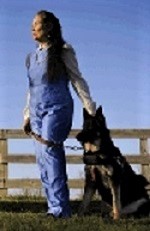 Olsen–Getting Attention At the Highest Levels
During the 2008 election campaign, I attended a town hall meeting staged in Columbia Missouri. The event was for vice presidential nominee Senator Joe Biden. I was able to take along three co-workers from my office because my husband went to the ticket distribution center in our small town of Fulton. Tickets had all been distributed in Columbia on Sunday night. Only one politician spoke before the senator, Judy Baker who was running for the 9th congressional district.
After a short speech and a question and answer session, it was time to work the rope line. Olsen, in his usual manner, slithered through the crowd until we were up against the barrier. Senator Biden moved up and down greeting and listening to people. When he reached the spot where I was standing, my dog was wedged between us against the curtains. Senator Biden took my right hand in his and greeted me warmly, I wished him a blessing on his journey and safe travels. He stepped close, leaned across the barrier to kiss my cheek and give me a hug. He leaned down to stroke Olsen on the top of his satiny head and commented that he once owned a Belgian shepherd and that my dog was beautiful.
On the local news that evening, the camera caught Olsen and I moving through the crowd. Once again my Seeing Eye trained dog got me where I wanted to go with grace and security. What's more, because of my handsome escort, we got noticed. Mom was right when she exhorted me to choose the company I keep wisely. No, I didn't tell the senator not to pet my dog; I figured they both deserved the privilege.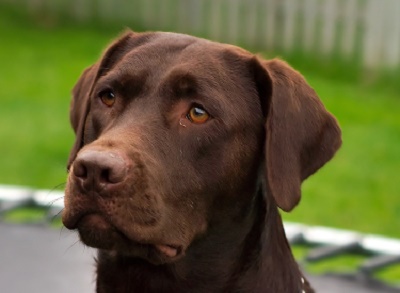 Reno: Thinking of the Needs of Others
My eighth guide dog was Reno. His coat was a rich dark chocolate and he had lovely amber golden eyes like Tammy. He was as gentle as Teddy, as sweet and cuddly as Griffin with a loving joyful personality. He only worked five years because he was extremely timid and eventually his tremors when frightened and his reluctance to be harnessed told me it was time to let him move in to a new career.
Everyone Needs a Little Dark Chocolate (Lab) in Their Day
He is now working with a friend who does respite and hospice care. His affectionate loving nature is much better suited to bringing comfort to the terminally ill than it was facing the challenges of complex traffic and the rolling thunder of summer storms. Even when he was cringing and shaking with fear, he never left me in the lurch. However, I could see how much it cost him to bravely soldier through. Because my dogs give me so much, it is my responsibility to return that gift by knowing when it is time to let them hang up that harness. My Little chocolate taught me to think of the needs of others even if it means toughing it through a difficult situation.
Enzo: Looking Forward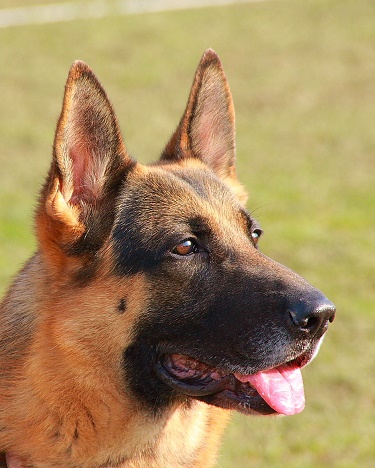 I am now newly matched with Enzo, a beautiful gentle German Shepherd who thinks he should be allowed to sit on car seats. He loves his crate as a place of his own to retire from the hurly burly of our home. As much as it hurts to lose a dog to illness or a need for a career change, Enzo has already begun to teach me that we must be ready to look forward and let the past stay in the past. We live in the now and that can be a pretty great place to be.
Lessons That Have Enriched My Life
Since receiving my first guide dog Tammy in 1968, eight successor dogs have taken up their stations at my left side. Each dog shouldered the responsibility of guiding to the best of his or her ability. Each brought a savor and enjoyment to my life with their companionship. They walked beside me for a while, sharing my journey, helping me to meet and overcome the challenges inherent in being a blind woman. From each dog, I learned lessons that have enriched my life. They have been responsible for my being able to board planes early, occasionally even being moved from the economy seating I can afford to first class. They have given me the opportunity of meeting like-minded people who also love dogs. They have kept me safe and made it possible for me to go where I want, when I want and added immeasurably to the quality of my journey by assuring I didn't have to walk alone.
Additional Resources
Lessons My Dog Guides Have Taught Me: Part One