Back to School Shopping Online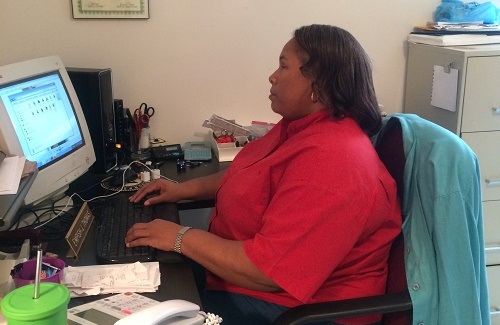 Fleets of bright yellow school buses, children toting backpacks and lunch boxes are all signs of one thing-school time. And yes, if you are a visually impaired parent or a visually impaired adult student the months of August and September is the time of year that you are preparing for a return to that old school house. Now, you don't' have to take that long list of school supplies and rush off to the local office supply or big box store; you can shop easily and hassle-free from the comfort of your home. How is this possible? Through accessible online shopping. Next to the Christmas holiday season, back-to-school shopping is the largest shopping time for retail stores; and online shopping is no exception. With free shipping, discount coupons and promotions you just can't beat the sale opportunities.
Freedom Scientific Offers Online Shopping Webinars
In July, just in time for back to school, Freedom Scientific hosted two free webinars on accessible online shopping. (Freedom Scientific is a technology company that produces software and hardware products for people who are blind and visually impaired. They also provide free webinars and some paid online courses to help you use your software.) The first was with Target and the second was with Amazon. Both webinars gave useful information on the strides that each company has made to make the online shopping experience more user-friendly for the blind and visually impaired community. Below I will share the highlights from each webinar. Additionally, I will include the link to the Freedom Scientific website so that you can retrieve the full webinar for your review.
The Target Webinar
During the Target webinar an introduction and overview was given first. Next, navigation and "fly-out" menus were discussed. A fly-out is a menu of secondary choices. For example, the category "clothing, shoes and jewelry" opens a fly-out. Your screen reading software will speak this information letting you know there are other options to choose from under that category. After explaining how to navigate around the website the Freedom Scientific trainers performed a sample exercise of shopping. The following steps were executed:
Performing a product search
Managing your shopping cart
Proceed to Checkout
Using the Show and Sort by combo boxes
After the exercise was completed information on how to reach the Target Accessibility Team was given and a question and answer session was conducted. To contact the Target Accessibility Team you can email them at accessibility@target.com.
The Amazon Webinar
The next webinar discussed shopping on Amazon. Unlike Target, Amazon has created an accessible version of its main site. It is called the Amazon.com Access site. It is a screen reader enhanced version of the main Amazon.com website. At present it has specific features for accessibility such as headings and regions. The Access site is Amazon's recommended site for users of JAWS, a screen reading software program. You can go to Amazon.com/access or use the link at the top of the Amazon home page to get to the Access site.
But on a side note, I have personally found that the accessibility site does not always provide a full robust listing of products available. Sometimes I have had to go to the main Amazon website to double check a product that I am searching for. The accessibility site can be seen as a "stripped down" version where you are just given the essential information that is needed to do a basic search and make a purchase. It might be advisable to check both sites and choose which works best for you and your comfort level.
After discussing the features of the accessibility site an explanation of the navigation menu was discussed. The Open menu link found near the top of the page will open the main navigation menu. In this menu you will find links to browse by department, view your account, sign in or out, view recent orders, and much more. You can activate the Close menu link to collapse and close the navigation menu.
Much like the Target webinar the Freedom Scientific trainers walked through a sample purchase. They first preformed a product search and once the product was found explained how the product detail page worked. The next steps were to place the product in the shopping cart and then proceed to checkout. But unlike some online shopping sites Amazon asks for your user name and password right at the checkout screen before making the final purchase. So, once you sign in you can proceed to checkout; choosing your shipping address and verifying quantity, product, delivery speed, and credit card information.
Again, like Target, after the exercise was completed information on how to reach the Amazon Accessibility Team was given and a question and answer session was conducted. To contact the Amazon Accessibility Team you can email them at accessibility-feedback@amazon.com.
Contacting Freedom Scientific
Contact Freedom Scientific Training and Certification to find out about the free Target and Amazon webinars.You can also call 1-800-444-4443.
Let's Share About Online Shopping
Now you have the highlights to get you going for a successful online shopping experience with target and Amazon. The option of shopping from your computer is not only convenient but accessible and now easier than before. If you shop online share your experiences with us. How has online shopping been for you? Do you shop with Amazon or Target? Have you found other online sites to be accessible? If so, which ones and why?
Related Articles
Re-evaluating the Best Way to Do My Shopping As a Person Who is Blind
AFB AccessWorld 2014 Online Shopping Guide
Back to School Resources for Parents of Kids Who are Blind or Visually Impaired