Peer Advisors Talk About Their Experiences with iPhones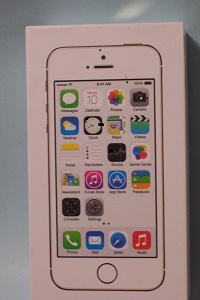 I was the last one in my family to have an iPhone. I resisted it for some time, feeling intimidated by the technology. Eventually, I got one for Christmas at my husband's prodding. My adult kids were all home and spent time teaching me how to use it, setting the accessibility features and downloading helpful apps. They encouraged me to "just start looking around and using it and you will learn what it can do." Every day, I learned new functions and began to enjoy this wonder of technology. There are user manuals and tutorials that also helped me learn the iPhone. To my surprise and delight, it did not blow up in my hands or anything!
Ability to Change Settings
I have Retinitis Pigmentosa and am able to see a little in a narrow field. I use my magnification eyeglasses to read the screen and also use the vision accessibility features. I have inverted the color scheme, white bold letters on a black background for increased contrast and decreased glare. I enlarge the font and can zoom in when needed. As I lose more vision, I will be able to transition to the voiceover option, where the screen is read out loud to me.
Maintaining Communication
It is very important to me to be able to maintain communication with my children and family. Now I am able to text, email, message on Facebook, and take photos and send them to stay connected. I use the Siri feature and dictate texts, emails and messages so I do not have to struggle to type them on a small keyboard. Siri works beautifully and there is auto correct spelling too. I can even ask Siri, the personal assistant, questions and she can answer them.
Built-in Features and Apps
The iPhone has so many built-in features and apps that it eliminates the need for many other devices. It has GPS, stores your personal music like an iPod, radio, timer and alarm clock, and voice recorder to take down information. It has a high quality camera and stores and organizes your photos. The calendar can keep your schedule straight for you. There are many apps for the people who are visually impaired such as a flashlight, magnifier, money reader, color ID and descriptive video reader for movies. Some apps work better with Voice Over than others, so before you buy, check out www.applevis.com, a website for iOS users who are blind or visually impaired, to make sure Voice Over will work well with those apps that interest you. Also be sure to read Scott Davert's posts on Top App Picks.
Reading and Playing Games
Kindle and Nook apps can be used for electronic book downloads. My favorite app is the BARD app from the NLS, which allows me to instantly choose a book from the library, download it and begin to listen immediately. There are even some fun and educational games like "Words with Friends" and "Scramble" that I can access. Most of the apps I use are free and I have everything I need in one handy, amazing device.
iPhone Has Increased My Independence in Many Ways
My iPhone has truly allowed me to be more independent with communications, web searches, finding businesses and services, and managing my time and schedule. I am still discovering new capabilities and having fun with it. Once you get over the intimidation of the technology and begin to use it, it becomes more intuitive and you will wonder how you ever lived without an iPhone.
iPhones – Pros and Cons by Maribel Steel
Preparing to enter the foreign landscape of iPhones and smart devices is something I have shied away from for years. I still cling to my Nokia touch-pad phone simply because I like to feel the number pad as I text and I am quick and efficient with this old technology.
Time is precious – and the thought of investing hours, days and weeks to learn the tech jargon of the App language has not been on my priority list. My concern is that it will take over my life, that I will talk more to my device than to my family.
But recently, a friend who is also visually impaired, spoke with such passion about how using an iPhone can enhance my independent mobility by having a myriad of apps at my fingertips, I am now seriously reconsidering the pros and cons of smart phones.
Three Pros
It would be far easier to have the voice over application to read the screen details rather than peer through a magnifying glass which is straining my residual eyesight.
I like the idea of having a GPS to help me navigate through unfamiliar places, to locate specific shops and even identify colors
To have assistance at my fingertips, a 'google on the go' is something I can imagine being very helpful.
Three Cons
The early phase of self-training will be fraught with frustration as I learn to switch tech habits and experience a level of incompetence for a
Much time and patience will be required in order to accomplish tasks I can already do to some degree on my present Nokia.
The cost of buying my own smart phone. (I am still under contract with a server.)
Why I don't Use an iPhone by Empish Thomas
The reason why I don't use an iPhone. I am one of those low level blind people who need basic and simple technology. Not that I am still living in the Stone Age or anything but simple is best for me. I am one of those people still left on the earth that wants to use a phone for what Alexander Graham Bell created it for-to make a phone call. Not to do Internet downloads, take pictures, read Google maps, listen to audio books, play video games or music. I am not interested in teaching my fingers tap dance lessons with three finger taps and two finger swipes across a flat screen. I want to use the old fashion phone that actually has a keypad with a dot on the number five. Yes those kinds of cell phones still exist! Read more on my thoughts about the iPhone and check out Confessions of a Reluctant Technology User" by Deanna Noriega.
Speaking of Key Pads: A New Product for Bringing the KeyPad to Smartphone Touchscreens by Bill Holton, Access World Contributor
Your new touch screen iPhone or Android smartphone is a technological marvel. The screen access is growing more powerful with each version release. All your friends and family have smartphones, and you began to feel a bit left out and decades behind the times whenever you pulled out your trusty flip phone. You were lightening fast typing text messages by tapping on your phone's keypad. It's going to take you awhile to grow accustomed with the newer Smartphone touchscreens, and a part of you wishes you could have your old feature phone keypad back.
Now, you can, thanks to a new product from Mobience Inc.
Portable Keyboard
It's called the RiVO portable keyboard. RiVO stands for "Remote Interface to VoiceOver." It works with iPhones, iPads and iPod Touches, and happily, there is also a version available for Android. Each costs $129, plus $15 shipping.
Features
The RiVo is about the size of two or three credit cards stacked one atop the other, small enough to slip easily into your pocket or purse. It features a 20-button keypad with four rows of five keys each. The middle three rows contain the number buttons, labeled B1 through B*, with an easy-to-find indentation on the 5 key. The outside rows, one to either side, are labeled L1 through L4, and R1 through R4 for left and right respectively. These keys enable you to both type text and to issue VoiceOver commands such as swipe left, scroll down, activate item and call up the App Manager. Here's how it works.
Pairing with Bluetooth
Use a paperclip to depress a recessed button on the flat rear surface of the RiVO to pair it with your iPhone via Bluetooth. After that, turn the keypad on and off via a button located on the left edge. RiVO can run for several days before you need to recharge it with the included USB cable and the charging port on the bottom edge.
Quick Nav
With RiVO turned on and paired with your iPhone, press the R1 and B7 keys together to move into Quick Nav, a navigation mode that will be familiar to Mac Voiceover users. Basically, Quick Nav allows you to use shortcuts to move through screens by headers, links, words, letters, etc.
With Quick Nav enabled, you can issue all of the VoiceOver touch commands with the press of a key or key combination. For example, pressing L1 reads the screen from your current position to the end. Press and hold down the B8 key to activate Siri, and the B5 key to activate a link, button, or text edit field. This last will automatically toggle RiVO into Text Mode, and now you can type with your keypad the old fashion way—pressing B2 once to enter "A," and the B5 key three times to enter an "L."
Operating an Android Smartphone or Tablet
A similar set of commands allows RiVO for Android users to operate their Android smartphone or tablet. A complete list of commands for both versions can be found on the company's website. http://mobience.com/rivo
Read more about App Accessibility
Tell Us Your Experiences
So, what are your thoughts and experiences with smart phones? I am keen to hear how other people have been able to make the giant leap across to the land of Apples…