I Got an iPhone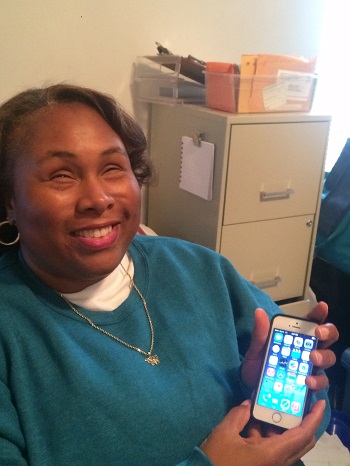 About two years ago I wrote a post for VisionAware on why I don't use an iPhone. In the post, I vividly described how I was totally unconcerned about the fancy bells and whistles of this growing technology. I shared how an old fashion flip phone suited me just fine. I explained how I was uninterested in downloading books, reading my stock portfolio, or listening to music on my phone; how I just wanted to make a simple phone call and hang up. Well, this past December I turned over a new leaf and purchased an iPhone. I know my iPhone friends had to do a double-take when I told them what I had done. They couldn't believe that I had come to Jesus and converted to Apple's theology. But yes, it is true. I am a true believer and have an iPhone now.
Why I Got an iPhone
You might be asking "What caused me to change my mind after all this time?" It was what my fellow peer advisor, Audrey Demmitt, described in her post "The Transportation Problem: Finding Rides When You Can't Drive." We both live in the Atlanta area and getting around can be very challenging even in a large city. After years of dealing with the ups and downs of public transportation, expensive cabs and personal drivers; I knew I needed something different. Several of my blind and visually impaired friends were singing the praises of Uber and how great an experience they were having zooming around Atlanta. But the caveat was that you could only access it through an app on your iPhone. So, my mind began to turn and I realized that if I wanted better transportation options I had to change my tune with my cell phone technology. I also realized that my flip phone was not totally accessible. I had problems getting to my contact list and some of the other features of my phone; whereas the iPhone did not present that kind of problem.
Purchasing My Phone
Since I was not in a major rush, I patiently waited until the new iPhone 6 came out last fall before purchasing my new phone. Typically when a new iPhone comes out the old model goes down in price. I had read up on the differences between the iPhone 5S and the iPhone 6 and I decided to purchase the iPhone 5S. The only major difference that I discovered was that the iPhone 6 had a more enhanced camera and since I am totally blind that was not of interest to me. I waited until around the Christmas holidays when prices would be even lower and got what I thought at the time was a great deal on the actual phone; but a poor deal on the call plan. Unfortunately, I got locked into a two year contract for my phone and my bill is a bit higher than what I had originally wanted to pay. But I learned that in the future to just purchase my phone straight out and then do a no-contract plan. Phone carriers are changing their policies on this every day and are offering more and more no-contract plans for smartphones. It is best to do your homework and shop around, ask lots of questions, and talk to friends to learn about the best deals.
Learning How to Use My iPhone
Going from a flip phone with an old-fashion keypad to a smartphone with a flat surface was a big jump for me. Flicking, tapping and swiping my fingers across a screen was a new thing I had to adjust to and even now is still taking some getting used to. But the more I use my phone the easier it gets. My iPhone friends have been more than gracious in helping me to learn my phone and have made themselves available when I need them for help and assistance. Sometimes I have called them on the phone for a quick troubleshooting lesson. Or I have sent an email for some step-by-step directions. I have also accessed Hadley School for the Blind instructional YouTube videos. I try to watch one each week or so to learn something new about my iPhone. There are several available and new ones are being added all the time. The videos focus on one aspect of the phone using the Voice over Command and you can access them for free anytime. They also have free webinars on a regular basis introducing new aspects of the iPhone as well. Additionally, I paid $99 for the Apple Care Plan which gives me two years of unlimited tech support through Apple's Accessibility Services. I can call their toll-free tech support line for people that are blind and visually impaired. A representative will assist me with any questions I have about my phone. I have gotten assistance with learning how to download my email, troubleshooting text messages, learning how to swipe or flick my finger better on the screen, learning how to use the reader, and accessing Siri better. It has only been a few months, but I am well on my way. The iPhone has so many features to offer and I know that it will take time to learn them all. I just try each week to learn something new. I will continue to keep you posted as I travel on this new and exciting iPhone journey.
Can We Talk?
Do you have an iPhone? If not, have you considered purchasing one? If you do have an iPhone, what benefits have you gained from it? How did you first learn how to use it? How has it helped enhance your life as a blind or visually impaired person?
Other Posts
Insights About Using an iPhone
What's New in IOS 8 Accessibility Part 1