Home Safety Month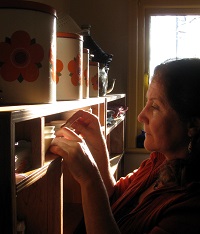 There is nothing so comforting as our "home sweet home" to return to after being away for a few hours, a day or a vacation. But often, it is our homes that can pose the greatest risks to our safety especially if you are blind or visually impaired. At home, we take off our emotional armor to relax, our dog guides are off duty. Our sighted family can even forget we can't see and are in relax mode too.
Distractions abound and before you know it, a dining chair was left out from the table, a cupboard door left ajar and a glass of water was perched right where you could knock it from the bench to smash on the floor. Accidents do happen – but why not eliminate their potential in your home so your abode can be your safe haven to truly enjoy. As June is Home Safety Month, come and take a peek inside the homes of our peers to see how they have adapted objects in their environment to make it a safe way of life – you may like to try some of these tips too.
Never Be Caught Off-guard by Empish Thomas
Empish feels safe in her home by having adapted her front door. In lieu of a peephole, she has a storm door. This door not only keeps the front door safe from wind and rain but perhaps more importantly, she feels personally safe from unexpected visitors. When people come to ring the doorbell, she addresses them by talking through the storm door. As she keeps the door locked at all times, this is a more practical way than yelling through the front door or using a traditional door chain.
Maribel has retinitis pigmentosa (RP) and depends on things being in their place and on seeing contrasts within her home.In fact, she has written a post entitled Being Organized is a Matter of Survival. She offers some creative ways to increase safety in her home:
placing lamps strategically near doorways (on a filing cabinet or book shelf) which works like a beacon to attract her to the centre of the door space
putting a salt lamp to lighten up a dark corner in the lounge room
reminding her sighted family of their "house rules" – keep corridors clear, chairs tucked away, cupboards always closed and drink glasses never left alone
painting white strips along the wooden veranda deck and top of steps at their family bush retreat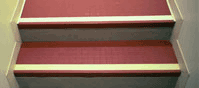 Having being blind since eight, DeAnna has had the opportunity to work with several dog guides. One of the reasons why she loves her dogs so much is because they help to make her feel safe, physically and emotionally. "People who might view me as a victim because I wouldn't be able to identify them might hesitate if I am accompanied by a largish dog." says DeAnna. "My dogs also make it possible for me to move quickly and leave the area of someone who makes me feel uneasy."
People have the option to enjoy the comfort of a protective friend without the need to own a dog because there is a device that can be attached to the door knob that will bark and growl when someone knocks on the door. If you choose to answer the call, you can pretend to quiet the 'barking dog' before opening the door with a safety chain on.
Audrey also has RP and likes to say "clutter is the enemy, light is my friend!" At home, she has brought more light to flood living areas by:
adding lighting to the stairway, to the kitchen and the bathroom
trimming the bottom stairs with dark wood to contrast with light-colored carpeting so she can more easily detect the edges
managing "clutter" by using a variety of baskets. She keeps one at the foot of the stairs to carry items up and keep them off the floor
maintaining the garden by trimming back any branches at eye level to avoid serious head or eye injury
constantly improving their home as her husband recently installed pathway lighting that leads to their front porch so she can navigate better at night when arriving home
Leann has Autoimmune Retinopathy, a rare eye disorder in which auto-antibodies damage the retina, causing progressive vision loss.This eye condition results in Leann having a major problem with glare. She discusses these issues in an interview with Maureen Duffy. Due to high light sensitivity, Leann has made her home safe by:
using room darkening blinds and curtains to block out disturbing bright light
having tint applied to the windows in the front door. This tint is sold for car windows and comes in varying degrees of block-out tint
using plug in night lights in just about every outlet, especially in the bathroom. This makes things much safer at night, especially when one is half asleep!
applying a thick band of black tape across the edge of each step, inside and out to prevent tripping and injury
More Tips On Making Your Home Safe
VisionAware has many more tips about making your home safe by using lighting, color contrasts, eliminating hazards and falls and reducing glare. So be sure to check out the following articles:
Over To You
Do you have any other safety tips you would like to share that work particularly well in your home? Please add your comment