Editor's note: Peer advisor DeAnna Noriega writes about independence and the full range of options you have as a person with visual impairment. You may also want to go back and read the first of our series on independence with a post by peer advisor Audrey Demmitt, RN, Independence versus Interdependence.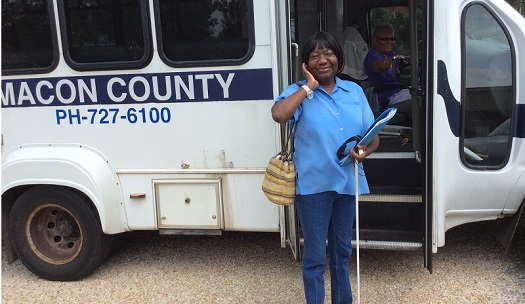 Do you handle your own finances? Do you arrange your own transportation? Do you live alone or with family members that seek to protect you? Do you organize your life; doing things that interest you, managing your own affairs, prepare your own meals, shop, hold down a job you love, and care for your home? All of these things are possible if they are things you want to do. You can find out more about them by reading the Essential Skills section of VisionAware.
What Can Help You with Your Independence?
The training, tools, and techniques to accomplish an independent lifestyle are all available and possible.
However, the choices of what you wish to learn and what you want to do are up to you. Some of these things will depend on what you enjoy doing, what your circumstances are, and whether you wish to take back control of your life. If you never did some of these things, such as handle your finances because a spouse always did that, you could decide not to bother learning to do that. How much control of your life you want is up to you as are the methods you choose to employ.
For example, you might use magnification, computers with optical character recognition, and online banking to handle your money. Or you might allow a family member to pay bills, etc. You might choose to use a reader to read your mail or use technology to do it. The choice is up to you.
If you like to control how, where, and when you accomplish tasks, you might opt to attend classes or spend time at a rehabilitation center to master the skills you will need.
How Independent Do You Need to Be?
The degree to which you want to take control of your life is a personal decision and there isn't a right way to live as a visually impaired person. There is a full range of options to tailor your lifestyle to meet your needs and be as independent as you choose to be. If you need to continue to work, that might be possible with the right tools and techniques. A construction worker I once met decided to go back to school after vision loss and not only did he graduate from college, but he also went on to law school. He passed the Bar exam and when I met him, he was serving as a judge. A man in the computer industry designed the first version of a popular screen reading software for the blind. He also declared that since he hadn't cooked before he lost his vision, he didn't want to learn how after he became legally blind. My husband of forty-five years claims I am too independent. Having lost my vision in childhood, I honestly forget to ask for help from others most of the time. I didn't choose to marry him so that he could drive me everywhere, read mail, or pay my bills. It is convenient to live in a household with six sighted adults and teenagers, but I am preparing to move out to an aging in place home with my husband as soon as we find a house on a bus route that will accommodate his wheelchair. I have had a long time to decide who I am and what I want out of life. Remember that vision loss doesn't change who you are or what you like to do, just how and what things you choose to do.
How Capable Are You?
A lot of the daily tasks we do reside in our muscle memory. We don't have to watch ourselves in a mirror to get our fork to our mouth. If you were a knitter before you lost vision, you can learn to do it without needing to see the stitches. If you could get up at night and find the bathroom without turning on the lights before developing visual problems, you can learn to navigate easily in familiar places. Break tasks down into manageable baby steps and don't worry about how long it takes you to accomplish tasks. Think outside the box about how to do the things you enjoyed before visual impairment. Learn to use your other senses to gather information about your environment. Touch, smell, and hearing can give you a lot of information you used to gather by visual means. Reach out to others who share what you are experiencing and ask questions. Don't give up the things you love because there is probably a way to continue them if you figure out a few workarounds. Life is as rich as you choose to make it after vision loss.
Peer Advisor Audrey Demmitt Shares a Similar Sentiment
I think if you are new to vision loss considering the impact your level of independence has on your relationships is important. Too independent as in taking unnecessary risks, not being realistic about what you are capable of, or being so frustrated with a task that you are miserable will affect those around you. There are times when asking for assistance is okay. On the other hand, if you are choosing to play the "helpless" role, this too will strain relationships. Using your previous skills, assets, and problem-solving abilities is necessary to reach a desired level of independence without overburdening family and friends. There is a time, when one is new to vision loss when you will need to lean on others more, but vision rehabilitation training can help you take back control and restore your independence. Greater independence means more choices, more opportunities, more privacy, and living life with dignity.
Learn More About Living Independently
Three Step Process for Setting Goals
Household, Personal and Other Independent Living Products