Editor's note: As we celebrate National Disability Employment Awareness month, Empish Thomas brings her perspective on today's job search for a person who is blind or visually impaired.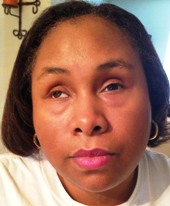 Welcome to the Portfolio Career
I have noticed that today's job market has drastically changed. I seldom see people working many years at one company until retirement. Additionally, I have observed people no longer getting a degree in only one field of study. People no longer work the 9-to-5 Monday through Friday type of schedule. The job market has changed to the world of temporary jobs, part-time work with no benefits and sub-contract work. It has become the world of working nights and weekends, working from home, and having several jobs listed on your resume. Welcome to the world of portfolio careers!
What is a Portfolio Career?
I realized early in my career that to stay relevant in this ever changing workforce it was imperative for me to look at a portfolio career. I also realized that because I have a visual disability a traditional career might not be in my future. Without even knowing it by name; the type of career I was pursuing was the path I have taken the past 15 years. This type of career focuses on having specialized skills rather than permanent long-time employment with one company until retirement. I have worked over the last several years with variations of part-time work; hours ranging from 15-32 per week. I have worked primarily in the non-profit industry; but at several agencies that have supported the blind and people with disabilities. Some positions were with benefits and others were not. To supplement my part-time income and to keep my journalism skills sharp I have worked as a freelance writer, education advocate, AmeriCorps participant, research consultant, and now blogger.
One of the immediate benefits of portfolio employment is that it provides more flexibility and more control over your career. It allows you to take several skills and talents that you might have and cultivate them into employment. For example, I am a journalist, public speaker, accessibility research consultant and advocate. I have used all of these talents to find paid sub-contract work and long-term assignments. Below I have listed a couple of suggestions to help you launch this type of career.
Find Your Passion
First thing I considered was looking at what I was passionate about. Since a portfolio career is not a traditional type of employment I wanted to do something I enjoyed doing. For example, I love to read and discuss books with others. Many of my friends and colleagues know this about me. So, a few years ago I was asked to help create and facilitate a book club for the blind. When I was being interviewed for the sub-contract position, the person that gave the interview mentioned that when she asked around about potential interviewees, my name kept coming up in conversation. Needless to say, I got the job and for almost a year, I was paid to write lesson plans for a book discussion group, train volunteer facilitators, work with the local talking book library and members on book selections and a host of other things. At that same time, I was asked to write a column for my local community paper on the publishing world. I wrote stories about self-publishing, the writing process and of course, the book club for the blind I was facilitating.
Having a Business Mindset
I also realized that I had to have a business sense and think with a business mind. A portfolio career can be viewed as being self-employed. I was working as a freelance or sub-contract employee, I was not a permanent employee at one company. Therefore, I had to learn how to maintain multiple contract assignments and conduct myself in a professional manner. For me that meant reserving space for a home office, maintaining my computer software and assistive technology, being proficient with the Microsoft Suite of Word, Excel, Outlook and Internet Explorer. I also had to maintain my income and expenses for tax season. A couple of years, I even hired an accountant to help me keep everything straight with current tax laws because sub-contract checks don't have taxes taken out.
Marketing My Skills
Having a portfolio career meant learning how to market my specialized skills. I needed to be confident in talking about myself and what talents I brought to the table. One thing I did was carry personal business cards in my purse. Since I never knew who I would meet in a day, I always had them handy. I also had a personaal website created with my resume, samples of my work, testimonials and other information for potential clients to view. Today, many people use a LinkedIn profile to bring business and possible assignments to them without doing much work.
Join Associations in Career Field
Another way I marketed myself was to join professional associations and network at chapter meetings. When I was a freelance writer, I was a member of the Freelance Forum. This group was a paid membership organization that focused on a variety of freelance careers such as writers, photographers and graphic designers. I also joined a local journalism and public relations association and attended their meetings as well. At these meetings you can meet and network with your peers who are in the same industry. Sometimes these relationships can lead to future work, assignments and contracts. Today, I am a member of the Black Public Relations Society and interact on a regular basis with pr professionals in the Atlanta area. I also am an on-line member of several blogging groups and contribute to conversations about the blogging world.
Keep Up With Current Trends
I also try to keep up with trends and current events in my industry. Knowing what is going on will not only keep me relevant but might lead to possible job assignments. Since I am a blogger knowing current events and happenings have opened up story ideas to write. For example a month ago I got a press release on the US Bureau of Engraving and Printing providing free bill readers to the blind. I blogged about that and it received over 15,000 views on the Center for the Visually Impaired's Facebook page; which was pretty amazing!
Additional Resources
These are just a few of my tips on pursuing a portfolio career. But for more information on this new and creative employment opportunity here are a couple of resources. You can listen to the Hadley School for the Blind seminar called Portfolio Career. There is even a book you can order called And What Do You do? Ten Steps to Creating a Portfolio Career by Barrie Hopson. You should also check out the resources that APH CareerConnect has to offer in job seeking and building a portfolio.
Let's talk About Your Career
What type of career do you have? Does a portfolio career seem interesting to you? What type of work can you do on the side to make extra income? Do you have talents or hobbies that can grrow into a strong career possibility?As people with vision loss I feel it is important to be open-minded and creative when pursuing employment so let's talk about the portfolio career as a viable option.