"Thank you for your service."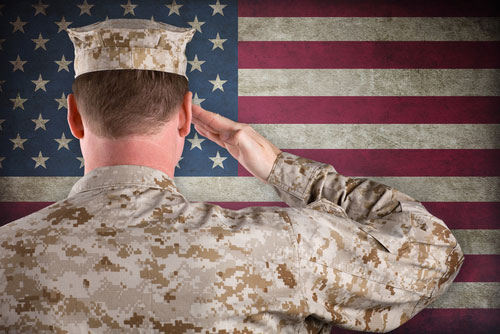 It's a sentiment our veterans are hearing a lot today. But this was not always the greeting they got on returning home. Thanks to a national program called Honor Flight, my friend Bob, age 92, received it all day long one day this past April.
These Honor Flights were created by volunteers for World War 2 (WW2) veterans, but veterans from other wars and conflicts are now being honored as well, especially those with terminal illnesses or conditions. They make sure that veterans with hearing loss or visual impairment get to go, at no charge.
GrandDaughter Takes Charge
Bob had heard about these flights to Washington, D.C., for WW2 vets, but he wasn't particularly interested in going and kept saying no thank-you. His granddaughter had other ideas. One day, she showed up at his assisted living apartment and informed him that in one month, he would be going on a very special trip. When he finally guessed that it was the HonorFlight, she added that not only was he going, but she was to be his personal guardian. This delighted and touched him. Each veteran who goes is accompanied by a volunteer helper for the entire day. And it's a very long day.
A Very Long and Joyous Day
They arrived at the Columbus airport at 4:45 a.m. As they pulled up to the curb, 5 men in yellow shirts opened the doors, extended their hands and said, "thank you for your service Sir." Then they helped him into a wheelchair and whisked him into the airport. Bob was expecting a very quiet and empty airport at that time of the morning, but there were people everywhere, bustling around, serving snacks and coffee to the 70 vets, and organizing which vets would be in which buses they would be riding in From the Baltimore airport into D.C. . Each volunteer had a job in making this well-oiled, well-rehearsed event go smoothly and efficiently.
First, they flew to Baltimore, where they were greeted with marching cadets and a military band, along with cheering people who just happened to be at the airport that day. Once they were loaded onto their 3 respective buses, snacks for the ride were handed out throughout the bus. For the 30-mile ride, they were escorted by police in front and in back, and all other traffic was stopped in respect. The day was filled with visiting one memorial after another. At all times, they were treated with dignity and respect, and Bob heard "thank you for your service" a thousand times that day. Their plane returned to Columbus at 9:15, and again, Bob expected to just get off the plane and get home to bed after an exhausting but wonderful day. But the fun wasn't over.
The Best Part Saved for Last
As soon as they all got through the arrival gate and turned a corner, a huge cheer went up, and the High School band played for 2 hours. There must have been 400 people there to greet our heroes. Each vet's name and rank was announced over a loud speaker as he went through a receiving line of well-wishers and grateful grownups and children alike. Bob told me that one man there had 4 purple hearts. I'd say it's about time these men and women were thanked for their valor, their courage, and their sacrifices.
Swelling with Pride
It was obvious that Bob enjoyed sharing his story with me. He played the video of the homecoming, so I could hear the cheers of the crowd and the patriotic music of the band. As we watched, he pointed out a nurse who married her first patient during the war.
More Stories to Hear
This was actually my second visit with Bob. The first time, we talked about his military service, what his jobs were, what life was like back then, and we never got around to the Honor Flight, so I promised to come back, which I did today. I'll be back for more visits, because I think there are a lot more stories this 92-year-old soldier has to tell.
My dad served in WW 2, but like most men who did, he never talked about it. Of course I was too young to be interested or to care. Now I do care, and to my dad and all the others who are gone now, we thank you for your service.
Read More about Veterans
VisionAware Resources for Veterans
Benefits for Veterans Who Are Visually Impaired