Reading Books on Blindness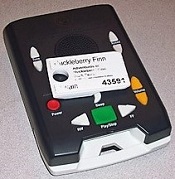 Reading is still a pleasure I enjoy every day. The beauty of talking books is that I can multi-task as I listen to my latest selection on BARD. In fact, I can carry around my iPhone filled with downloaded books from my ambitious reading list and listen as I fold clothes, cook, walk the dogs or work out at the gym. I have even grown to enjoy audio books as a different experience from reading printed words. The convenience and savings of Talking Books makes reading all the more pleasurable!
Lately, I have been reading from our list of books from the Book Shelf. I find it very interesting and often motivating to read about other people who are living with blindness. Our individual experiences with blindness are as unique as we each are. Yet, there are many things that we have in common, and we can learn from each other. We can draw hope and strength from these brave authors who dare to share their stories. This is our second installment and here are two book reviews from the list.
Planet of the Blind by Stephen Kuusisto
Submitted by Audrey Demmitt
Stephen Kuusisto writes a painful yet beautiful memoir of his journey living with a visual impairment as a child and young adult in a pre-ADA time (Americans with Disabilities Act). Legally blind since birth, he spends an inordinate amount of time and energy "faking it" in the sighted world with resultant mishaps, frustrations, and heart-wrenching experiences. He shares his "coming of age" years in honest and excruciating accounts of his personal misery. His denial of his disability creates many barriers for him and he suffers for it. Though he trudges through his early adult life reckless and self-conscious, he has some successes with his education and even travels internationally without ever accepting services for his blindness. He studies poetry and literature and it is clear by his stunning and sharp prose that he is a gifted wordsmith. I thoroughly enjoyed his frank and unabashed descriptions of his struggles and poetic views on life and the world around him.
As I read this book, I became increasingly anxious for the author and desperately wanted him to come to terms with his blindness and his need for training. Finally, I was rewarded with this momentous event and could breathe easy again.
The book wraps up with the early days of his vision rehabilitation training, which took over thirty years to arrive. He discovers the practicalities and freedoms of using a white cane and I could almost feel his relief. He eventually realizes how exhausting life has been and he wonders to himself "Why did it take me so long to accept my blindness?" His transformation continues when he decides to get a guide dog and he poignantly shares how this dog changes him forever. I felt reassured that he was well on his way by this time-starting a new life with his guide dog by his side as a confident and hopeful man.
Living with vision loss is hard enough, but trying to live as a sighted person when one is not is even more of a struggle. Kuusisto, despite his best attempts, cannot move forward in life until he accepts this reality. And in the end, life becomes a bit easier for him.
Now I See You a Memoir by Nicole Kear
Submitted by Mary Hiland
Expecting an ordinary account of how a young woman was diagnosed with Retintis Pigmentosa (RP) and how she lived with it, I was delighted to find myself plopped right down into the middle of a fascinating story. Kear's memoirs are woven into a personal narrative that flowed from one drama to the next, from one event to another. If you don't mind the spicy language, you'll meet Nicole as a person, not just a character.
The first chapter opens in the doctor's office when she learns of her diagnosis. Because I too have RP, I was captivated by her reaction and the reactions of her parents. Mine were very different. Her doctor gave her a prognosis of becoming totally blind in about fifteen to twenty years, so she made the decision to use her tunnel vision and see as much as she could before that time. I got the impression that she was trying to live life to the fullest before her death, that is, when blindness came, as if it were cancer.
When my RP was diagnosed, my parents and I were just relieved to finally find out why I couldn't see. But her parents, unlike mine, demonstrated a gloominess that you would expect with a diagnosis of eminent death.
This young woman took risks such as driving with her children in the car, when her field of vision had diminished to the point that she had to keep swiveling her head to scan what was in front of her. She knocked little children over when she hurried to retrieve her child, and her night blindness did not get in her way when she wanted to go out at night, until she found herself in a dangerous situation and had irritated many people by bumping into them. This was a clear case of not accepting her blindness, which might be revealed as a lesson to those who are losing their vision and are going through the same traumas.
Still, I was intrigued with the story, although my experiences were different. When my diagnosis was made, I wasn't given a timeline, so I didn't have that urge to be keenly aware of everything I could still see, before the curtains came down. I learned from this story that having children could accelerate her blindness, but she didn't let that stop her. It made me wonder, if I had been given that information, what would I have done?
I was disappointed in this character's recklessness, but I liked her anyway, and I could hardly put the book down, it was such a good read.
More About Reading
Read our first installment to this Bookshelf series.
Enjoy reading the news? Find out about Newsline®, VisionAware's Featured Service of the month.