Participating in Exercise Rituals
Editor's note: Going along with Angela's New's Year's Resolution post, it's the time of year to think about getting and staying in shape. Empish, who is blind and is a VisionAware peer advisor, offers readers her "game plan."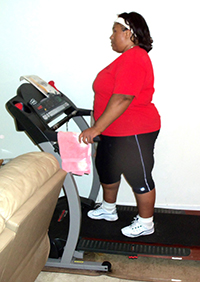 Even though Olivia Newton John sang her song "Let's Get Physical" back in the 80s; the concepts still rings true in 2014. Aerobics, fitness gyms, workout videos, and those 80s spandex exercise outfits with leg warmers were the craze that we are still embracing today. Well, maybe not the leg warmers! We have upgraded to the grueling extreme workout session. We now sweat to a military-style boot camp theme. Instead of the traditional step aerobics we now have hip-hop, line dance, and Zumba classes.
Staying Active with Vision Loss
Before losing my vision, my ability to stay active and participate in these exercise rituals was no problem. I had my gym membership in college and continued it after graduation. I attended aerobics classes regularly. I even had Richard Simmons' "Sweatin' to the Oldies" workout video I used at home. But after losing my vision some 15 years ago all of that changed.
Challenges Posed by Visual Impairment
Loss of income and lack of transportation caused me to end my gym membership.
Loss of vision caused me to have major challenges seeing my work out videos. And I am sure you can guess what happened next! The weight began to pile on. I was already overweight prior to my visual impairment but it got much worse afterward. My life slowed down and I became more sedentary. I was feeling frustrated, annoyed and confused. How does a person with vision loss exercise and stay in shape? How do I stay healthy and avoid major medical problems that are associated with obesity such as high blood pressure, diabetes, heart disease and strokes? Why does the health and fitness industry not market to the visually impaired? Do they think we don't want to participate and be active too? These were the questions that constantly plagued me and added to my aggravation.
Figuring Out an Exercise Strategy
I had to come up with a strategy. I had to find a way to make working out accessible and affordable. I had to figure out how to exercise on a regular basis where my vision would not be a hindrance. I wanted to do this not just to lose the weight but also to be a happy and healthy person. I wanted to be able to walk up a flight of stairs and not feel out of breath. I wanted to be able to take a nice walk and not sweat to death! I wanted to be able to move my body and not be stiff or in pain.
Trial and Error
It took several trials and errors to get the right exercise routine for me. At first I tried getting a sighted friend to give me audio cues for my workout videos; but the movements on the video were too fast and I struggled to keep up. I next tried walking in the neighborhood with a friend after work; but found that if they were not available I could not walk either due to safety issues. I even joined a couple of work out classes at my local rehabilitation center for the blind but they were not very often and soon were canceled all together. So, what I finally had to do is save my money and purchase a couple of pieces of work out equipment.
My Home Fitness Center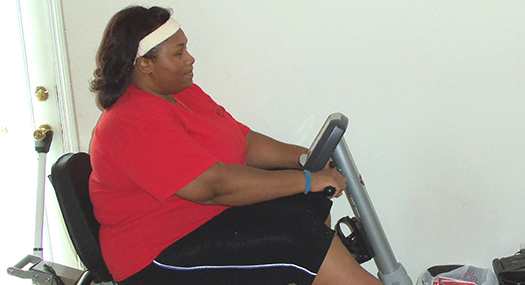 In my home I have a large treadmill, recumbent exercise bike, free hand weights and a floor mat. I first went searching for a treadmill because I knew that walking was a safe, comfortable way to exercise regularly. I knew that most treadmills on the market were going to have a flat screen with embedded menu options; making them inaccessible but I was not discouraged. I just placed some Dymo braille labeling tape on the surface and went from there. I have the words "up" and "down" brailled by the acceleration and incline buttons. I also have a braille label for "start" and "stop". I did the same thing for my exercise bike as well. I also purchased a talking pedometer that gives me an audio readout of my steps, distance, time and calories burned. The floor mat I use for low impact exercises, yoga and to stretch. My free hand weights I use to help with strengthening, muscle tone and balance.
All my equipment is placed right in front of my entertainment center so I can either watch TV or listen to my music CDs while I workout. I have even placed one of my audio book players nearby to listen while I exercise.
My Typical Exercise Week
On a typical week I work out about 4-5 times alternating between my treadmill and exercise bike. I am still making efforts to lose weight but I feel so much better that I created my own game plan to exercise. Whether it rains, snows or is sunny outside it does not matter. Whether a friend comes to workout with me it does not matter. I have everything I need set up in my home so I can do it independently and when I want.
Let Me Hear Your Body talk
So, what do you do to stay physical? What game plan have you created to exercise? Have you found affordable and accessible ways to stay in shape? Do you workout mostly at home or a fitness gym? Let me hear your body talk in the comment section below! Also, be sure to read the CDC study on aerobics and what can happen if you don't exercise!