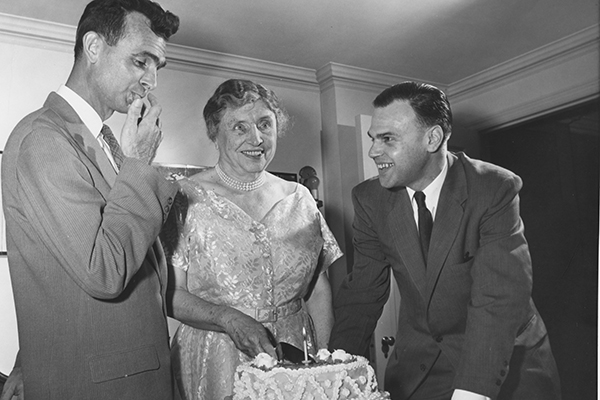 Caption: Helen cutting birthday cake
Every year during the week of Helen Keller's birthday, the nation honors her during Helen Keller Deaf-Blind Awareness Week. Helen Adams Keller was born a healthy child on June 27, 1880, to Captain Arthur H. and Kate Adams Keller of Tuscumbia, Alabama. At the tender age of 19 months, she was stricken with a severe illness which left her blind and deaf.
Tuscumbia is a small southern town located on the Alabama-Tennessee state line. Who would have thought that one of the world's greatest miracles would have taken place at a pump in Tuscumbia, Alabama? It was at this pump where Helen first realized, through the help of teacher Anne Sullivan, that the letters W-A-T-E-R, meant the cold liquid flowing over her hand. By nightfall, Helen had learned 30 words.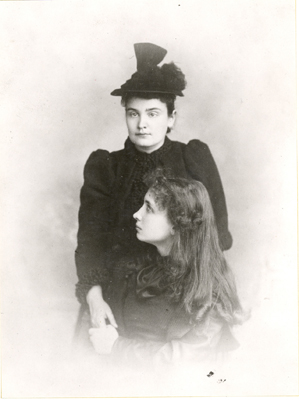 Caption: Helen Keller and Anne Sullivan
By age 10, Helen had mastered braille as well as the manual alphabet and even learned to use the typewriter. By the time she was 16, Helen could speak well enough to go to preparatory school and to college. In 1904 she was graduated "cum laude" from Radcliffe College. Anne Sullivan stayed with her through those years, interpreting lectures and class discussions to her.
Helen Keller became one of history's remarkable women. She dedicated her life to improving the conditions of blind and the deaf-blind around the world, lecturing in more than 25 countries.
Tuscumbia is proud to celebrate the life of their very own Helen Keller. The five day Helen Keller Festival is brimmed full of music, drama, art, games and food all designed to celebrate the accomplishments of the pride and joy of Tuscumbia!!!
For more information about the Helen Keller Festival, email info@helenkellerfestival.com or call 256-383-0783.
Learn More About Helen Keller
What Helen Keller Means to Me by VisionAware Peer Advisors
Helen Keller Biography and Chronology
Tilly Aston, Australia's First Blind Teacher