Sharing Your Summer Vacation
It's back to school time and do you remember when you were a kid and you shared what you did on your summer vacation? As you gathered with your classmates and friends, you would share about your summer adventures and compare who had the best time. Sometimes your school teacher would give a class assignment on the topic or have you share during "show and tell" time. Now fast forward to adulthood and sharing those summer vacation moments are still there. So before the summer comes to a close, the peer advisors want to share our vacation travels with you.
A Bubble of Americana
by Mary Hiland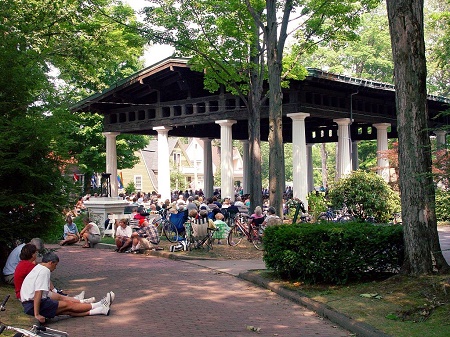 Imagine walking down a street made of bricks where no cars are allowed. You hear piano music floating from the windows of many charming old houses. Here comes a man whistling as he walks, and you recognize it as a Chopin waltz. As you walk along, you hear people laughing and talking on their front porches, and if they look your way, they wave. Everybody you encounter is smiling. People you sit next to on a bench engage you in conversation. Everyone you meet is interested in learning and has a sense of humor. Every other person seems to be a musician, a writer, a scholar, or certainly a reader. You leave your door unlocked, even at night, because this is Chautauqua. Last year, I checked off an item from my bucket list, to go to Chautauqua, New York. Then I decided to add to my list and go again, and I did. I just returned from a week of physical and mental exercise.
Each morning, we walked a mile to the aquatic center for 10 laps of swimming and then walked back to our rooms all before breakfast. The rest of the day we attended fascinating lectures and discussions with such notables as Jane Pauley, Ann Patchet, and Alan Alda. We managed to squeeze in some plain old fun by renting a paddle boat, even with my guide dog Dora along. In the evenings we enjoyed music from the Army Brass Band, the Symphony Orchestra, and a variety of other entertainment. As we drove out of the gates on the last day, we felt like we were leaving a bubble of pure Americana — Americana with the ambiance of the fifties but the search for knowledge and truth of today.
My Summer Vacation in the Hot Big D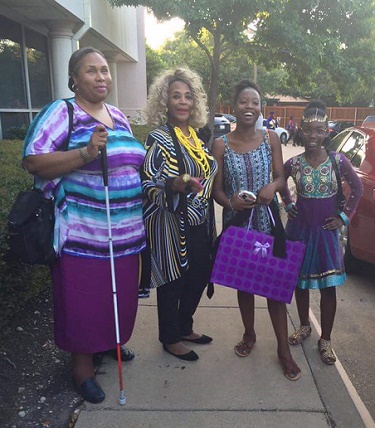 This past June I took a 7-day trip home to the Big D; that is what we natives call Dallas, Texas. I was very excited to go home for three reasons: one, it was my birthday weekend; two, my first cousin was graduating from a medical training school program; and three, I would be seeing family I had not seen in a long time. But once I arrived at my mom's house the heat was on! Literally. Dallas and the surrounding areas were going through a major heat wave and my mother's air conditioner was not working. It had to be about 95 degrees in her house. I mean it was hot! She told me that she hadn't had time to deal with the repair before I arrived and was working on it. I somewhat understood but I was annoyed because I had planned this trip in advance and this situation was not acceptable. I knew I had a decision to make. I could be upset about it or make the best of it and not let it ruin my whole vacation. After sleeping one night in the "hot house", I knew I couldn't stay any longer, so I had another decision to make — go to a nearby hotel.
I know leaving my mom might not have been a good thing, but can you blame me? I was able to find a room with two large queen size beds, free breakfast, and free WIFI. Because I had the extra space, my tween-aged niece and nephew who were visiting with my mom joined me too. They had never stayed in a hotel, so I was able to educate them on the finer details of hotel living and etiquette. I taught them how to use the door key, and explained how maid, cable, and WIFI services work. We ordered pizza, went to the pool and hot tub. We had a big breakfast each day. My niece fell in love with the yogurt machine with its variety of toppings like Oreo cookie crumbles, coconut shavings, granola, and more. My nephew enjoyed the large size Texas shaped waffles. We Ubered around to eat out, go to the movies, church and Walmart. Everyone came over to the hotel for cake to celebrate my birthday as I sat in the cool breeze of the air conditioner. So even though it was truly a hot time in Big D and I totally blew my budget, I didn't allow it to spoil my summer vacation with my family. Update: After I returned back to Atlanta, my mom got the air conditioner working and now she says the house is so cold that her teeth are chattering and she is freezing!
So my take away to you is, have you ever had one of those vacations where you had properly planned it out and were excited to go and enjoy yourself? But once you got there things didn't turn out the way you thought? What did you do? What should you have done? I realize that life is like this, things don't always turn out the way that we plan, even on a summer vacation, but we can still make the best of it and have a good time.
Relive Summer Vacation Before It's Gone
Summer Vacation in Colorado Fulfills Bucket List
Summertime and the Living Is Easy