Editor's Note: In honor of Grandparent's Day (Sunday, September 10th), Mary Hiland, a VisionAware peer advisor with retinitis pigmentosa, has written a delightful post about a recent visit from her grandchildren. Read and enjoy!
Grandma's Glory
By Mary Hiland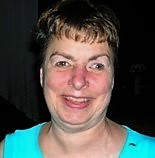 My daughter Kara and her family, husband and three children, were just here for a few days, and we had a wonderful time together. When they arrived, they had been in the car for many hours, so I was expecting everyone to be tired and grumpy. But I was in for a sweet surprise. I was sitting on the patio when they came through the door, and the next thing I knew, the three-year-old had her arms around my knees and had her face pressed into my lap in a warm embrace. It had been several months since I had seen her, so I was delighted that she not only remembered me but was happy to see me. You never know what a toddler will do next, so it's a bonus when she presents herself with a loving embrace. Next came the other girls, both teenagers, with Kara bringing up the rear. Soon they were all chattering around me with stories of their trip and the plans they were making for their visit with me. The typical quiet of my house was swept away with their laughter and enthusiasm. This happy greeting set the tone for the next few days of joy.
What to Do with Teenagers and a Toddler
Entertaining two completely different ages was somewhat of a challenge, but the 13- and 15-year-old girls were not expecting excitement and thrills on this vacation. They were prepared for visiting cousins and other low-keyed activities. The three-year-old was introduced to lightening bugs and was delighted with their magic. She got to feed the ducks at a nearby creek side park, and the older girls got to be the pedalers on a paddle boat with their little sister and their dad riding in the back. Kara took pictures from the bank and gave me a running description of what was happening.
Bonding with My Granddaughters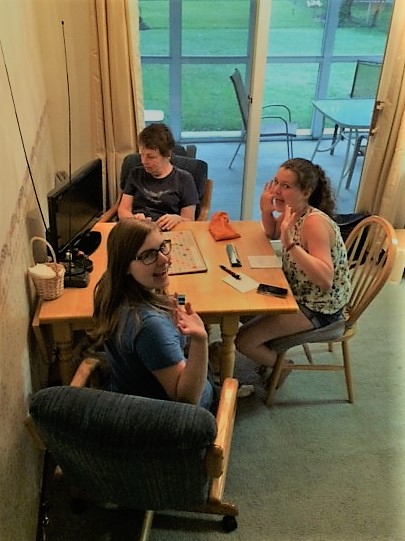 One night, the two older girls and I played Scrabble with my braille Scrabble game. Teenagers are bored easily, but it was a delight to see how engaged they were and to encourage their sense of competition. I coached them on strategies, such as saving an "S" or a blank when they really needed it to make a great play, and they were grateful for the advice. It was getting late, and we were all tired, but they insisted on seeing the end of the game play out. The next day, the 15-year-old said the Scrabble game with grandma was the highlight of that day.
On another evening, my son brought his two teenage daughters over for dinner and a spirited game of spoons. It's a fast-moving card game, too fast for me, so I opted to help my daughter clean up the kitchen while they shouted and gleefully grabbed spoons from the middle of the table. It was heartwarming to hear the interaction of the two families as they played together. After the dishwasher was loaded, my daughter and I took the youngest out in the back yard to throw the ball for my dog guide and for blowing bubbles and drawing on the concrete with the sidewalk chalk I had bought for her.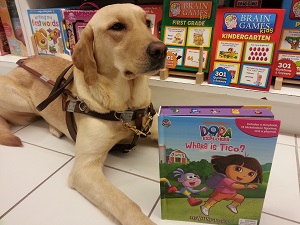 Tips for a Successful Visit
Prepare the kids for a less than exciting time. Be sure they have plenty to read and/or games on their iPads.

Have toys on hand that a toddler will enjoy. Shop garage sales for used toys that you can sanitize easily and/or keep an eye out for sales on quiet activities such as sidewalk chalk, bubbles, balls, or toys with wheels.

Look for special events in your area that will appeal to your grandkids. Concerts, festivals, and other entertainment will help you all enjoy each other's company.

Save quiet games for the end of the day. Plan more active entertainment for the mornings.

Look for games that a visually impaired grandparent can play too!

Be sure the younger children have a quiet place to nap and to sleep at night.

Allow time for naps for the little ones.

Stock your fridge and cupboards with snacks that are approved by the parents.

Keep meal-planning simple, but nutritious.

Stay tuned in to the moods of your guests. There might be times when they just want to read a book, and there might be times when they need to get out and make some memories.
Plans for Next Year
As they loaded the car and prepared for their long trip home, I was touched as they talked about coming back next summer for the fourth of July. The parade, the picnics, and the fireworks will be a little more exciting than supper on the patio with the cousins, but I truly believe that they all had a good time at grandma's this year… and so did I!
Your Comments
Tell us about what you do when your grandchildren come to visit? Do you have any tips to share?
Read More on Grandparenting
Grandparenting with Vision Loss