In Part 1 of this series I talked about the National Library Service (NLS) player and its many uses. In Part 2, I covered how to download an application for NLS and the books they offer as well as other sources of downloadable books. In the this third part of the series I discuss using a computer. Read on!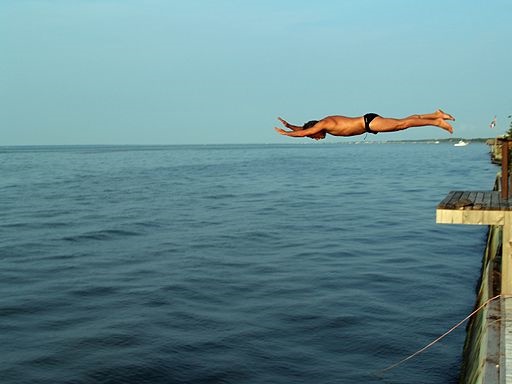 Diving Into the Deep End
Once you become acquainted with some of the resources available using the Talking Book Player, you might grow a bit more excited about getting a PC with a screen magnifier or screen reader. With a collection of audio tutorials handy for the Talking Book Player, you may even feel like you have your own personal tech trainer at your side!
Resources for Low Cost Computing
If you're getting started with computers and on a budget, check out Low Cost Computing for People Who Are Blind or Visually Impaired on VisionAware. It is not an audio podcast but it is worth printing out for future reference.
If you have a vision impairment, you may qualify for a low cost refurbished computer from Computers for the Blind These computers come with some accessibility software pre-installed!
Consider, as another alternative, an Apple-certified refurbished Macintosh computer or iOS Device (iPhone, iPad, or iPod Touch). Apple offers the VoiceOver Screen Reader and Zoom screen magnifier pre-installed on their computer operating systems.
Remember, if you are using a Windows 7 PC or newer, you have a screen magnifier built-in! Check Windows Accessibility Option for more information.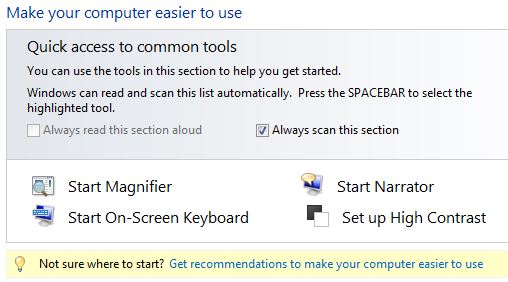 You can press the Windows key with the number pad "+" to open the magnifier and increase magnification. The Windows key with the number pad "-" decreases the magnification, and Windows key with "esc" will turn the magnifier off. In the magnifier settings you may select a partial screen area to be magnified, or a full screen magnifier. It is worth noting, but just barely, that Windows does offer a screen reader called Narrator that may get you started with screen reading, but it lacks the features needed for all but the most basic computer tasks.
For Windows users, a much better solution is NVDA, a full-featured screen reader, available at no cost (or the price of a donation). And be sure to check out the new free NVDA tutorials through AFB.
No Cost Tech Support
After taking the plunge with one of these low cost computers, you may find yourself in need of some tech support. Try these resources:
No cost tech support is available for Apple users who use any accessibility features on their products by calling Apple Accessibility toll free at 877-204-3930. My calls to Apple Accessibility have been great experiences, with knowledgeable, patient tech support personnel.
Microsoft also offers no cost tech support through their Disability Answer Desk at 800-936-5900.
Chicago Lighthouse for the Blind also offers no cost tech support for visually impaired users of access technology hardware or software by calling (888) 825-0080.
Also be sure to read Reading Solutions for People with Visual Impairments, and my post on Five Great Reading Apps.
If you are new to access technology, feeling intimidated by technology in general, or just wondering how you're going to manage with a vision loss, "Welcome!" Take a deep breath, order yourself a Talking Book Player from the National Library Service, and get your feet wet at your own pace. You have many alternatives and with a little effort you'll find something that fits both your budget and style.