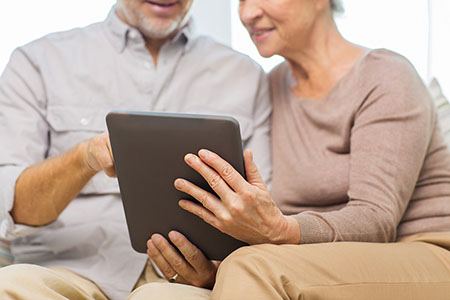 Editor's note: Just in time for school to start in some parts of the world, we bring you Part 1 of "Getting Your Feet Wet in the Access Technology Wading Pool." Stay tuned for Part 2 on downloading books and how you can play them your talking book player and Part 3 on taking the next step and using a computer.
How Reading Can Get You Started into Using Access Technology
Technology, for individuals with a vision loss, particularly a newly acquired loss, can be a double-edged sword. On the one hand, technology can be anxiety provoking, no matter what your vision is like, and if you do have recently acquired vision loss, it may be precisely what is going to get you back to reading, locating resources, and into the workplace again.
It is often very difficult for an individual who may not be comfortable, or experienced with technology in the first place, to imagine learning it, sometimes for the very first time, with less vision than they once had. In addition, there may not be ready access to someone who can provide the Access or Assistive Technology (AT) training needed to access the computer with a screen magnifier or screen reader, the technology often used to make computers more usable with a vision loss.
Getting Started with NLS Talking Books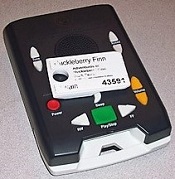 One of the first steps to learning more about Access Technology may be the National Library Services (NLS) Talking Books program. Many people are unaware that the NLS offers a digital Talking Book Player to anyone with a disability negatively impacting access to print. The Player is available at no cost, and the books are sent through the postal service postage paid, so there is no charge for the books. The Talking Book Player is an easy-to-use device, with some great features, that make it a perfect tool for learning more about access technology, or just a simple way to get back to reading.
If you're already familiar with the NLS Talking Book Player and thought it was limited to just reading audio library books, take a second look! Magazines, mp3 audio files, and podcasts may also be played on the Talking Book Player, making it a very versatile learning tool. Users may download books and magazines directly from the Library of Congress website, or a wide variety of other content websites, install the files onto a flash drive or blank Talking Book cartridge and listen to them on the player. If you are not a computer user or familiar with downloading files, ask a family member, librarian, or other volunteer for assistance. Once you have the audio files on the flash drive or cartridge, you can play them just as easily as any other Talking Books.
Start Reading with Some Ideas from the VisionAware Peer Advisors' Bookshelf Series
Reading to Enhance Mental Health and Well-Being
New Series: The Bookshelf- Summertime Is Reading Time!
The Bookshelf: Reading Books on Blindness and Learning About the Experiences of Others
And check out our Reading and Writing section on VisionAware to learn more about reading with vision loss.