Don't let vision loss keep you from enjoying the holidays (or anytime) with your grandchildren!
The holidays offer a special and important opportunity to spend time with your grandchildren or other children in your family. You may think that with visual impairment this is no longer possible. But that's not true! Keep on reading.
Games and Activities to Try
Linda Fugate, another peer advisor, has some ideas to add to this list.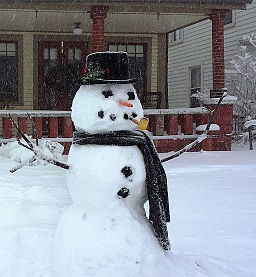 I have had a lot of fun making a snowman with the kids. They rolled the balls, we stacked them, and then added arms, face, etc. It was easy to do the face by touch (and I have not made a snowman in 20 years!)
We also made rice krispie treats, another wonderfully tactile activity.
I taught Annabelle, who is six, to make snowflakes by cutting paper and then we made some with straws and tin foil. These are best with paper straws if you can find them, but plastic will work. Just roll several straws in tin foil (about 5 per flake) and then gather them in a bundle and tie in the middle with thread, pull it tight to make the center bend. These reflect lights nicely.
I have a few more ideas in my post Rewards of Grandparenting with Vision Loss.
Holiday Fun in General
VisionAware has a great section on getting ready for and enjoying the holidays.
Also, VisionAware has suggestions for traveling during the holidays, including packing, traveling, and enjoying the holidays with your dog guide.
Make Time to Dream a Little About Your Own Wish List
VisionAware has a gift guide, and the peer advisors have come up with their own suggestions. I sat down and did a little extra dreaming on my own.
Linda's Wish List
A chiming clock: This is on my personal wish list. It can be something as inexpensive as a talking clock that announces the time each hour to a beautiful chime (my wish) to one that has bird songs at the top of each hour. I would also like an accessible clock radio.
Braille Scrabble Dictionary: There are braille Scrabble games out there, but they are a very poor quality compared to the original one, which is not produced anymore. If you can find an original one on eBay, you have really scored.
The Speak To Me catalog is full of gift ideas. They have talking everything.
Gift card to any of the catalogs that sell things for visually impaired people, such as Blind Mice Mart.
Really nice travel radio: one that will not take up too much room in your suitcase
Accessible Clock radio: One that a person who is visually impaired can set independently.
A subscription to Sirius Radio.
A Talking Bible: Make sure it is accessible with actual buttons you can feel.
Novelty Doormat. I have one that says "Dora makes our house a home." It has a picture of a yellow lab.
Framed picture of the person's guide dog.
Throw for the sofa that has a dog pattern.
An intercom system is a very useful, safety-conscious gift for people to have. With it, a person who is blind or visually impaired can find out who is at the door before they answer it.
And last but not least, Brailled chocolate bars
But more than chocolate or anything else, the gift of time is the absolute best. Commit to taking your friend or family member out to run errands, go shopping, or to the movies once a month.