Editor's note: September is National Preparedness Month. The theme this year is "Disasters Don't Plan Ahead. You Can." With all of the weather emergencies taking place throughout the world during the past few weeks, Empish Thomas relates her recent experiences and lessons learned.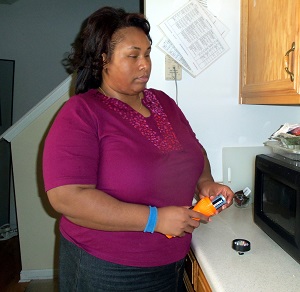 I must admit when Hurricane Irma hit, I was more focused on the Caribbean and the state of Florida than I was on myself. I live in the Atlanta-Metro area in Georgia, and I did not pay as much attention to the hurricane as I probably should have. Perhaps that was the first lesson learned in this whole situation. I have written about emergency preparedness for people with vision loss in the past. I have also implemented things in my personal life to get ready. But when my power went out for almost two days, I was not as prepared as I could or should have been. I learned some very valuable lessons from this experience that I would like to share. I know that you can never be totally or perfectly prepared for an emergency, but you can learn from others and continue to do the very best you can.
Four Valuable Lessons from Hurricane Irma
Go back to a traditional phone carrier service for my landline. This was the most impactful lesson for me. I immediately saw how important it was to have a phone. Granted I shared the importance of having a landline previously. But the difference is that my landline is bundled with my internet service. So when one goes out, so does the other. Not a good idea! In the past, I would have little power surges from time to time but no big deal. This time it was a huge deal because we are talking about a couple of days with no phone except a dying smartphone and no way to recharge it. So, lesson learned. I am currently in the process of shopping phone carriers to separate my phone and internet so that I will have a traditional phone line again.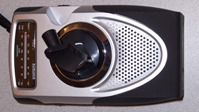 Purchase a weather radio. This is something I have procrastinated about but no more. I realized how disconnected and out of touch I was with no power. I couldn't check the weather or see what was happening in the world. I remembered that a battery-operated weather radio is a good thing to have in situations like this, yet I didn't have one. Announcements were being made about school and business closings. Even Atlanta's public transportation system and trash collection service had stopped, but I didn't know about it until much later. When dealing with an emergency, communication is critical. Lesson learned here. I am adding a weather radio to my shopping list ASAP.

Access alternative transportation services. I was midway into my power outage journey when I realized that I needed to make alternative plans and leave my home. I realized that this power outage was not just a couple of hours, and now, I needed to go. My smartphone battery was slowly dying, and once gone, I would have no means of communication. I went to my local Walmart to shop, but in the midst of everything, they had no shopper to help me. So, I asked them to let me sit near an outlet, and I charged up my phone, NLS talking book player, and laptop while waiting for paratransit to return. This was helpful but not nearly enough. Once I got home, my smartphone cell service was fading out and placing calls became nearly impossible, but I was able to make one or two. A friend suggested that I call GoGoGrandparent to get a ride to her house. She had power and offered for me to stay and change my devices and store my frozen foods. GoGoGrandparent ended up being a great suggestion because I was not able to use my Uber or Lyft app because of my low battery and no WIFI connection. They were able to call on my behalf and send a car to my home and transport me to my friend's house. They provide this service primarily to seniors who don't have smartphones but also to people like me who are in a jam or emergency. They do charge a small fee, but it was well worth it considering the circumstances.

Be grateful for the little things. This experience of having no power showed me the importance of being very grateful. First, the weather was very nice and cool, so no need to worry about lack of an air conditioner. I had no need for a fan. I just opened the windows and let the cool breeze come in to cool down my house, and I was okay. This could have happened during the summer when temperatures can get upwards of 90 to 100 degrees. Luckily, I had friends to call for help. When my power went out, I was able to leave my home for a while and stay at a friend's. This was helpful because it allowed me not only to power up my devices but to temporarily store my frozen food so that it wouldn't spoil. I was very grateful not only for her hospitality but also for the money I saved by not having to repurchase food. Lastly, I had to be grateful that my power outage was only for about two days. Once I got out and about and interacted with friends, coworkers, and others, I learned that people were dealing with worse situations than mine. Some people's power was out for three days, five days, and even longer. It just depended on where you lived in the Atlanta area.
Now my emergency is over. My power is back on, and things are okay. I know that others are still dealing with the effects of the hurricanes in Texas, Florida, and the Caribbean and perhaps with more to come. I think it is important that we all take time to survey our lives to see if we are prepared for an emergency. Take the time to put things in place and get prepared as much as possible. I also think we can learn from others who have been through it. Learn from their examples so that we know the things to do and maybe even to not do so that we will be ready.
So, what things have you done to prepare for an emergency? What things have you learned from an emergency you have been through or seen someone else go through? Share your comments in the section below.
Resources Mentioned in This Post
Weather Radios
According to the National Weather Service, there are several types of weather radios you can purchase. "NWR (National Weather Radio) transmitters broadcast on one of seven VHF frequencies from 162.400 MHz to 162.550 MHz. The broadcasts cannot be heard on a simple AM/FM radio receiver. There are many receiver options, however, ranging from handheld portable units that just pick up Weather Radio broadcasts to desktop and console models, which receive Weather Radio as well as other broadcasts." NWS does not endorse products but does provide a list of receivers. Read more about weather radios.
Also, for people who are hearing impaired, a "special-needs NOAA (National Oceanic and Atmospheric Administration) Weather Radio has been designed to adapt to the needs of the deaf and hard-of-hearing community."
When an alert is broadcast on the NOAA Weather Radio, it will send a signal which then activates one of the following accessories:
Pillow vibrator to wake individuals from sleep.
Strobe light to alert individuals during waking hours.
Bed shaker to shake a bed to wake individuals up.
Find out more about special needs weather radios.
GoGoGrandparent Service
According to GoGoGrandparent, "…GoGoGrandparent connects seniors to ride-sharing services like Lyft and Uber. Soon we'll be doing the same thing for meals, groceries, and medicine. We are working towards a platform that loved ones and their families can use to take care of each other without upending life."
Also, according to their website, they offer a phone number to call (1 (855) 464-6872) and scheduled pickups for medical appointments. They also provide 24/7 customer support. They charge an arrangement and oversight fee for operators, which is $0.19/minute from when they start monitoring a service to when they stop.