The VisionAware peer advisors are celebrating Louis Braille's birthday on January 4 with a compiliation of everyday places where you will be able to find and use braille. In case you don't know, Louis Braille was the creator of the braille code, which revolutionized reading and writing for blind people throughout the world.
I compiled this post with much input from the other peer advisors. If you haven't learned braille already, these examples should give you some great reasons to learn it for use in your everyday life.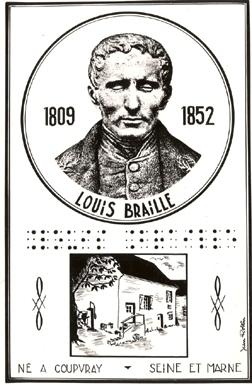 Caption: Engraved Image of Louis Braille and His Birthplace
When Louis Braille found Charles Barbier's tactile code in a closet at the school for the blind in Paris, his plan was to modify Barbier's code and create a tactile reading code that would fit easily under the pad of the fingers. Do you suppose he ever dreamed of finding the name of the Champs-Elysées on a pole at an intersecting street corner? Or a braille number on every room in the Ritz? Or a brailled "gift card" at his favorite sidewalk café? Probably not, but, no doubt, he'd certainly be surprised to see all of the places braille appears 200 years later!
Can you remember the first time you found braille on the door of a public restroom? Do you remember the first time you rode an elevator without needing a sighted person to press the button? What was once a pleasant surprise is now a routine expectation.
Today, Louis would find a few cities with street names on poles at major intersections, especially in cities where schools for the blind are located. Still in other cities in the U.S., he would find braille on all of the bus stop poles, giving the blind riders equal access to bus route information.
These days we expect to find braille numbers next to a hotel room door eliminating the need to count the doors or wrap a rubber band around the handle. More recently some hotels are offering amenities like shampoo, body wash, and hand cream with braille labels.
Above and Beyond
Jeannie Johnson, Nashville VisionAware Peer Advisor, takes this expectation to another level with this example. She observes that cruise ships, the ultimate hotels on water, generally post cabin numbers next to the cabin doors–so no worries about trying to get into the wrong cabin returning from the midnight buffet!
I wonder what Louis would say if he went somewhere and found personalized braille signs? Empish Thomas, Atlanta VisionAware Peer Advisor, describes the "above and beyond" experience as follows: "One summer I stayed in a hotel when I went to visit my family in Dallas. Now days I was not surprised to find braille on my room door, but was distressed by how hard it was to read. The dots were somewhat lumped together, embedded in a very rough texture. This made it very difficult to distinguish each number. I shared this with the hotel manager, but resolved to just do my best and count the doors down the hall to my room. To my amazement the hotel manager went above and beyond."
"One day while I was out, she created and posted a special braille sign just for me. When I returned to the hotel, she walked me to my room and showed me her handiwork. On a simple Post-It note, in clear raised braille characters, she had brailled my room number that I could feel with little to no problems. I was in shock! She explained that she went online and learned how to create a braille label just for me."
"Later I responded to a customer satisfaction email with a complimentary message to upper level management. I shared how the hotel manager had gone above and beyond all expectation to make my stay very enjoyable."
Braille in a Hospital
Recently, a friend of mine was recuperating in a rehabilitation hospital. I was pleased to find braille numbers posted by the room door and braille on the remote for the bed. This reminded me of the first time I had an endoscopy. I tried distracting myself by exploring the remote on the bed while waiting to be rolled into the operating room. To my delight there were braille letters marking the bed controls. Since that experience, I've found at least minimal amounts of braille on all hospital bed remotes.
Braille in the Banking Industry
The banking industry began adding braille instructions to ATM machines at least twenty years ago. A blind person training to use a dog guide in Morristown, NJ, could stop at the ATM in front of the bank, get some cash, and continue on with his or her training. But one place people are frequently surprised to see braille is on the ATM machines at the bank's drive-through lane. If you have wondered this yourself, remember some blind people use cabs or Uber for transportation. Braille on the ATM gives the blind person the option of getting cash at the drive-through.
Braille Labels
For many years, organizations like the American Printing house for the Blind and the American Foundation for the Blind as well as a few companies that specialize in products for people with visual impairments were the only ones that offered braille labels on products such as braille calendars, overlays for appliances, and popular card and board games like Uno, Scrabble, and Monopoly. To my great surprise, however, a friend got a braille deck of cards for me through a Las Vegas casino!
Medication Labels
You can obtain braille pill organizers through online catalogs and some pharmacies. There are numerous talking medication identification devices, but now obtaining braille labels on medications is getting somewhat easier since several chain pharmacies now provide braille labels on bottles in compliance with Access Board guidelines for making prescription labels accessible.
Braille in the Business World
More and more businesses offer materials in braille to their blind customers. These include financial statements, utility bills, bus schedules, brochures and business cards. Many of these documents are brailled by organizations or agencies specializing in the transcription and production of braille, but some businesses produce their own. Some will even transcribe personal items, such as greeting cards or invitations. Recently, I received the surprise card of my life. A friend of many years remarried. She and her new husband had the thank you card for my gift custom brailled". The National Library Service offers a comprehensive list of locations offering these services.
Braille Menus
Perhaps the most frequently found braille items across the U.S. are braille menus. Like braille signage on bathroom doors and elevators, what was once a pleasant surprise is now a routine expectation at most chain restaurants. Sometimes they're not as up-to-date as the printed menus, but isn't it nice to read the entire menu if you want instead of asking a sighted companion or the server to read selected portions? But do you expect your bill or receipt to be brailled? Every Wednesday I join a couple of friends to eat breakfast at a local restaurant. On the third week we showed up, George, our server, left me a bill with braille he had created with a pen after looking up the code on his phone!
In the early years of her career in Fort Wayne, Indiana, peer advisor Lenore Dillon from Alabama, worked with a consumer who prepared a Chinese meal for a family participation dinner. The menu included fortune cookies–all the fortunes were in braille. (Braille Fortune Cookies can be special ordered from some companies.) Lenore also recalls a bakery in Fort Wayne, where you could order cakes with braille messages.
As we celebrate Louis Braille's 210th birthday and the utmost relevancy of braille in today's world, do you think he ever imagined blowing out candles on a birthday cake with "Happy Birthday" in braille?

Caption: Happy Birthday in Braille
P.S. Stay tuned for the next post in this series with braille-related gift items.
Other Articles on Braille
Four Misconceptions to Learning and Reading Braille
Why Braille Is So Important to Me