Editor's Note: The week of March 11 is World Glaucoma Week. Peer advisor Steph McCoy, Founder and CEO of Bold Blind Beauty, has written eloquently about her journey with this eye condition. As a real fashionista, in this post, she shares her thoughts on fashion trends, an important topic as Spring approaches.
Fashion Trends Surge Among Blind and Visually Impaired Community
by Steph McCoy, VisionAware Peer Advisor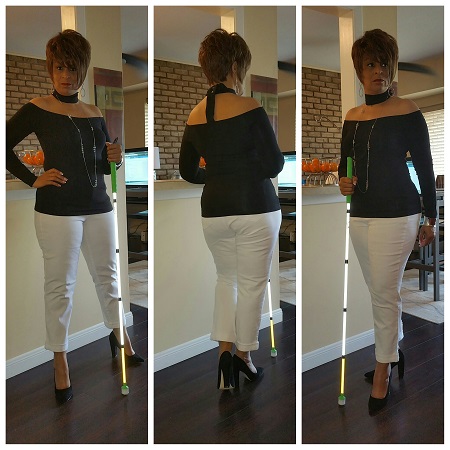 Does Loss of Vision Equal Frumpy?
There's a misconception that sight loss equals frumpy and unfashionable. Likewise, there's a silent societal expectation where people with sight loss shouldn't be fashionable.
The truth is, there are people with sight who either have no interest in or lack fashion sense. Also true, there are people who are blind or have sight loss, and they are fashionistas.
Thankfully, maintaining a sense of style and keeping a finger on the pulse of trends isn't wholly reliant on eyesight. Like anything else, we can continue to enjoy and immerse ourselves in the world of fashion if we desire.
While the fashion industry still has a way to go where inclusion is concerned, the Internet has improved access to information. The Internet has made it possible for individuals with disabilities to become mouthpieces for change.
Fashion Trends Resources with Persons Who Are Blind or Visually Impaired In Mind
Today, there are many blind and visually impaired fashion content creators with plenty room for more. With this in mind, here are few tips to help a person who is blind or visually impaired remain connected to fashion.
If It Ain't Broke, Don't Fix It
When you know your style, stick with it.
Keep it simple and classic.
For trendsetters, taking risks is part of the fun in fashion, continue doing what you do.
Expand Your Fashion Resource Network
Follow and engage with fashion bloggers, vloggers, and writers. You can find them on blogging platforms, YouTube, Instagram, Twitter, LinkedIn, Facebook, etc.
Read about and discuss the latest trends, styles, and seasonal colors with friends who have similar tastes and interests.
Don't be afraid to ask for help from someone you trust who will give you honest feedback.
Testing new looks? Take photos and share with your trusted online community or friends and family for feedback.
Easy Low Tech Fashion Resources
QVC does a remarkable job in describing their merchandise. Following is a small sampling of their fashion segments.
Morning Q Live – Style Edition
Amy's Closet (Amy Stran)
Denim & Co.
Susan Graver Style
Seek Professional Assistance
Professional consultants develop in-depth personal profiles to suit individual needs
Personal Shopper/Styling Service
Beauty Consultant
Image Consultant
Final Note
As blind and visually impaired people, we face our share of barriers. We are not what's happened to us, and we have the power of choice. Thankfully, we can choose how to move forward with our lives and allow fashion to play a role.
Read More on Fashion
How Can I Be Fashionable in the New Year as a Blind or Visually Impaired Woman
Additional Articles on Living with Glaucoma
Joe Lovett's Personal Story About "Going Blind"