Editor's note: Guest blogger Kevin Dunn, who lost his vision due to retinal detachment and optic nerve damage, talks about being a father.
Wonderful and Life-Changing Years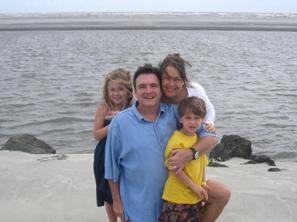 Years 2001, 2002, 2004 and 2006 have been the most wonderful and the most life-changing times of my life thus far. After three months of doctors trying to stop the progression of my retina loss, I lost my sight entirely in January 2001. In April 2002, my girlfriend (who decided to keep me) became my wife. We bought a house and began planning on growing our family.
In March 2004, we were blessed with a beautiful baby girl. In May 2006, our son was born and completed our nicely balanced family of four. This all sounds so quick and easy, but the road has been a long and arduous journey. Being a blind father certainly has been an interesting ride for us all.
Not Ready When Labor Pains Came
My daughter was due to be born at the end of March of 2004, and when my wife woke me at two in the morning on March 13 telling me that she was in labor, I was not ready. In fact, the first thing out of my mouth was to say that we did not have any groceries in the house. What do any smart parents do at 2 o'clock in the morning when the wife is in labor and the father is blind? They go to the grocery. First drawback of being a blind dad — mom had to drive us while in labor. We survived that shopping trip, and the three of us made it home in one piece. Now having food for whoever would be coming to help us out, I was ready to take charge and move on to the next step, but what did I know? Not much. Luckily, my wife and I had hired a doula, a birthing coach, to assist us and we called and let her take charge, which also means that she was to drive us to the hospital.
My Daughter is Born
We made it through this process and nearly 24-hours later, our beautiful baby girl was born. All of my fears of being a blind dad momentarily dissipated the moment I heard my daughter take in her first breath and let out her first cry. It was as if she was telling me, "don't worry, Daddy, I'll take care of you, too, and we'll figure it all out together."
First Years Are Incredible
The first two years of my daughter's life were incredible. She was such a joy and made my job easy. She suffered through bathing in total darkness, enjoyed having diapers changed in the sink so that she could be sprayed off rather than wiped, endured having me stick my fingers in her mouth to get the spoon in the right place. She suffered many head, foot, hand and body slams into walls and door jams and scraping around corners, but we ventured this road together and so far, we have survived to hopefully be better people in the end.
My Daughter Understands My Blindness
The first time that I knew that my daughter understood that I could not see was when around the age of two, she came running to me to show me her new shoes. I knelt down and she grabbed my hands and guided them down and onto her feet exclaiming, "Look at my new shoes, Daddy!" With tears in my eyes, I grabbed her and held her tight with such joy and pride. That was my first venture into her incredible insight and wisdom.
Son Reacts Differently to My Blindness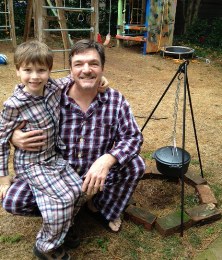 In May 2006, my son was born and our lives as we knew it were turned upside down once again. As we are all so different in this world, this certainly proved to be so with our son. My daughter and I learned so quickly together, but my son didn't take too well to suffering through my shortcomings. Times were a bit more frustrating for us all, and he didn't understand that Dad couldn't see and was continually frustrated at my lack of understanding his hand gestures and grunts. Where his sister had always seemed to understand and took a sort of pride in having a blind dad. My son seemed to be angry and frustrated with the fact that I wasn't able to meet his needs. It was not until he was four or so, that I felt that he truly understood that I was blind. When that time did finally come it was beautiful. We seemed to somehow be set free to fully love and grow together — we found more joy in life with each other. It was around this time when he came to me and pressed a piece of paper to my chest and exclaimed, "Can you see what I drew for you in your heart, Daddy?" That is when we seemed to have made that connection together and were finally able to appreciate each other and really communicate. He set me free with his understanding, and I set him free of my frustrations.
Coming a Long Way Together
The kids are now 9 and 7, and I am 12 years blind, so we have come a long way together. Though the kids have grown up riding the Para-transit bus, being stepped on and tripped over, have had their drink glasses knocked over on a daily basis, and have suffered through blackened pancakes and burned pizza. We have learned to laugh about it all. In my opinion, we are all better people for it in the end. I'll bet that if asked whether they would prefer a sighted dad; they would probably say no because they would then have to wait in line at the amusement parks.
Every Day is Father's day
All in all, every day is Father's Day for me, and each and every day, I am offered the best gifts ever. I wouldn't trade that for anything.
This coming Sunday June 15, 2014, is Father's Day and dads will be honored on this national holiday. This is an excellent time to pay tribute to all blind and visually impaired fathers and one way to do that is to check out our gift guide section for blind fathers on this site.
Editor's note: this blog post was originally published on the Center for the Visually Impaired's SightSeeing Blog in June 2013.