April is National Autism Awareness month. The purpose of this post is to increase awareness of autism and to encourage you to think outside of the rehabilitation box!
When I was studying for my degree in vision rehabilitation for adults, I learned about self-stimulating behaviors often called "blindisms." Behaviors such as repetitive speech or echolalia, constant rocking whether sitting or walking, inability to sustain a conversation, preoccupation with one topic, and resistance to and anxiety over small changes are just a few of the behaviors. These behaviors were characteristics of children and adults who were congenitally blind (eye conditions present at birth), experienced limited physical and mental stimulation, displayed learned dependency, and often labeled with a lower than average cognitive ability. Not until several years later, when I heard about the blindness and autism project at the Maryland School for the Blind, did I begin to question some of the labels placed on a few clients in my early career. I am going to relate my experiences with three young men.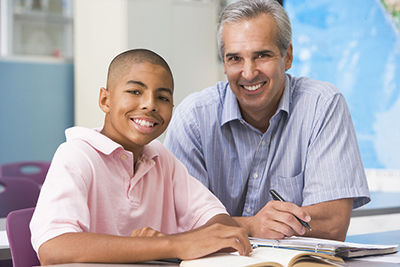 About "John"
One young man, I'll call him John, spent hours sitting in front of a television listening to and mimicking cartoon characters as a child. He was 30 years old when he came to the center where I taught. Many daily living skills were difficult for him to learn because of his limited experiences. At 30, John had never personally placed a letter in a mailbox and had no concept of the process. Mobility was a challenge because he maintained a metronome-like rocking rhythm even when walking. Frequently, he would respond to questions with a perfect impression of a well-known television character.
Then one day a different John appeared on stage in the center auditorium during a talent show. He stood tall, didn't rock, and entertained with a song that had extremely complex rhythms and word patterns that he articulated flawlessly. Along with his musical talent and ability to mimic almost any voice, John was an excellent braille reader.
A colleague and I often talked about John's employment possibilities. In spite of his eccentric behaviors, we believed he could work for a recording studio narrating children's books or performing voiceovers for television. Unfortunately, when John returned home, he was placed in a sheltered workshop on a behavioral contract to extinguish the very talents that could have given him a meaningful career and pleasure to many children.
About "Tom"
In contrast, more than 10 years later, I worked with a young man, I'll call him Tom, who attended a program for high school graduates offered at our university during the summer. As a child, Tom attended the Maryland School for the Blind and participated in the autism and blindness program. His mother was a teacher and reinforced the skills Tom learned at the Maryland School. During the summer program, Tom definitely struggled with frustration and occasionally anger trying to adjust to a new environment and finding ways to cope with a schedule that changed almost daily. He succeeded in living in a dorm with a total stranger for seven weeks; paid his bills, although sometimes he misplaced his checkbook; and completed his university course.
Tom's greatest achievement was socializing with the other students in the summer program. During social events, he and another student entertained by recreating a late night call-in radio program. They took turns role playing the disk jockey and a call-in listener. It was obvious to everyone that Tom was in his element in the role of DJ.
When Tom returned home in the fall to attend his local community college, adjusting to the rigors of college work was challenging during his first semester. However, by the middle of his second semester, he was traveling independently on paratransit, maintaining his finances with a debit card, and even contributing to the household expenses. Academically, his grades improved. That semester, he took an introduction to broadcasting course and applied for an internship with a popular morning radio show. Unfortunately, Tom did not receive the necessary supported employment and guidance during the internship, which might have led to employment. There is no record that Tom has ever been employed.
About "Bob"
Another student, who attended the summer university program, I'll call him Bob, showed clear signs of autism. Unlike Tom and John, Bob had low vision; however, he never made eye contact with anyone. During the first mornings' get acquainted breakfast, he walked in, set up his computer on a table in the middle of the room, and never moved. Bob never interacted with his peers that morning or at any group activity. His conversations with me were restricted to computers and websites. Bob thought the summer program needed a website and developed one.
Although I was certainly no expert on autism spectrum disorder (ASD), Bob's impaired reciprocal social interactions and fixation on computers throughout the seven-week program, led me to recommend that he be tested for ASD, so he could make an appropriate choice of major in college. There was resistance from the family and never any follow-up from professionals. I saw Bob again two or three years later. At that time, he told me that he was studying to be a teacher.
Understanding the Relationship Between Blindness and Autism
Could these young men have found meaningful employment that fit both their blindness and autism had the rehabilitation professionals serving them known about the relationship between blindness and autism? But, even now, how many professionals serving adults with vision loss receive training in autism? There seems to be a considerable amount of information and knowledge about children with vision loss and autism. Somewhere between adolescence and adulthood, however, someone forgot that those children grow up to be adults and need services to live independently and work at a fulfilling job where they can use their strengths, talents, and skills.
According to the Centers for Disease Control (CDC), over three million adults have some autism spectrum disorder. Isn't it time for all professionals working with children and adults who have the dual disabilities of vision loss and autism to work together? How frequently do the teachers of visually impaired children and the vocational rehabilitation counselors work in partnership to provide seamless services to their shared students/clients with autism and blindness? How frequently do professionals knowledgeable about the differences and similarities between blindness and autism collaborate across agencies sharing suggestions and guidance for appropriate assessment, instruction, and program planning? If the professionals who served my three students had understood the differences between self-stimulating behaviors of autism and blindness, focused on the students' strengths and not their deficits, how much richer would their lives have been over the past three decades? How much richer would the world have been if they could have shared their knowledge and talents?
Additional Information on Autism
A Cross Disability: Visual Impairment and Autism
Could My Client Be on the Autism Spectrum
Employment Implications for Autism Spectrum Disorder and Visual Impairments
Children with Autism and Blindness
Autism Focus: Optic Nerve Hypoplasia and Autism: Common Features of Spectrum Diseases in the Journal of Visual Impairment and Blindness