In this post, it's not necessary to provide one more "frantic public restroom" nightmare. We have included several examples in the post "Tips on Navigating Public Bathrooms with a Vision Impairment." You probably sighed and said, "Been there, done that," or just laughed out loud because you could identify completely with the situation. Even so, you have learned, no doubt, many good tips to try the next time you must venture into a public restroom.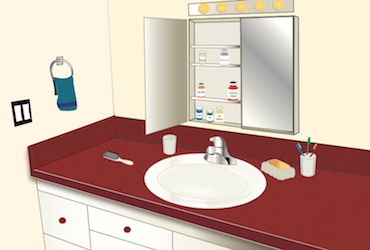 Meaning of Universal Design
But wouldn't it be wonderful to walk into the public restrooms at the airport, movie theater, doctor's office, restaurant, etc. and know that all of them had the same layout? This concept is known as universal design, conceived at North Carolina State University College of Design in 1989. Universal design seems so simple when you consider the definition: a design that can be used by all people, to the greatest extent possible, without the need for adaptation or specialized design. More specifically, as it relates to public restrooms, universal design refers to an environment that can be accessed, understood, and used to the greatest extent possible by all people regardless of their age, size, ability, or disability. Simply put, in every public restroom, the stalls would always face in the same direction, the toilet paper dispensers would always be on the right side of the stall, and the flushing mechanisms would always be a button two feet above the toilet on the wall or sensor activated. You could confidently walk into a public restroom and always find the lavatories just inside the door facing the center of the room. And imagine always finding the soap dispenser on the wall between two lavatories—bowl-shape set in a solid counter with paper towels just above the soap dispenser and a hole in the counter between the lavatories to discard the used paper towels.
Development of Design Guidelines for the Visual Environment
Prior to the passing of the Americans with Disabilities Act (ADA), there were no enforceable accessibility standards for architectural modifications for maximizing accessibility and safety for people with disabilities. However, even the ADA standards provide only minimum requirements, such as wheelchair ramps, sizes of accessible restroom stalls, heights of lavatories and paper towel dispensers, and braille labels on restroom doors to accommodate individuals with disabilities. In May 2015, the National Institute of Building Sciences issued the Design Guideline Manual for the Visual Environment, including low vision guidelines for public restrooms. If implemented by architects and builders, their assessment and recommendations would be extremely helpful for individuals with limited but usable vision. Below are several excerpts from those guidelines.
Colors of wall, counter, and floor surfaces should contrast with those of the toilets, lavatories, and all other plumbing fixtures.
Walls of toilet partitions should contrast with walls and floors of the restroom.
White toilet, lavatory, and other plumbing fixtures which are easier to keep clean and replace are also easier to identify against darker backgrounds.
Faucets and flush valves with brushed chrome, nickel, or pewter rather than polished chrome reduce glare.
Toilet paper and toilet seat cover holders, paper towel, and soap dispensers may be located more easily when their finishes contrast with the walls and counters.
Full-length mirrors may be mistaken for doorways by persons with low vision if the mirrors are located where a door might be expected, such as the entrance to a public restroom.
Ambient lighting for restrooms should cover all areas evenly, including toilet stalls and foyer-like entrances to avoid shadows and dark areas that create discomfort and confusion because of the decrease in visual functioning.
Vanity lighting at mirrors should avoid glare while illuminating the vanity surface and the face of the user.
Currently, no law adequately addresses the principles of universal design. In the Design Guidelines for the Visual Environment, the National Institute of Building Sciences gives us a glimmer of hope that someday universal design of public restrooms and other public facilities may be as common as wheelchair ramps, accessible restroom stalls, and braille on doors and elevators, if we are as diligent as our predecessors were at obtaining passage of the ADA.
Additional Information
Simple Home Improvements for the Vision Impaired