Editors note: Guest blogger Joe Strechay is the American Foundation for the Blind (AFB) CareerConnect Program Manager and is a prolific and well-known blogger for AFB.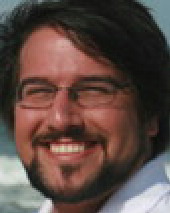 Joe: I have written on the American Foundation for the Blind's Blog about online dating and how I met my wife. Prior to all of that, I wrote this piece but never published it. I have been asked many times for tips on dating as a person with vision loss. So, I thought I would bring this piece to you as a special Valentine's day post from my former single point of you and now from my married point of view. By utilizing some simple personal tips, I was able to keep my mingle, and I found myself no longer single.
The First Date
When talking about social interaction the subject of dating always comes up. What kind of experiences can be expected and for anyone who has dated, there is always the "first date." We all have had those awkward or regrettable first dates. What about having to deal with your first date and being visually impaired. What tips or hints for planning for a first date can you offer a person who is visually impaired? Professionals, family and people who are visually impaired have been asking this for a few years now.
Tips From Single Joe
As a person who is visually impaired, a professional in our field and a male who has dated ,I think I offer a different point of view of the whole situation and can offer some tips out there for those single persons with visual impairments. This can be used by any and whoever is interested.
Be prepared
Plan out where you want to go
Pick a place you have been to or scout it out beforehand
Pick a location at which you think you are or will feel comfortable. There already is amount of stress with dating; this will reduce adding any additional unneeded stress.
What To Look For When Scouting Out a Location
Layout of place or restaurant
Lighting of the different areas; you can even request a specific area
Learn where the bathroom is located
Check out what the sound is like in the place, where the speakers are, they can be used as clues or landmarks with the place
Note where things are location in relation to others
You may be able to get a copy of the menu online or via an app like Foursquare
Having an idea of what you want from the menu will make conversation a little easier
If you do pick out what you want prior, you can skim through, as not to rush your date
Find out if they have a braille menu
What To Eat or Not To Eat
When going out on a date, there are some things I may avoid eating. I don't think this has anything to do with being visually impaired, this is to avoid messy things, preventing making a mess. Plus, I may not notice that I dripped something on my clothing, no matter how careful I am. Think about what foods you find to be messy and hard to eat normally. The same goes on a first date. I avoid things like linguini or spaghetti with drippy sauces. Salads are always a good starter for easy foods to eat. Make sure you cut the salad up so you don't end up with big pieces of lettuce hanging out of your mouth. Be careful with the tomatoes. Soups can be okay with care, as are most appetizers in general. Meats are good, as long as you slice it into small pieces. Note: it is often considered rude to cut up all of your meat prior to eating, and it can sometimes be easier to cut as you go. Think about things that will allow you to focus on the conversation while eating. Fish is pretty simple to eat.
Dinner Conversation
Overall, the rule is that if you are comfortable eating the food and feel you will not make a mess, go for it. But the main idea of the first date is to get to know each other. It is almost like a lunch interview. Make sure you listen carefully, don't over talk. By over talking, I mean allow the other person to speak and ask questions, but don't go over board. Be prepared to answer questions about yourself, but do not monopolize the conversation.
If you have not discussed your visual impairment or blindness much, be prepared and comfortable speaking about it. Realize that most people do not know much about it. Also be aware that your date may have already Googled information about your vision loss or blindness. I know for a fact many of my dates have done this prior to our initial date or second date.
Remember your manners, be polite and be on your best behavior. First impressions are important.
Transportation
You have to be able to get to the location. There are a couple of options including asking for a ride from the person you are going out with, but that may not be a viable option on the first few dates. Other options include getting a taxi or taking the bus. It helps to get there early to get a table and scout out the situation. I have done this and feel that it helps me feel more comfortable. It really all depends on how well I know the person.
From "Off the Market" Joe
Dating is not the easiest or most comfortable situation for most persons; it isn't a "visually impaired thing!" All people wrestle with this, but just as with any skill, practice, practice, and practice some more. I would never tell you that I was an expert on dating, and I have my share of funny stories. The more comfortable you get with setting up a date, the easier it gets. I know that I had a few standard locations in my bank of date locations. But, you don't always want to be the one picking the location, and you should be open to new spots. But, that might mean some planning or just being able to advocate in a comfortable manner.
Some terminology I use with people, not just for dates. If I want to ask for human guide or sighted guide, I may ask, "Can I get a tow? Do you mind if I grab your arm? This is called human guide." It is all about your comfort level, and I like to make little jokes here and there. If you are using a braille menu, be prepared to give a little description of braille that is a code and such. If you are using a magnifier, also be prepared to explain. It is funny; many waitresses have said that they would love to have something like that to help them while in dark restaurants. I have utilized braille menus and that always sparks a conversation. It is always interesting to see if they are up to date or even have prices on them.
Remember, these are just my own personal tips from years of dating as person with vision loss. Let us know some of the tips you would like to share.