Imagine how thrilled I was when my daughter and her husband invited me to go on a 10-day cruise with them. And it wasn't to baby-sit their two kids. They invited me, because they knew I wanted to try a relaxing cruise. I would be able to sit on the deck and listen to books or soak in the hot tub, I could swim in the pool, enjoy the live music and shows, dine like a queen three times a day, or have an ice cream cone whenever I felt like it. I could even attend the educational lectures, get a massage, and in general, pamper myself for 10 days, with the convenience and security of having my family nearby.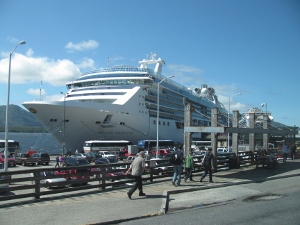 I am not part of a couple or a group of single friends my age, so going with my family was the answer for me. I had my own cabin, however, so I had the luxury of privacy and independence with the safety net of my daughter right down the hall.
Planning Ahead
When my daughter made the reservations, she made sure that my cabin would not only be near theirs, but also be close to the stairway. She had been on cruises before on this ship, so she knew that I could easily find the stairs and go up to the spa, without assistance. She let them know that I would like to have brailled daily schedules and menus if possible.
On the day of departure, we boarded the minute we were allowed to, and we took advantage of the privilege of being first in line, because of my disability. Normally, I decline special treatment, just because of my blindness, but I was grateful to get through the noise and confusion of getting checked in. In doing so, we had plenty of time for my getting oriented inside my room and learning the way to my family's room, which was down a short hall and just around the corner. Because our rooms did not adjoin, we were assigned different life boats; but my daughter got permission for me to go to their life boat if it became necessary.
Getting Into the Routine
I'm an early riser, and the rest of my family likes a leisurely morning, so on the first night, my daughter read the room service breakfast menu to me, so I would be prepared to place my order in the morning. We decided on a signal for me to tell if they were up in the morning, so I wouldn't wake them or wait unnecessarily. I would bring in the do-not-disturb sign when I got up, and they would put a hair scrunchy on the door handle when they were up. At about 5:15, my breakfast of cold cereal, fruit, and yogurt would be delivered, and I would savor a pot of tea in my robe and bask in the peacefulness of listening to the sound of the ocean through my balcony door. Then later in the morning, my daughter and granddaughters would appear with a coffee and some luscious pastries, and we would enjoy them on my balcony. That's when we would map out our day.
The girls went to the Kids' Club, or to the pool or participated in a craft class, while I liked the trivia games and the historical lectures. I especially enjoyed the class on napkin folding. Of course, I needed my daughter's assistance in getting from one place to another, but often, she chose to attend the same things I liked, while her husband might go play a round of miniature golf on the top deck. In other words, we often split up, but not always. On the first day, my daughter showed me how to get to the spa, so I could work out on the treadmills and bikes. I made a point of chatting with the attendants, so they would recognize me and help me the next time. Each day thereafter, I'd make my way upstairs to the spa on my own.
Excursion Days
I'm not a beach lover, so when the ship docked at an island, and everybody, including my family, poured out to stake out their little piece of property on the beach, I stayed behind to be on my own for a few hours. I ran on the treadmill and had a massage, and afterward, ordered room service for lunch. I read on my balcony and took a nap. When I wasn't otherwise occupied, I allowed myself to do absolutely nothing but bask in the soothing motion of the gentle rocking of the boat. After all, in addition to everything else, I could simply enjoy the ride.
My Adventures with Miniature Golf
One evening after another lavish dinner, I announced that I would like to play miniature golf. My daughter and son-in-law were a little surprised, since I have absolutely no vision, but true to their positive spirit, they happily agreed to take me up to the top deck to play. I forced myself to forget that I was terrified of falling overboard and just concentrate on hitting that little ball. "Okay now, how do you picture this working?" my daughter asked, since this was a new experience for her. "Just make sure I'm lined up right, and the business end of the club is at the right angle," I said. She did, and my son-in-law would go stand by the hole and tell me about how far away it was and what obstacles I needed for the ball to miss. Everyone was happily surprised when I did so well, and I was delighted to be engaged with the family.
The Climbing Wall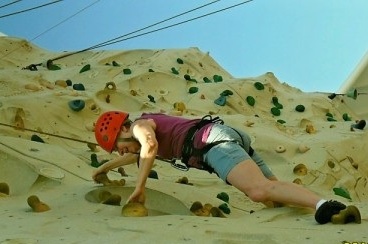 Buoyed by my success, the next day, I did the climbing wall. After my granddaughters each took a turn, I stepped up to the young attendant, called a belayer, and told him I was ready to try it. With the same cheerful attitude as my daughter, he strapped me into a harness and assured me that if I had a problem, he'd be there to keep me from falling. I had done this once before, and I knew it got more difficult, the higher you climbed, but he coached me by calling out things like "Put your right foot a little more to the right and up a couple inches. Okay. That's good. Now reach up with your right hand, and you'll find a hold. Good."
"Take Your Event to New Heights"
When you get to a certain height, there's a bell to ring, and I smacked it several times, just for the joy of success. My granddaughter took my picture on the wall/ Now that photo is on my business card. The card reads "Take Your Event to New Heights."
Enjoying the Entertainment
I was pleasantly surprised when I went to the show on the first night of the cruise. I was expecting to miss much of the fun, because of not having audio description, but it really wasn't needed. There were several musical performances that I especially enjoyed and they needed no description at all. There were a couple of shows, like a magician and an ice skating show that I knew I wouldn't enjoy, so I relaxed in my room with a book or a drink in the piano lounge. I reminded myself that it was okay to just do nothing. It's amazing how well I could do that, sometimes even napping, while the ship gently swayed, and the band played on.
Dog Guides as an Alternative to Getting Around on the Ship
While my daughter and son-in-law were happy to ferry me around the ship, I often wished I didn't have to complicate the plans of the day by needing assistance to and from various activities. I have friends who are blind who have been on cruises with their dog guides and with no sighted help, except for the crew and other kind passengers. But I wasn't ready to be that adventurous and independent. I could see why dog guide users prefer to bring their dogs on a cruise. I'm not convinced that's the best solution for me, but it works for many folks. You may want to read about Michelle Miller's experiences with her dog on a ship.
Is Cruising for You?
Many people who are blind or visually impaired think a cruise is the perfect way to vacation, because all the entertainment, dining, shopping, and relaxing are contained in one place. Theme cruises, although they are more expensive, add a special flavor to the whole experience. There are cruises where you can study a subject or teach a subject. It's something to consider.