Aging Successfully
Author's Note: This is the last on our series this month on Healthy Aging. You may want to check out a great audio presentation about successful aging on the International Macular Degeneration Support Group website. Colleen O'Donnell and Mary Ellen Daniel, the presenters, point out that there are several components to aging well: maintaining physical activity, maintaining cognitive functioning, engaging in a variety of activities, and engaging with others socially. Many creative pursuits involve all of these.
The presenters state that creative expression fosters personal, social and spiritual growth. It encourages self expression, risk taking, and continued learning. Creating something new and beautiful gives a sense of control and challenge, social engagement, and brain exercise.
O'Donnell and McDaniel divide the creative pursuits into those needing near vision adaptations and distance adaptations. Crafts and handiwork like my rug making require: 1) proper lighting and glare control 2) using color, contrast and patterns for better viewing and 3) size adaptations. I use a special light (Ott lamp), play with colors to increase contrast in my work, and use a giant crochet hook so my work is visible and tactile.
Here's an inspiring quote from the presentation, by Dr. Gene Cohen: "Creativity is a powerful inner resource." So be creative and enjoy retirement!
Avoiding Boredom During Retirement
When I retired, I began a mission to fill my time and avoid boredom. I was not really ready to retire and actually feared it immensely. Now in my sixth month of retired life, I cannot even imagine how I ever had the time to work! It has been so enjoyable exploring new interests and establishing a new kind of "busy-ness."
Book Clubs and Crafting
What do I do all day? Well, I do many things that I never had the time for when I was working. I enjoy reading audio books and have joined an online book club for the visually impaired (BLIND AUDIOBOOK CLUB on Facebook). I have always wanted to join a book club. So I decided to start one in my neighborhood and that has been great fun. I have always been a crafty type. In the past, I have dabbled with quilting, cross-stitching, lace net darning, basket weaving, paper making, stamping and scrap-booking. Over the years as I lost vision, I gave some of these activities up. But I have never given up on my need to have a creative outlet and am always in pursuit of the next craft I can do with limited vision.
Making Rag Rugs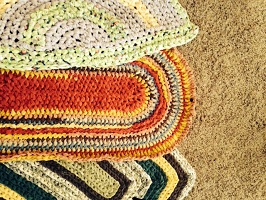 I discovered making rag rugs out of old sheets. I taught myself by watching YouTube videos. There are several ways to make rag rugs. I settled on learning how to make Amish Knot, or toothbrush rugs and crocheted rugs. It is a large and tactile craft, so I can do it with very little visual input. I set about collecting bed sheets from the thrift stores in all colors and patterns. My husband helps me tear them into strips, using a technique from a YouTube video in which the whole sheet can be torn in just minutes. I use Aunt Philly's toothbrush tool which I bought from Amazon for the Amish Knot rugs and a Q hook, available at Walmart, to crochet rugs.
At Christmas, I made rugs for all of my kids and friends. I made round, oval, rectangle and half-circle rugs of all colors. For my son's rug, I used an old Ninja Turtle sheet he used as a child for a special touch of nostalgia. I am obsessed with this new endeavor and am perfecting the art of mixing the colors and learning new techniques and designs. I love the homespun charm of this eco-friendly craft. The slubs and imperfections give character to each rug. There is no pressure to create a perfect rug…at the end of the day, it is a rug and will be walked on.
Met Fellow Rug Maker
Recently, I attended a bluegrass festival called "Bear-On-the-Square" in Dahlonega Georgia. All the vendors had to display handcrafted and locally made products. I came upon a booth named Rena's Treasured Gifts and to my great excitement, met a fellow rug maker! Her rugs were beautiful and there she was, working on another one in her lap. We chatted like old friends and swapped tips and ideas. Rena helped me with a few problems I was having and demonstrated how to fix them. I returned home, inspired to make more rugs. Maybe I too will sell them one day.
Boredom is a Choice
When my kids complained they were "bored," I always said "Boredom" is a choice. Find something to do or I will give you something to do." It seems I have no problem finding things to do in my retirement. Between exercising, cooking, crafting, volunteering, yoga, reading, spending time with friends, writing, blogging, walking and playing with my dogs, the days fly by! (Notice I did not include cleaning in the list-I do as little of that as possible). Life is GOOD…busy hands, happy heart!
Let's Discuss Retirement Activities
What types of activities do you enjoy now that you are retired? Are they things you have always wanted to do but lacked the time? Or new hobbies and/or interests? Share your fun-filled retirement activities in the comment section below.
Additional Resources