Editor's note: We continue with crafty ideas that people who are visually impaired can make as the holiday season approaches. One of the nicest things to receive from a friend is a hand-made craft or gift. Check out Part 1. Part 3 covers food items you can make as gifts. Read Tips for Setting Up a Craft Area to get you started.
Festive Gifts in a Jar
Lighted Potpourri Jars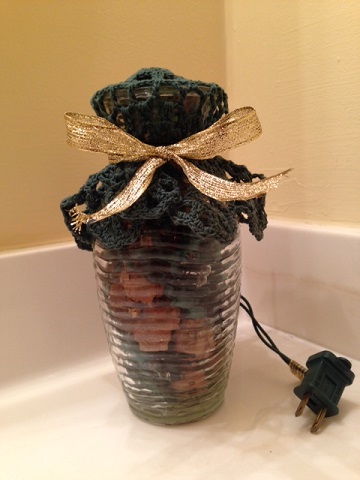 Light up your home this holiday season with this easy craft idea. These festive jars give off a soft glow with mini lights and the gentle aroma of potpourri. They make great inexpensive gifts for hostesses, neighbors, and friends, and may be used year-round as a fragrant night light for the bathroom or other dark corners. Most of the supplies can be found at the dollar store or Wal-Mart.
What You Will Need
large, clean glass food jar, canning jar, or round glass vase
string of 20 to 30 mini lights
scented potpourri
doily or open-weave fabric circle to cover jar
rubber band
ribbon or raffia
holiday embellishments as desired
Method
Add a layer of potpourri to the bottom of the jar.

Turn on the lights and arrange them in the jar, adding potpourri as you go, so that the lights are evenly spaced. Do not pack the jar too tightly.

Leave the plug end of the light string out of the jar.

Place a doily or circle of fabric over the top of jar, and secure it with a rubber band.

Tie ribbon or raffia around the jar's mouth and add festive touches like mini pinecones, holly, ornaments, etc.
Note: When the potpourri scent begins to fade, freshen it up with a few drops of fragrance oil or essential aromatherapy oils for another season of use.
Dollar General Homemade Hand Cream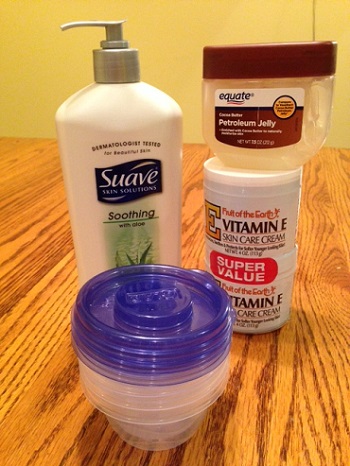 This hand cream feels luxurious and smells lovely. All the ingredients can be found at places such as the Dollar General Store or Wal-Mart. It is perfect for gift-giving. Make it your own by adding a pretty label. This recipe makes 32 ounces of rich, moisturizing hand cream.
What You Will Need
16 oz baby lotion (regular, lavender, or aloe scented)
8 oz Vaseline
8 oz Vitamin E Cream
Air tight containers, gift-sized
Method
Mix all of the ingredients with a hand mixer until creamy. Place in containers and label. Problems with labeling? Check out these labeling techniques. It's that easy!
Holiday Card Bookmarks
By Amy Bovaird
My favorite craft to make every year is holiday card bookmarks! This makes a great activity for kids or students. I used to do it with my sighted high school students.
What You Will Need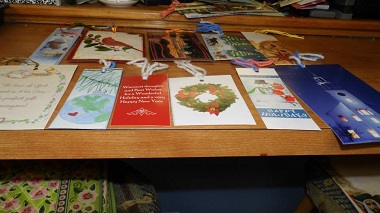 old greeting cards
a hole punch, yarn, or embroidery floss
rubber cement
construction paper
cutting board or scissors
ruler (optional)
Method
Look at all the holiday cards you may have saved from the previous year and find ones with colorful, whimsical, or classic pictures.

Once you have found pictures you like, determine which ones lend themselves well to bookmark size strips. Sometimes a card can make one bookmark. Sometimes it can make two.

Cards are different sizes so use the best part of the pictures for the bookmarks.

Once you have selected the image, line the picture up on a cutting board, using one of the marked lines to be certain it is straight. Try a high contrasting cutting board if you have low vision. Then, carefully cut it with scissors and make sure your fingers are out of the way.

When you have it cut to the desired size, use rubber cement and mount it on a coordinating color.

Punch a hole in the top with a hole punch. Then take a coordinating colorful yarn or embroidery floss the length of your arm and fold it three or four times and push it through the hole and tie it. The yarn can be whatever length or thickness you want, but remember, it must fit through the hole.

Cut through the looped yarn to make sure there are uniform strands.

For an added personal touch, you might like to stamp something on the back of your personalized bookmark.
Share Your Comments
Do you have a favorite craft idea that we could try? It might be an older gift for your friends and family, but something new and different for someone else. Please share your ideas here.
Further Reading