Editor's Note: For today's blog we are taking a few lines from Joe Strechay's recent blog about Christine Ha and her recently released cookbook, Recipes from My Home Kitchen: Asian and American Comfort Food. Christine is the chef who is visually impaired and who wowed the nation when she became the Fox Network Master Chef Season 3 Winner.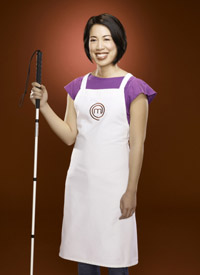 Joe Strechay:
"If you don't remember, I wrote a lot about the FOX Network MasterChef Season 3 winner prior to winning and after. Christine Ha was the contestant who was blind or visually impaired. Christine Ha lives in Houston, Texas, who was finishing up her graduate program in creative writing.
You might have read the APH CareerConnect interview with Christine Ha, but if you didn't, you should check it out. Well, Christine Ha released her cookbook a few weeks back. I took the opportunity to check it out after viewing the episode from MasterChef Season 4 where they plugged the book. I downloaded it on my Apple iPhone after the show and read it the next evening. Yes, I read a cookbook for fun. Chef Gordon Ramsey wrote the forward for Christine's book. I thought his piece was nice and seemed to frame it well.
I watched season 3 in detail, I had been awaiting her cookbook because I loved the fusion of Asian cooking that she utilized throughout the competition. The cookbook featured a number of the dishes she created during the competition, and obviously some that were not. While reading the cookbook, there were a few dishes that jumped out at me. But, that was not all that stood out. Christine put a lot of herself and her life into the cookbook. She wrote about what shaped her cooking and referenced instances from the show.
If you like the idea of spins on pizza, soup, and fabulous meals, then you will not be disappointed. Check out Christine Ha, MasterChef Season 3 winner's cookbook, Recipes from My Home Kitchen: Asian and American Comfort Food and let me know your favorite recipe! Christine, thank you for sharing your life and love of food and cooking with us!"
---
Christine was interviewed for CareerConnect and was asked the following question,"What would be one piece of advice you would offer to a person with vision loss?"
Her answer
"It is never easy to lose your vision. It will suck, and you will go through a period of grief and adjustment. It is stressful. And it is okay to cry and lament about it. This is all very normal and healthy. But after a while, you have to pick yourself up, learn to adapt, and move on and forward. Everyone in this world is dealt a different hand—some better, some worse than others—but what's more important is how you play that hand. This is what builds character. And with great character comes great reward."
Learning to Cook with Vision Loss
So for those of you who have wondered about being able to cook with vision loss, you should be inspired! And VisionAware has lots of tips that can help: on cooking, organizing your kitchen,and even using a flat top stove. You can also find out about Vision Rehabilitation Therapists who can help you with learning techniques to work safely in your kitchen and carry out everyday tasks and more with vision loss. You can also read lots of other personal stories about people from all walks of life coping with vision loss.