Celebrating the Holidays Alone
The end of the year brings the holidays which can be a joyful time, but for many it also brings added stress and feelings of depression- especially if you are celebrating alone, and coping with vision loss. Here are 3 ways to beat the holiday blues and have a blast.
Beating Holiday Blues
Remember the true meaning of alone. Alone actually comes from Middle English meaning all (wholly) one. Even though you physically may be by yourself, you are entirely complete and all one. One of my favorite musicians, Bob Sima, sings "Alone is not a time, alone is not a place, alone is where you are witness to your loveliness and grace." So, bear witness to the lovely and gracious person that you are and the things you can do. Try doing something thoughtful for a loved one, dear friend or even a stranger. Some ideas might be Buying coffee for the person behind you in line at the coffee shop; donating your time or talent to those in need; reaching out by phone or email to someone you haven't spoken to in a while just to say you are thinking of them and hope they are well. When you witness your own kindness, you can't help but to feel good.
Practice gratitude. Even though things may not be perfect in your life- it rarely is for anybody, make a list of all the things you are grateful for or that you appreciate in your life. Start with the basics- food, shelter, clean water, clothes, a bed to sleep in, a pet, television, internet, music… List as many things as you can and add at least one thing to the list everyday through the end of the year. When you notice and acknowledge what you do have, you shift not only your attention to the positive, you also shift your attitude and elevate your spirits so you'll go into the New Year with genuine enthusiasm and hopefulness.
Make it special for yourself. Make the holidays your own and do something that you love to do. If it's been a while since you've watched your favorite movie, dig it out, pop some popcorn, order a pizza, snuggle in and watch it. Or, if you're more into the outdoors and you happen to have snow, bundle up and go make a snowman or snow angel and come back in and have a cup of hot cocoa to warm up. Or, perhaps you're into being pampered and want to treat yourself to a spa day. Do something silly and fun that you either wouldn't normally do or that you'd love to do, but haven't done for whatever reason. When you treat yourself to something special, you give yourself permission to feel special.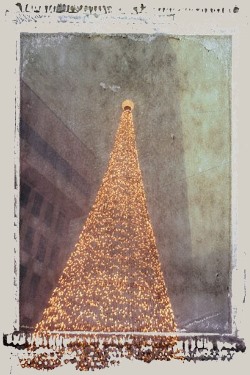 Thoughts of Love and Joy
And, most importantly, know that wherever you are and however you choose to celebrate the holidays, well wishes, love and thoughts of joy are coming from my heart to yours. Sending you love, peace and joy.
Let's Discuss the Holidays
Will you be celebrating the holidays alone this year? What things have you decided to do to help beat the holiday blues? Do any of the above tips resonate with your holiday plans? What other suggestions can you share about celebrating the holidays by yourself?
You may also want to read Nancy Duncan's How to Avoid Those Holiday Blues from 2013 and other posts about the holidays.