This post is part of our Sandwich Generation Series.
Becoming The Unplanned Caregiver
"Not all of us can do great things. But we can do small things with great love." Mother Teresa
Even though I was caring for a family of three young children and was helping my husband to establish a new business, I somehow fell into the role of caregiver for my mother-in-law. Eighty year old Vera arrived for a two week holiday and ended up living with us for seven years!
During her visit, Vera had cried out suddenly in the middle of the night, suffering symptoms of a possible heart attack. My husband called for our local doctor, who came immediately and diagnosed Vera as having an irregular heartbeat. He prescribed medication that she would have to take for the rest of her life and advised us that she should no longer be living on her own.
Appointed as Caregiver and Blind Chef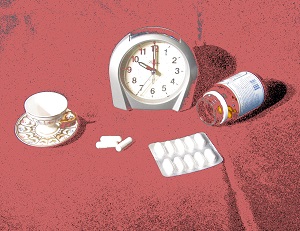 Before I really knew it, my husband had proposed to build on a comfortable and private living area as her new old age accommodation, complete with an en suite (which is a bathroom connected to the bedroom), tv, built-in robes, grandchildren and personal blind chef – me! (I have retinitis pigmentosa.) Vera beamed and said, "Sounds lovely."
So building permits and architectural plans swung into gear while we prepared for our new live-in guest. Thankfully, with the sale of her home, she was able to fund the new extension wing which turned out to be the prettiest part of the house. It didn't take long for Vera to settle into her new "nursing" home, adjoined by a common door which was sometimes open, sometimes closed, depending on her mood…and ours!
Balancing The Daily Routine and Our Needs
it was novel for my children to have their grandmother living with us and we all soon settled into a daily routine. With my children packed up and off to school, I took Vera her morning coffee at precisely 10 AM and soon found myself trying to keep up with her highly regimented timetable. Breakfast at 7:30 a.m.; morning coffee with a compulsory biscuit at 10 a.m.; and lunch at 12:30 p.m. Then there was afternoon tea with a piece of homemade cake at 4 p.m.; dinner at 6:30 p.m.; swiftly followed by a homemade dessert at 7:30 p.m. The excuse being she needed to take her heart pills at these regular times every day. "doctor's orders, you know," she would say.
With such a tight routine, finding a balance between meeting her needs and looking after my young family, as well as squeezing in a few moments for myself to recharge every day, was crucial for the well-being of my clan. I learned that to take time to care for myself, even if briefly, was not being "selfish" but gave me more energy and love to devote to others as I filled an inner cup of joy, which could in turn, overflow to those I was caring for.
Mother Nature Nurtures Mother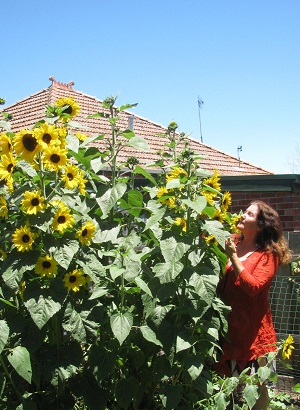 With my children happily playing in their rooms, and while Vera snoozed or listened to an audio book, I would zip outdoors to "play in my garden". Daily I spent a little time mulching and weeding, planting seedlings and pruning shrubs – invigorated by the natural pulse of Mother Nature pumping through my hands. It gave me so much pleasure to nurture a healthy soil and feel plants growing under my care.
Wasn't I supposed to be taking a break and rest my energy? I was! Being on my own to cruise the garden and lose my thoughts while feeling for colour and growth in my plants and chatting with flowering shrubs felt like a deep meditation of peace. I was tithing time to myself – and could return happily to my family, often with the added bonus of a harvest of some sort.
Three decades later, my daughters now tend to their own families and share the same fondness to disappear into their productive gardens to reap a cornucopia of delights and take precious moments out of their hectic lives for themselves!
Cultivate Self-Care All Year Round
It is easy to get swept away in the current of unfilled demands from those we may be caring for but I would like to encourage every caregiver to cultivate your own self-care. Tithe time for the things that really nurture your spirit and you will find renewed strength to keep caring for your loved ones.
Five Ways to Bring a Sense of Peace to an Inner Garden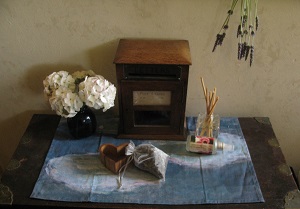 Pick a posy of flowers or buy a bunch of blooms as a reminder to yourself that a gift from nature can boost a sense of peace and gratitude.
Use aromatherapy as a fragrant way to bring pleasure by placing a few drops of pure essential oil into a spray bottle of water as an air-freshener to uplift your mood.
Gather lavender heads or lemon-scented geranium leaves from spring and summer and crush into scented bags to place among your clothing – the scent revives the mind and spirit.
Disappear into a candle-lit bathroom and sink into a bubble bath to soak up the sounds from a soothing music CD while warm water washes away the cares of the day.
Indulge your senses with fragrant moisturiser and massage it gently into your face and neck before bedtime – then jump into bed a little bit earlier than usual and enjoy an audio or print book.
Got the idea? Great! Let us know in the comments how you nurture your own needs to recharge with loving energy that enables you to give to others through the seasons. Are you a caregiver of an aging parent or other relative? If so, How do you balance life,family and your caregiving role?