by Neva Fairchild and Empish Thomas
It's that time of year when we need a new calendar, resolve to get organized, and commit to keeping track of appointments independently.
If you have a visual impairment, this can be easier said than done. None of the calendars at the store have large enough numbers or letters, and there's not enough room to write even if you buy a desk-size calendar, which of course you cannot take with you. If you use a black permanent marker so that you can read what you write, it bleeds through to the next page. The letters and numbers are gray instead of black, and the spaces are too small to write what you need to know. Eventually, you leave the stationary aisle frustrated with nothing that meets your needs. Now what?
Print Calendars
Picking the right large print calendar for your lifestyle is an essential first step. Is a large print monthly wall calendar that helps you keep track of the date and day of the week but has very little room to write what you are looking for? Perhaps, you need room to write an occasional appointment down but usually no more than one per day. An 8.5-inch by 11-inch weekly calendar and a bold line pen that does not bleed through might work best. If you're a busy person, you may want room to schedule several appointments at specific times each day, so you will need a large print daily appointment calendar.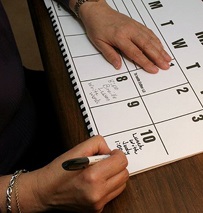 The font size and ink color will vary by manufacturer and style, so verify when you decide on a calendar that you can easily read the letters and numbers with or without a magnification device. The type of binder may also affect your decision. A thick notebook versus a honeycomb or spiral binding or a paper versus a plastic cover may sway your decision.
Taking your calendar with you when you leave home may not be possible if the size or style that works best for you isn't portable. You may want to keep a digital recorder with you in order to record appointments you set when you are away from home so that you can write them down later.
Companies that specialize in products for people who are visually impaired offer large print calendars in a variety of sizes and formats. Reviewing options found through specialty product providers will help you find the perfect calendar for your busy life.
Electronic Calendars
If you have access to a computer or a smartphone, you may prefer to use an electronic calendar. With screen enlargement or screen reading technology, the issue of reading the words and numbers on a print calendar is eliminated. There is a calendar option in Microsoft Outlook that is excellent for scheduling appointments with contacts in your address book, or you can create your own calendar in Microsoft Excel or Word. However, if you want to keep your calendar with you and have a desktop computer, your solution only works when you are at home or work, wherever your computer lives. You may still need a print calendar that duplicates your electronic calendar. You can print the calendar from your computer and read it with a portable video magnifier, or you may need a large print calendar that you can see to write with a bold pen so that it is readable without a low vision aid.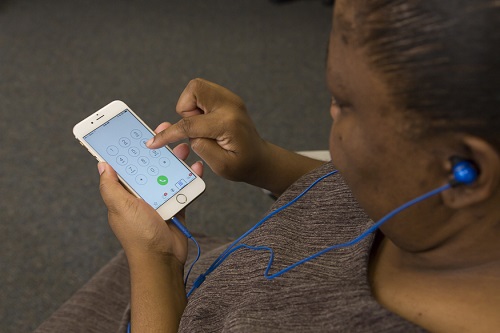 Using a smartphone to keep your calendar eliminates the need for printing or handwriting and can synchronize with your computer so that you have access to your calendar wherever you are. You can use calendar apps on your smartphone. The VO Calendar is a accessible one for iPhone users because it works well with VoiceOver command. If you have resisted or postponed learning to use a smartphone, this just might be the right time to change your mind.
Braille Calendars
Even with great advancements in modern technology, let's not forget the braille calendar. These simple calendars can come in sizes you can hang on your wall or smaller sizes. Although you won't be able to jot notes or appointments on them, braille calendars are handy to quickly check for dates when scheduling appointments. Some braille calendars will also list holidays for easy reference.
How do you keep track of your appointments? Please comment below.
Additional Resources
Helpful Products and Technology for Living with Vision Loss
Overview of Low Vision Devices
Reading, Writing, and Vision Loss