Continuing in our series in celebration of Louis Braille's birthday and the use of braille in everyday life, please enjoy this post with recommendations for braille gifts. Remember Valentine's Day is just a few weeks away!
Braille Related Gifts
Although the holiday season has passed, a new year has arrived with twelve months of reasons to purchase gifts for blind friends and family members. VisionAware Peer Advisors Elizabeth Sammons of Ohio and Audrey Demmitt of Georgia suggest giving braille jewelry at any time! Without any monetary compensation, Elizabeth makes this pitch for Jewelry in Braille by Kelly Fehr. "The grace and style of her designs are produced in high-quality braille and ways visually pleasing to others as well." Sighted friends and family might also like braille jewelry for a special occasion.
APH Offers Braille Gift Items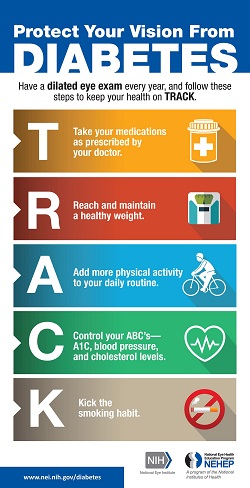 Caption: APH Insights Calendar
How About a braille calendar? This full-color calendar features the artwork of visually impaired artists. It is suitable for people who are blind or visually impaired or for anyone who enjoys unique artwork.
Another unique and useful gift is BrailleBuzz, an instructional toy for young braille learners ages two to five. It encourages practice with braille characters and phonics, similar to a variety of audio-based toys that teach print writing.
Additional Websites for Purchasing Braille Items
As she so often does in VisionAware posts, Audrey shares some websites where braille jewelry and other items can be found:
'BRAILLE'iant offers customized jewelry, t-shirts and other gifts in their braille boutique, to increase braille awareness and provide useful and readable items for people who are visually impaired.
Braille Design sells custom braille products made by experienced braillists.
Jewelry in Braille has unique and custom pieces created by a professional jewelry maker, inspired by a family member who is blind. Even Etsy and Amazon have braille jewelry and other gift items.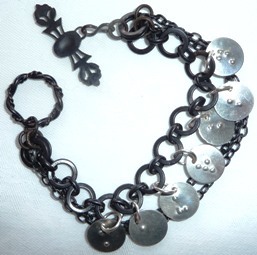 Caption: Bracelet with Braille Charms
Braille Gift Cards
Speaking of gift items, Peer Advisor Steve Kelley from Maine, reminds us that several years ago Starbucks recognized that some of their customers are braille readers and added brailled gift cards to their lineup. Steve further comments: "The Starbucks at the Maine Mall in South Portland had one on display the day I walked in with one of my clients."
Wine with Braille Labels
Braille has been present since 1996 on all M.Chapoutier labels. The labels provide the following information in braille: M. Chapoutier, the appellation and the name, vintage, and color of the wine.
Beauty Products and Fragrances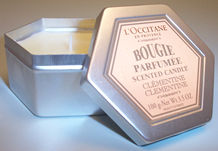 Since 1997, L'OCCITANE has included on the labels of all its products explanations in braille to make its cosmetics accessible to all. It is also one of the first brands to have implemented braille labels and through their foundation, they support services to help people who are blind or visually impaired.
Braille Refrigerator Magnets
Peer Advisor Jeannie Johnson made this suggestion for an inexpensive, yet meaningful gift for a friend or family member who is blind. The National Braille Press sells refrigerator magnets in rectangular, square and cube shapes with the quote inscribed in both braille and print. You can find them by putting the word "magnet" in the search bar on their site. They are small enough to be easily slipped inside any special occasion card. Jeannie describes her magnet as rectangular with the words: "Be the person your dog thinks you are," adds, "It is on our fridge right next to the head of a poodle that looks like a miniature poodle I once had named Prince."
More Quotes from the Magnets
"Good friends are like stars. You don't always see them, but you know they're always there!"
"Anyone can be cool, but awesome takes practice."
"We do not remember days, we remember moments."
"Just when the caterpillar thought the world was over it became a butterfly."
"Life isn't about waiting for the storm to pass; it's about learning to dance in the rain."
"The best and most beautiful things in the world cannot be seen or even touched. They must be felt with the heart." by Helen Keller
Wouldn't Louis Braille love that sentiment by Helen Keller!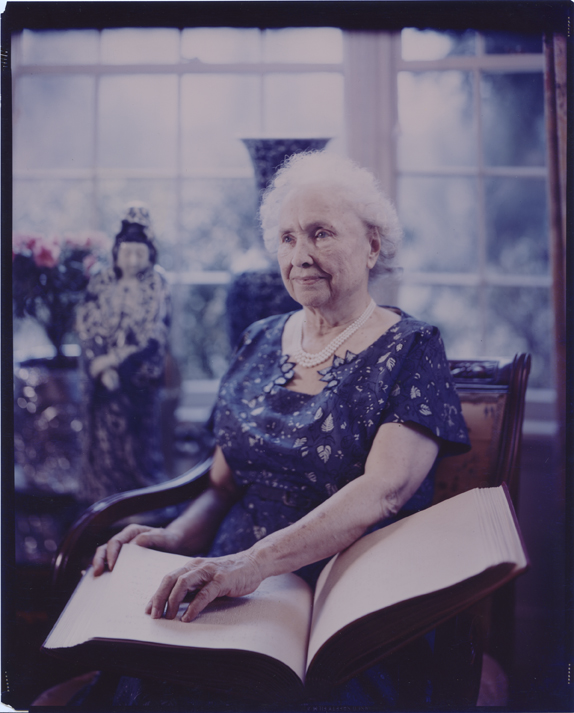 Caption: Helen Keller Reading Braille Book
Other Gifts to Consider