This post is part of our Caregiving Series in honor of National Family Caregivers Month.
Mother in Emergency Room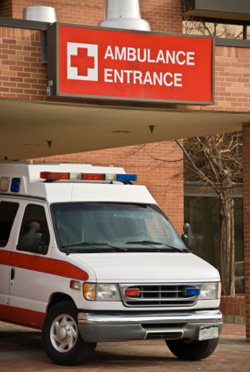 There are times when I feel more blind than usual, and when my 98-year old mother was sent to the emergency room (ER), this was one of them. First, when I got the call from the assisted living home, I had to recruit someone to take me to meet Mom at the hospital. It was the Saturday of Memorial Day weekend. Fortunately, my son Steve was able to excuse himself from his daughter's soccer game and sit with me for at least half the 8 hours we spent there. When he had to leave for a while, I thought I could handle everything, because Mom was sleeping off the morphine they gave her, and I was just waiting for the results of the tests they ran. But then the morphine wore off, Mom got cold, she had to go to the bathroom, and she was getting hungry, since she hadn't eaten all day. Yet, nobody checked on us for over three hours. I searched around our little curtained off space for a blanket and found none. I had no idea where to find food, and since Mom couldn't walk, it was impossible for me to help her with the bathroom. I had left my dog guide at home, knowing that it would be tight quarters, and I didn't want to have to deal with a dog's needs on top of everything else.
I had to do something: So, I took my white cane out into the hallway and went searching for some help. When I finally got the attention of the nurse on Mom's case, and I complained that we hadn't seen anyone for hours, she said rather defensively that she had been around. But not once did she pop in to say a comforting word or ask if Mom needed anything. If I hadn't been there to flag somebody down, my mother would have been ignored completely.
The Importance of an Advocate
Hospitals are the worst places to be when you are hurt or sick, and you are blind and hard of hearing. This is proof once again that if you have to go to the hospital, you must have an advocate with you.
Mom was back in the E.R. the next day, and again on Monday, Memorial Day, because of repeated falls. She was finally diagnosed with a fractured hip and a broken rib, and was admitted on Monday night. She spent the next 5 days in the hospital, where her care improved remarkably, especially when she was moved to palliative care for the last 3 of those days. Meanwhile, she was approved for hospice care.
Relief Through Hospice Care
Most times, when people hear those words, they think of impending death and sorrowful hearts. My reaction was, Thank God for finally sending her the care she needs. While I was not actually the one who administered her meds, lifted her in and out of a wheelchair, cut up her food, changed her sheets, and cleaned up after accidents in the bathroom, I felt a huge burden lifted from my shoulders. I am an only child, so it was up to me to arrange for care, make doctors' appointments, handle her finances, do her laundry, orchestrate social activities, and solve problems that came up on a daily basis at the assisted living facility. Since the trauma of that Memorial Day weekend, her physical and mental condition deteriorated so drastically that she became virtually helpless. She had to be fed, dressed, bathed, and everything else, as if she were an infant. If I had sight, I might have been able to do it, and I probably would have, because I know my mother did it for her mother, and although I did it for my babies as a blind mother, caring for an infant is not the same as caring for an elderly and frail person.
Although she did not qualify for 24/7 care, there were 4 people on her team, a nurse, an aide, a chaplain, and a social worker, who each checked in on her regularly. My worries as the "designated daughter" had been lightened considerably. As her level of care increased, so did my peace of mind. With the onset of Alzheimer's, her personality had changed. She was more relaxed and accepting of help. I think she rather enjoyed the extra attention. The smile on her face matched mine, as I witnessed the tender care of this hospice team. What a relief. My burden had been eased.