Here's a twist on making a New Year's Resolution. Oh sure, we can still make those promises to ourselves to lose weight, exercise more, eat more veggies, and engage in any number of self-improvement projects. But what if we added a goal to be accomplished by the end of 2016? It might be something practical like getting a job, but what if we made it more fun, like taking a trip, learning to do the tango, or winning a contest?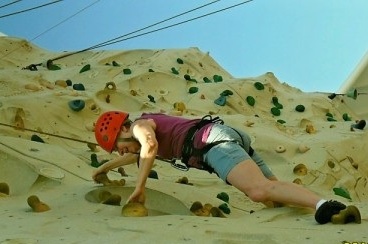 What's a Bucket List?
In case you didn't see the movie where the expression "bucket list" was made famous, it's a list of things you want to do before your life is over. Depending on how long your list is, it would be a good idea to get started on it now. Choose at least one item on your bucket list and resolve to do it this coming year. Don't let vision loss slow you down. Many of the VisionAware peer advisors have written their bucket lists and are sharing them with our VisionAware audience. We plan to keep you updated as the year goes along.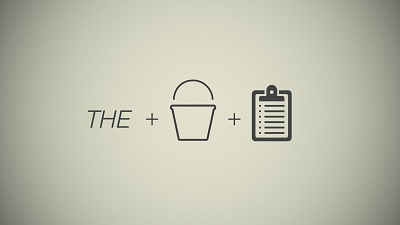 I started my bucket list several years ago, and as I reviewed it in preparation for writing this post, I see that I have indeed accomplished a few . For instance, I have always wanted to go to Chautauqua in New York, and last year, I did. Another one was that I wanted to ride on a dog sled and be the musher. I got to do that last year too. Sadly, I see that there are many things that my medical issues would prevent now, mostly because of my age. Looks like I should have made an effort to mark these things off my list when I was younger and in better shape. But there are still some that are within reality. None of them require sight, so no excuse there. I just need to summon the energy to make them happen. Here's one that I think I can accomplish this year:
Finally Get that Book Published
Over the last three years, I'd been posting stories and essays on Seeingitmyway.com, my blog, and friends who regularly read it have been hounding me to write a book. There is no reason for me to put it off any longer. My goal is to at least get it ready for publication, and then maybe in 2017, the goal will be to see it on the shelves in a book store.
Thoughts from Other VisionAware Peers:
I have a bucket list that includes riding on every kind of transportation there is. I'm thinking about taking a train, the only mode of transportation left to try, possibly to New Orleans to enjoy the jazz and the food, especially the food.
I am working hard to make some preparation toward moving from the completely inaccessible home I share with my youngest daughter and her three children in to an aging in place home. I can't quite figure out how this time of my life happened. It has just snuck up on me I guess. I don't remember exactly when I crossed over from being a young person to a great grandmother, but there you go! Life keeps ticking over and pushing me on the the next step whether I am ready or not! If I were to pick my favorite Golden Girl, I guess it would be Rose since she is the one always wandering through life in a state of amazement.
The first step was to define the minimum things I will need:
First I will need a fenced yard to accommodate my guide dog and any successor dogs I might own even after I am no longer able to work with a guide dog at say age 99. Seriously, I have owned and worked with dogs since early childhood and would hate not having at least a pet dog.
The house should be on a bus line so that I can go where I want when I want without needing to work out elaborate plans in advance.
It should have an open plan so that when my spouse needs to move about using his walker or manual wheelchair, he isn't limited in getting around inside the home. Also, some day I might have to face being indoors and I don't want to have to have my access to any part of my home restricted!
If those are my set of criteria for the house itself, I might have to replace carpets with tile floors, widen some interior doors, or put up that fence. If I can get as many of these already in place, I can pay a little more for quality of construction and other amenities.
I am hoping to be ready to move by next summer. I am going to estate sales and garage sales to purchase some of the things I will need when I move out so I won't leave my daughter and her offspring minus something they might need. If there is an adequate number of say measuring spoons for each of us to have a set of dry and liquid spoons each, then I am packing away my sets so that we can figure out where I need to buy more items.
I am working with a realtor and looking at what comes available. For now, I am in the planning an option exploration phase. I recommend that you also read Lynda Jones's article and Audrey Demmitt's post about aging in place if you are serious about house-hunting.
There you have it. I will share each step of the way. I will be 68 years old next September and it always surprises me that it is time to do some planning for old age!
I would love to take a cruise (and schedule a speaking engagement on board, if possible).
I am also very motivated to publish a book about my father's life to commemorate 10 years since his death (a tenth-anniversary kind of thing). It will be geared to our local community as my father was known, loved and respected in the county where we live. I would love to have some kind of accountability to see if I achieve my bucket list for this year!
Publish my first fiction novel
Share the stage with Dean Koontz!
I call my list, "three birds that haven't come home yet!
I'm working on my second non fiction book about weight loss that I'm writing using my experiences and lessons learned while preparing for gastric surgery. I'm thinking of calling it "Its not the cookie, its the bag," after the first chapter I wrote. I am also working on my memoir, a book that has gotten away from me and is up to over 50,000 words.
I want to share the stage with Mike Robins or Eric Weihhemayer.
Also, over the last few months I have applied to America's Got Talent amazing race and the Amtrack Writers Residency Program.
My goal this year in my amusement equipment brokering business is to sell a million dollars worth of rides or more each year plus at least one brand new item. By the way, I am afraid of all thrill rides, so I promise to ride any scary ride I sell when it gets to its new home. I am also looking for someone to hold my hand when that happens. I want to travel more and am definitely seeking an adventurous woman to go with me!
And, I want to appear on a major radio or TV show this year like Ellen, Oprah, or Dr. Phil.
Readers Stay Tuned for More
We have another bucket list to share. So stay tuned for the next installment and comment below with your ideas!
More on Goals