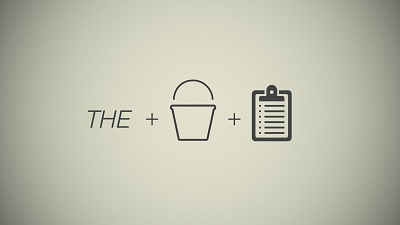 What's a Bucket List?
In case you didn't see the movie where the expression "bucket list" was made famous, it's a list of things you want to do before your life is over. Depending on how long your list is, it would be a good idea to get started on it now. Choose at least one item on your bucket list and resolve to do it this coming year. Don't let vision loss slow you down. Many of the VisionAware peer advisors wrote about their bucket lists in January and sharing them with our VisionAware audience. Here is the first update and We plan to keep you updated as the year goes along.
"I would like to publish my first fiction novel".
Where Is She Now?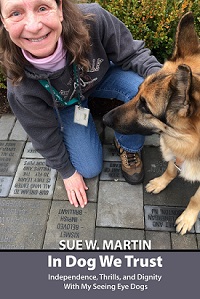 Almost there on a book! The book isn't fiction. It's a tribute to her guide dogs and is called "In Dog We Trust." The book is being self-published and is in loving memory of her dog Kismet who died on December 28.
We are still waiting to hear about her progress with Dean Koontz.
My number 1 bucket list goal is to finally Get that book published!"
"Over the last three years, I'd been posting stories and essays on Seeingitmyway.com, my blog, and friends who regularly read it have been hounding me to write a book. There is no reason for me to put it off any longer. My goal is to at least get it ready for publication, and then maybe in 2017, the goal will be to see it on the shelves in a book store."
Where Is She Now?
She is writing everyday and still planning to meet her goal by the end of the year.
"I am working hard to make some preparation toward moving from the completely inaccessible home I share with my youngest daughter and her three children in to an aging in place home".
Where Is She Now?
Her report: "Last week was interesting. We found the perfect house but it was in the wrong location. It had three bedrooms, two baths, an open floor plan, attached garage, beautiful kitchen, and fenced backyard. Unfortunately it was outside the city limits and had no bus or paratransit service. We went to an open house to an older neighborhood to look at a brick home with hardwood floors throughout, small attached garage, a fenced backyard, and was centrally located with two large markets, (one that delivers) and a Walmart close by. It had a finished basement with two more bedrooms, small bath laundry room, and large family room. Bathroom doors would need to be widened to accommodate my husband's wheelchair, the basement would need a handrail put in and small ramps were needed to enter the home. It was up for auction. The owner was elderly and her children lived out of state. They turned the auction over to a company that does that sort of online sales. The house was larger than we needed, but should we become so infirm as to need live in help, we could have offered the downstairs to someone who could provide that kind of assistance for free rent. The process of bidding was all online. The website was open for one week after the open house. We placed a maximum bid that was not visible to other bidders and each time our last bid was topped, the system automatically raised our bid by $250. Eventually it went too high for us on the last day. So our hunt for the perfect aging in place home will continue"!
"I would love to take a cruise (and schedule a speaking engagement on board, if possible).And I am working on a series of mobility books (three in all).It is on my bucket list to finish the last two this year. I am also very motivated to publish a book about my father's life to commemorate 10 years since his death".
Where Is She Now?
First, Amy just got a Medal of Merit literature award from her alma mater for her book, "Mobility Matters."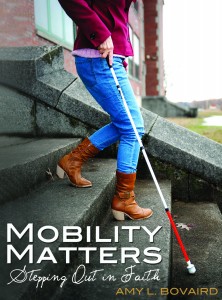 Second, that book came out in audio. To hear the sample, you can click on the Audible Narration.
Be sure to review her book. So far it is a five-star book, based on 43 reviews!!
She is still working on the on-board speaking engagement. She is planning on a cruise to the Bahamas.
Max has several goals. But he is working on hard and has already close to achieving two:>
"I'm working on my second nonfiction book about weight loss that I'm writing using my experiences and lessons learned while preparing for gastric surgery. I'm thinking of calling it 'It's Not the Cookie, It's the Bag,' after the first chapter I wrote. I am also working on my memoir, a book that has gotten away from me and is up to over 50,000 words.
I want to appear on a major radio or TV show this year".
Where Is He Now?
His report: "I just finished the writing part of my second book. It is going to be called "It's Not the Cookie, It's the Bag." I'm sharing the lessons I learned about weight loss while preparing to have gastric surgery. It also includes some observations about human nature as it relates to body image. And it includes additional techniques that I have picked up in the three and a half years since having the surgery. I sent it to my editor. Next, the book needs to be edited formatted and submitted to Amazon, Create Space and Others. We also have to come up with some cover art and promote the book. I've approached bloggers and radio hosts I've met along the way to see if they would help. So far a few have offered to review the book and several have offered to have me back on their radio show. My target for the release is my 50th birthday in April.
I co-hosted a radio show with Anna Banguila on blog talk on Monday February 29th at 7:00 pm eastern. Our primary topic for the first show was accountability. But listeners can ask questions on other subjects having to do with personal growth. The plan is for this to be a once a month event on the first Monday thus the title "Get It Moving Monday." The call in number is 718-664-9124. Here's the link to the show."
More About Goals
A Three Step Process for Setting Goals