by guest blogger Judy Scott, Director, AFB Center on Vision Loss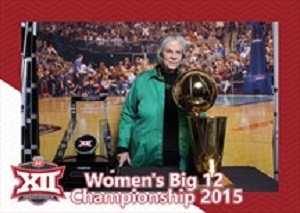 As a person who is blind and enjoys basketball immensely, I must share with you one of the most fun and exciting activities I participated in a few days ago. Does the term "March Madness" sound familiar? It begins with basketball tournaments for each of the NCAA conferences throughout the country and culminates with the "Final 4 Tournament" then the "championship" game.
Opportunity to Attend Women's "Big 12"
I had the privilege of attending the Women's "Big 12" Tournament at the American Airlines Center (AAC) in Dallas. This consisted of 9 women's basketball games in four days! The teams included my two favorites, Baylor and University of Texas, TCU, Texas Tech, Oklahoma University, Oklahoma State, University of Kansas, Kansas State, Iowa State and West Virginia University.
I never got tired and enjoyed every minute of it. This is primarily due to the access features made available to fans with special needs at the AAC. My experience began with realizing that to get to my aisle seat, which I requested, I did not encounter even one step. Through prior arrangements, to help me enjoy the game, the AAC staff provided me a special internal radio frequency which gave me access to the audio of the TV feed I could listen to on my small radio with earphones. This added a great deal of commentary to the game and supplemented the limited amount of information the arena announcer provides. In fact, I soon began getting questions about the game from other fans around me. Isn't that a switch!
In addition to the wonderful games, the crowd noise and school spirit, each university had a band. I often felt the band members worked as hard as the women on the court!
Need for Prior Planning
I had a wonderful experience, but it did require prior planning and making arrangements with the arena staff. I encourage you to take these extra steps to help ensure you have a wonderful, enjoyable experience with an extremely visual activity. You might be surprised with the access features available to you in some of the larger arenas, and if they don't exist, this is your opportunity to teach the arena administration what is needed to make the sports activities more enjoyable for all fans!
I have checked with the various women's basketball programs at several universities to inquire if they have a radio station in their area that will cover the NCAA Tournament games. Some do and I can even access the radio commentary on a smart phone! So consider that as an option to enjoying these tournaments. For example, Baylor University has a listing of stations that cover sports events.
Now I feel that I know the players of the five teams from the Big 12 that are advancing to the upcoming NCAA Tournament and will be playing all over the country. And, I cannot wait for it to begin!