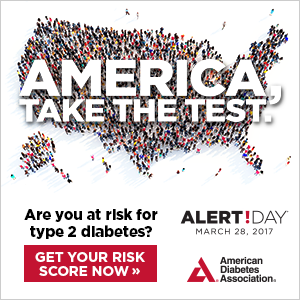 Editor's note: Audrey Demmitt, VisionAware peer advisor and R.N., reminds everyone of the risk of diabetes and what you should know.
Could you be the one in three American adults who is at risk for developing type 2 diabetes? Diabetes is a leading cause of blindness among working age adults, and that's why VisionAware is participating in American Diabetes Association Alert Day®. On March 28, we encourage you to take a quick (and anonymous) one-minute Type 2 Diabetes Risk Test to find out if you're at risk.
What Is Prediabetes?
An estimated 86 million American adults have prediabetes. This means they have blood glucose (sugar) that's higher than normal but not high enough to be diagnosed with type 2 diabetes. For some people with prediabetes, early treatment can return blood glucose levels to the normal range.
If you have prediabetes, research shows you can significantly lower your risk of progressing to type 2 diabetes by:
Losing seven percent of your body weight (or 15 pounds if you weigh 200 pounds)
Exercising moderately (such as brisk walking) 30 minutes a day, five days a week
Prediabetes is reversible, and knowing your risk is the first step.
Prevent Type 2 Diabetes Through Diet and Exercise
You can prevent or delay type 2 diabetes by staying at a healthy weight, eating well, and being active. This is easier said than done sometimes. Aging and vision loss can create barriers to maintaining a healthy diet and an active lifestyle, but it doesn't need to be this way. You can work around the barriers by adapting the way you eat and exercise.
Go4Life Can Help Motivate You to Set Goals
Go4Life, a campaign from the National Institute on Aging at NIH, can help you fit exercise into your daily life and make healthy food choices. It offers information, motivation, videos, and tip sheets on healthy eating and exercise for seniors. Here are some suggestions from Go4Life to help you overcome barriers to healthy eating.
Does food taste different? Your sense of taste or smell can change with age. Medication side effects and other things also can affect these senses. Try using lemon juice, vinegar, or herbs to boost the flavor. Ask your doctor whether your medications affect taste and about food and drug interactions.
Do you have problems chewing food? People who have problems with their teeth or dentures often avoid eating meat, fruits, or vegetables and might miss out on important nutrients. If you're having trouble chewing, see your dentist to check for problems. If you wear dentures, ask your dentist to check how they fit.
Is it sometimes hard to swallow food? If food gets stuck in your throat, less saliva in your mouth might be the culprit. Drinking plenty of liquids with your meal might help. Talk to your doctor about the problem.
Are you just not hungry? Try being more active. In addition to the other benefits of exercise, it may make you hungrier. Lack of appetite sometimes is a side effect of medication—your doctor might be able to suggest a different drug. If food just isn't appealing, vary the shape, color, and texture. Look for a new vegetable, fruit, or seafood you haven't tried before.
Are you tired of cooking or eating alone? Try cooking with a friend to make a meal you can enjoy together. Look into eating at a nearby senior center, community center, or religious facility. You'll enjoy a free or low-cost meal and have some company while you eat.
Healthy eating and daily exercise will help you lower your risk of diabetes. Start today by setting a goal to improve your diet or increase your activity level. We hope you will share the Type 2 Diabetes Risk Test with everyone you care about including family members, friends, and colleagues.
Learn more about lowering your risk for Type 2 diabetes.
Resources for Individuals with Diabetes and Vision Loss
Introduction to Diabetes and Diabetic Retinopathy
Diabetes Guides in English and Spanish with Lessons Following Seven Self-Care Behaviors