Amy Authors Second Book on Mobility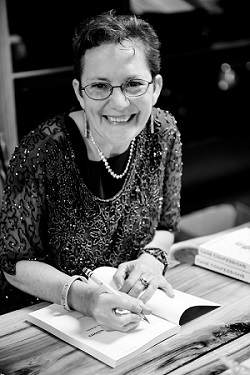 Editor's note: Beckie Horter, peer advisor, conducts this interview of Amy Bovaird about her second book.
Cane Confessions is the second book in peer advisor, Amy Bovaird's, mobility series. The first is Mobility Matters: Stepping Out in Faith. It follows the journey of her orientation and mobility training. In this latest book, Cane Confessions, Amy recounts 27 uplifting and humorous anecdotes before and after mobility training. The reader gets to experience the mishaps and challenges of a person losing their vision while living a full life in the process. Many of the adventures take place overseas as Amy spent years traveling the world as an international language teacher.
Despite the fact Amy was diagnosed with Retinitis Pigmentosa (RP) in her twenties, she continues to face life head-on armed with her faith and whatever other tools she finds helpful, including humor.
Interview with Amy
Beckie: Can you give the readers a brief synopsis of the book?
Amy: Cane Confessions provides insight into the ways we adapt and how important attitude is in moving forward, both physically and mentally. It encourages readers to use the tools God has placed before them.
Beckie: Who did you picture in your mind as the ideal reader for your book?
Amy: My primary audience is people experiencing vision loss. My goal is to encourage them and to relieve some of the fear associated with blindness. My secondary audience would be anyone wishing to learn more about vision loss. I hope to build bridges between the sighted and blind communities in order to communicate openly and increase understanding.
B: The subtitle of your book is The Lighter Side to Mobility. How do you explain to people who may not understand that there can be a "lighter side" to vision loss?
A: I don't think life always has to be so serious. Humor is one of the tools given to me, and it helps bridge communication. I'm hoping other people will shy away from the visually impaired less if they can understand us more. Also to encourage the visually impaired that everyone is not out there judging us, as I once believed.
B: How is your book different from other books on blindness?
A: Most of the books out there are how-to books. My book uses experience for insight. It shows what I did and what I learned in the process. I'm honest about my struggles in Cane Confessions. One reader recently told me she loved the honesty of the book. It seemed very relatable to her. I let people know it's okay if they don't have it all together all the time.
B: So your desired takeaway for readers would be…?
A: The three points I try to make are: God will go with you wherever you are; attitude changes everything; and arming yourself with knowledge makes a big difference. Also, that we are more resilient than we know. And even when our problems don't go away, we have control over our attitudes.
B: Speaking of attitude, I love this quote from the book: "If we choose to, we can use the tools we already have to step into the light of honesty." Can you elaborate?
A: Honesty about our issues is hard for everyone, not just visually impaired people. We hide things in order to avoid vulnerability and remain safe inside our comfort zones. But we need to start communicating about our needs.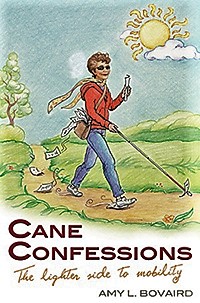 B: What will the last book in your mobility series focus on?
A: It will be about specific lessons God has taught me through my mobility challenges. The title is Second Sight, and it's geared toward a Christian audience.
B: How can readers get a copy of either of your books?
A: By going to my website: www.amybovaird.com. Right now, I'm offering a 10 percent discount and an autographed copy of either book by entering the code: wintersale. The special runs through February 28, 2017. Also available on amazon.com, audible.com, or amazon.co.uk. Formats include regular and large print paperback, e-book, audio, and braille by special request to the author.
For Booklovers with Vision Loss
Reading to Enhance Mental Health and Well-Being
The Bookshelf: Reading Books on Blindness and Learning About the Experiences of Others
Specialty Reading Products and Services
Five Reading Apps for Booklovers Who Are Blind or Visually Impaired