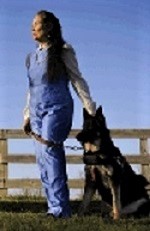 Editor's Note: In honor of National Senior Independence Month, Peer Advisor Deanna Noriega has written this poignant reflection on growing older and learning to do things a little differently.
Reflecting on Changes that Being a "Golden Girl" May Bring
As I look forward to my 66th birthday, I have been reflecting on the changes being a "golden girl" might make in my life. At my feet lies my 8th dog guide, a sweet, funny, little Chocolate Labrador with a light pull and a timid but willing heart. He is a lot slower and less adventurous than that first guide dog, Tammy. Tammy and I climbed a mountain in spring snow, jumped on buses to travel places we had never been and shared the joys of being young and fearless.
What I Don't Do Any Longer
I have given up cross country skiing because my knees don't like that skier's crouch and tell me that even if I can pass for younger, my bones know how old I am. I sold my tandem ten speed bike to a teen-aged boy after I threw my back out lifting it high enough to get the handlebars through a gap in a fence.
Making Adaptations to Remain Independent
I have friends who have had to figure out how to use a white cane while employing a walker and to manage with an arm and hand out of commission after shoulder or wrist surgery. Another friend can no longer read braille due to neuropathy.
As a result of these things that happen through accident or aging, we will likely need to make some changes on how we accomplish tasks or learn different techniques. For example, a gentleman I know is a retired pastor. He is most comfortable in button down dress type shirts but can no longer manage them due to diabetic neuropathy in his hands. He doesn't want to switch to pull over tee-shirts and sweaters. Instead, he took my suggestion to have the front placket of his shirts stitched closed up to the third button. Then the top buttons are fastened to the outside and Velcro is sewn in to close this part of the shirt. It still looks like a dress shirt but is more manageable.
Having a visual impairment doesn't give us a get out of jail card free when it comes to acquiring other disabilities. If we are lucky, we only have to manage things in new ways temporarily while recovering from a knee replacement or other surgery. But what do we do when it is a permanent change like a hearing loss that affects our orientation skills?
Learning to ReGroup
That is when we have to regroup and determine what adaptations will work for us. I don't think any one looks forward to losing some of the independence they have worked so hard to achieve, but when you stop exploring your options and figuring out work-arounds, then you allow circumstances to limit you more than your additional impairment does.
Learn to Open the Window on Your World
If a door closes, why not look for a window to open? For example, I love to take long walks with my guide dog as a stress reliever. Perhaps I will someday spend time on a screened in porch learning to identify bird song or perfecting some handcraft skill from a porch swing or rocking chair. I might volunteer for a crisis hotline or spend time checking on my huge extended family on Facebook. Maybe I will finally tackle learning to play a musical instrument or read all of those books I haven't time to get to yet. Life is as full and rich as you choose to make it. There are more options and roads untaken just waiting to be explored. You may not be able to race down them with the exuberance of youth, but you can saunter along and finally take time to smell the roses!
Find out more about living with visual impairment and other challenges of aging such as hearing loss and arthritis and tell us your ideas and techniques to meet these new challenges.