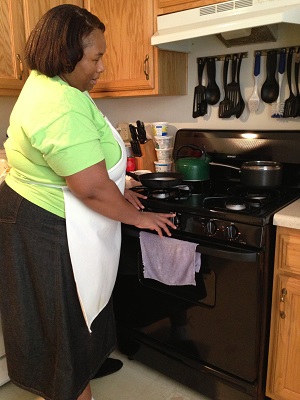 Editor's note: This post is the first of our "Cooking with Confidence" series, associated with the Peer Guide to Cooking Safely with Visual Impairment.
It Is That Time of the Year
It is that time of year when family and friends gather for warm cups of cider or hot chocolate, friendly conversation, laughter, and of course, lots of delicious things to eat. For those of us who are blind or visually impaired, there is no reason that our vision loss should keep us from joining in on the fun and festivities. People with vision loss can cook and prepare dishes for office potlucks, holiday brunches, or family dinners. With a little help from some assistive aids and devices (listed below), you can enjoy holiday cooking too. So get ready to rattle those pots and pans!
Aids to Help Cook Meats
Ever had problems removing a hot turkey, chicken, or roast from the pan to the serving platter? This really useful item can remedy this problem. It is called the Sili Sling and can be used to transfer a whole turkey. You place the Sling under your raw turkey prior to cooking. The Sling is made from silicone material that will not burn or melt and stays in place while your poultry cooks. It comes in the color red and has holes in the bottom for draining the hot juices from the meat. When your turkey is ready, just use the grips on both sides to hoist that golden bird out and place on your platter. The Sili Sling is not a product specifically for the blind and visually impaired cooks, but it can be extremely helpful when dealing with hot meats. After doing an Internet search, I found this item on Amazon, eBay, and the VisAbility Store at the Center for the Visually Impaired.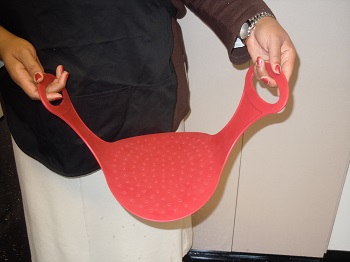 Now, that you got that turkey cooking, how do you know when it is done? Well, just use a talking meat thermometer and no more confusion or half-cooked meats. The thermometer has a removable cover, and by pressing one simple button, it will give a verbal temperature reading. The thermometer also has a large visual digital display.
Cooking Timers and Hand Mittens
In addition to the talking meat thermometer, use a talking timer to avoid burning your meat or under cooking that squash soufflé. The clock counts down the minutes and hours to help your dishes come out perfectly from the oven. You could also use a low vision tactile timer. It is about the size of a small wall clock with large numbers in a black/white contrast. Just turn the dial to the amount of time you want and the timer will ding when the time is up.
When you get ready to remove your meat or side dish from the oven, use long arm mittens. They are about 17-inches long and go up to the elbow, protecting your hands, wrists, and arms. They are flame retardant. Great item when removing that hot bubbly macaroni and cheese, cornbread, green bean casserole, or my favorite, sweet potato pie!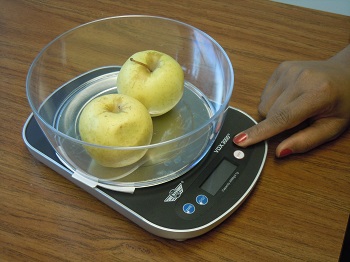 Accessible Measuring Devices
You got your meats out of the way, so let's look at some devices that can help with tasty sides and yummy desserts. Measuring for recipes can call for precision and accuracy, and too much or too little of an ingredient can ruin a favorite dish. Need just a pinch of salt? Or what about a quarter teaspoon of pepper? Low Vision Easy Measure Salt and Pepper Shakers are exactly what you need. They come in two colors: white for salt and black for pepper with measurements written at the top of the shaker in opposite contrasting color.
A talking food scale is an excellent measuring device. It is battery operated and comes with a plastic round container to sit on top of its flat surface. Just place the item you need to weigh, such as meats, vegetables, or fruits, and the scale will verbally read the measurements either in grams or ounces.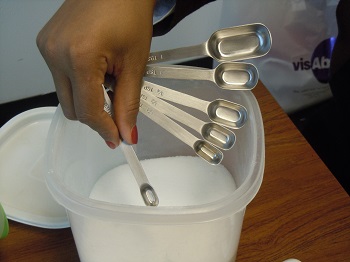 A talking measuring cup is another great device that gives a verbal read out. The measuring cup sits inside a removable base with a flip lid. Just pour your ingredients, such as flour or sugar, for those favorite holiday cookies or oil for brownies, and the measuring cup will verbally indicate the amount by cup, ounces, milliliters, and grams. The measuring cup is dishwasher and microwaveable safe.
One last item for measuring is the metal spice spoons. These spoons are excellent for those dishes that require spices or herbs. They have high sides that help avoid spills and are attached together to keep from being misplaced.
Low Vision Cutting Board
For cutting up fruits and vegetables, use a low vision cutting board. One side is black, and the other side is white. This cutting board provides great contrast on the black side when slicing white onions, cauliflower, or white potatoes. Use the white side of the cutting board for green peppers, yellow squash, red apples, or orange pumpkins and carrots.
It's Time to Eat
Whether you just want to cook a simple holiday meal or a five-course dinner party, these low vision and blind kitchen aids will help any meal you prepare be a great success. You can find these items through AFB's product database and through online catalogs such as the Chicago Lighthouse, Independent Living Aids, or the VisAbility Store. Now, let's sit down and eat!
Ready to Cook for the Holidays?
Are you ready to get cooking for the holidays? Have you used any of the kitchen aids mentioned? What aids or devices do you use in the kitchen to be successful at cooking? Share your suggestions in the comment section below.